Cute William Higgins Czech Gay Porn Star, Klark Junak
Known Aliases / aka:
Years Active: 2018 – 2019
WILLIAM HIGGINS INFO:
Klark Junak is aged 18 and lives in Plzen. This good looking str8 guy is a student who enjoys sports, tennis and cycling. Wearing spectacles that nicely adorn his handsome face he sits on the edge of the bed for his interview. Then Klark lays on the bed and begins to run his hands all over his clothed body. Lifting his tee shirt he exposes some skin as he feels himself. He removes the tee shirt to bare his slim, sexy chest, with the pert nipples hard. One hand rubs the chest as the other gropes his jeans. Opening his jeans Klark pulls out his cock and wanks it. that beautiful dick is hard in his hand as he wanks it, whilst still feeling his chest. He takes off his jeans to reveal all, showing his tidy,natural bush and his balls as he continues to wank his cock. He works his foreskin back and forth on the cock head as he wanks. Then Klark turns over onto his knees to show off his hairy ass, reaching back to part the cheeks, with one hand, and show off that hot, hairy, hole. That sexy ass looks so inviting as he pulls the cheeks apart. He pulls on his cock too as he shows off the ass so well. Then he uses both hands to spread the cheeks, giving an even better view of that tight hole and the curls of hair lining the ass crack. Laying down again, on his back, Klark wanks his cock hard as he feels his body. That big cock is hard as he wanks and soon releases the cum which runs down the shaft. Then he goes off to the shower to clean up.
Model Name: Klark Junak
Age: 18
Home Town: Plzen
Height: 188cm/6'2″
Weight: 69kg/151.8lb
Foot Size: EU45/US9.1/UK8.6
Penis Size: 17cm/6.69″
Profession/Student of: High school
Hobbies: Sport
Favorite Sports: Tennis
Active Sports: Cycling
Movie/Music/Sport Stars: Vincent Cassel
Visited Countries: Croatia
Want to Visit Countries: France
Dream of My Life: I do not know.
Zodiac Sign: Capricorn (December 22 – January 19)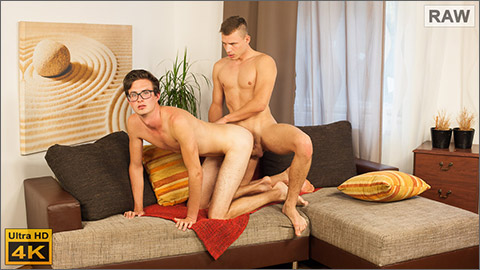 CHERRY BUSTING: HUGO ANTONIN & KLARK JUNAK
Lucky str8 guy Hugo Antonin gets to bust Klark Junak's cherry today. Klark is a great looking straight guy who looks good as his sits and waitf to Hugo to arrive. Hugo does a brief interview with him and they suggests they try some guy -guy stuff, starting with a small kiss. Hugo takes it slowly and starts to feel over Klark's body. He lifts the tee shirt and kissesthe chest. Then the tee shirt is removed. As they kiss again Hugo reaches inside Klark's pants to feel his cock. He kisses his way down the hot chest and takes the cock into his mouth. Then he pulls down Klark's pants to get better access to the stiffening cock. As Hugo sucks on the cock Klark reaches over and start to wank him too. Then Hugo straighten's up and Klark leans over to suck his dick. Hugo's cock is rock hard as Klark wanks and sucks on it. His head bobs on the cock as his lips are wrapped tightly around it. Hugo removes his jeans so they are both fully naked. Klark goes back to sucking on that throbbing cock, feeling a hand on his head pushing him down on it. Then he turns around and shows Hugo his hairy ass. Hugo parts the cheeks and pushes his rock hard cock into the tight hole. Hugo begins fucking gently as his cock stretches the hot hole. The dick slides in and out as Klark feels it all. Hugo's fucking speeds as up Klark's hole gets used to the feeling. Then he turns over onto his back to be fucked some more. He wanks his own dick as he takes that cock deep in his ass. His full bush looks so good as it surrounds his cock and balls. Hugo fucks hard and fast as Klark keeps wanking himself. Klark's wanking gets faster too and he cums as that dick fucks him hard. Hugo continues to fuck the hot hole until he is ready too, and he pulls out to shoot the creamy cum all over Klark's cock, balls and hand. Then he leans forward and kisses him again.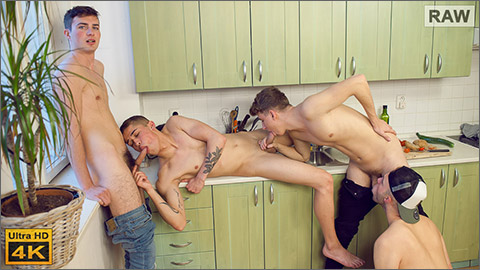 WANK PARTY #104
Wank Party #104 features Ivan Jedlik, Jan Nurad, Gabriel Gusak and Klark Junak. In this first part we see Jan and Kalrk checking out a motorcycle on Klark's phone. They are joined by Gabriel and Ivan. Ivan says he will make some breakfast but he doesn't get to far into that before Gabriel has interrupted to kiss him. Jan and Klakr watch and them move to join in. Jan kisses Ivan as Klark and Gabriel do the same, baring their chests as well. Soon all are bare-chested and groping each other as they enjoy the kissing. Ivan kisses his way down Jan's slim body to open his jeans and release his rock hard dick. He sucks on that cock as Gabriel goes down on Klark. Thye work on the throbbing cocks for a while before moving. Then Ivan lays on the counter sucking Klark, Jan sucks on Ivan's dick at the same time while Gabriel's mouth works on him. Then it is all change again as Gabriel stands and Klark goes down on him while Jan lays on the counter for Ivan to suck him. Ivan then works a cucumber into Jan's hole ass, opening up nice and wide. Jan wanks himself as he takes the big cucumber deep into his hole. Klark's hot mouth continues to work on Gabriel's big, hard, cock too setting thing up nicely for part 2.

FULL CONTACT: KLARK JUNAK & MARTIN POLNAK RAW
Two very hot str8 guys, Klark Junak and Martin Polnak had a great time in a wrestling match. They roll all over the oily mats as they grapple and try to get a decent hold. In the process they strip the underwear off each other. Then as they continue wrestling Martin pins Klark to the floor, sitting on his chest. He slaps his engorged cock on Klark's lips and slaps his face. With Klark pinned down Martin manages to slide his cock into the mouth and begins to fuck . Klark gets a taste for that big, hard, cock and when Martin rolls off him he quickly goes down on that cock to suck it some more. Klark's hot mouth works on Martin's cock and sucks on his balls too. After sucking on the cock for a while Klark kisses Martin and they roll over. With Klark on his belly Martin straddles him and rubs his cock on that sexy ass. Then Klark moves onto his knees, presenting that sexy ass for Martin to fill. Martin's dick slides deep into the waiting hole and he begins to fuck hard. Klark takes the cock in his ass so well as Martin pounds the tight hole as hard as he can. Martin fucks the sexy ass as hard as he can, his cock going all the way inside, holding onto Klark's hips to thrust hard into the hole. They move to a spoon position and Klark wanks himself as Martin's cock pounds deep into his hairy hole. Martin's big cock opens the hole so well as Klark's cock is rock hard in his hand. He wanks himself as Martin continues to fuck that sexy ass as hard as he can. As Matin's cock fucks him so hard Klark shoots his creamy cum. Then Martin pulls out and kneels over Klark to shoot his cum over his face and neck. As Martin milks his cock Klark takes hold of it and licks and then sucks the sticky cock.
CLICK HERE TO GO TO HIS WILLIAM HIGGINS BIO PAGE
CLICK HERE TO GO TO HIS STR8HELL BIO PAGE