Staxus Czech Twink Gay Porn Star, Petr Plodner / Martin Muse
Known Aliases: Christopher Durham, Jimmie Brown, Joseph Sidney
Years Active: 2015 – 2018
WILLIAM HIGGINS INFO:
Model Name: Petr Plodner
Age: 20
Home Town: Trmice show map
Height: 175cm/5'8″
Weight: 70kg/154lb
Foot Size: EU42/US8.5/UK8
Penis Size: 18cm/7.09″
Profession/Student of: Unemployed
Hobbies: Sport
Favorite Sports: Ice-Hockey
Active Sports: Soccer
Movie/Music/Sport Stars: Mika Hakkinen
Visited Countries: Poland
Want to Visit Countries: Croatia
Dream of My Life: I don't know.
Zodiac Sign: Capricorn (December 22 – January 19)
STAXUS INFO:
Date of birth: 21st March 1994
Height: 5′ 11″ / 180 cms
Cock size: 7″ (18cms)
Ethnicity: Czech
Role: Top
Interesting Fact:
Martin is a keen athlete and would love to represent his country at the Olympic Games!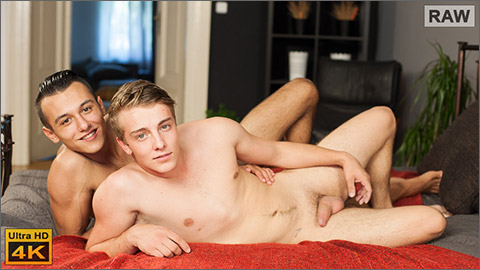 FULL CONTACT: MIREK MADL & PETR PLODNER
Mirek Madl is laying on the bed listening to music when he is joined by Petr Plodner. Petr straddles him and begins to massage Mirek's back. Mirek discards his earbud and music and Petr leans over and kisses him on the back. Then he continues to massage, moving his hands down to Mirek's sexy ass. Petr continues his massaging and then turns Mirek over and starts to suck on his hard cock. His head bobs on the cock, as his lips wrap tightly around the shaft. Mirek's balls are tight against the base of the shaft and Petr licks up and down and carries on sucking. Then Mirek fucks his stiff dick into Petr's mouth too. Petr sucks on the balls too and then goes back to working on the rigid dick. He pulls Mirek's jeans off and pushes his legs into the air. That gives him access to the sexy ass and he gets to work with his tongue. He laps at Mirek's hot hole, with Mirek's hand on his neck pulling him onto it. Alternating between sucking the cock and licking the hole Petr makes Mirek feel so good. Then Petr starts to finger that tight hole too, wanking on the cock at the same time. Then Petr's shorts come off and his throbbing cock is revealed, which Mirek quickly starts to suck. He does a great job at sucking and Petr lays down to let him continue enjoying the big, fat, cock. Mirek then presents his ass and Petr's big dick slides deep inside. He fucks the ass hard and fast as Mirek moans with pleasure. The occasional slap on the ass accompanies the hard fuck. Mirek moves onto his back and they spoon, with Petr's dick slamming in and out of Mirek's hot hole. Mirek wanks himself as he takes that big dick. Petr keeps up his hard fucking as Mirek's cock shoots a big load of creamy cum. Mirek wanks all the cum out of his cock as Petr slams his hole. Then Petr pulls out and shoots his cum over Mirek's balls. Then they kiss to end a very hot scene.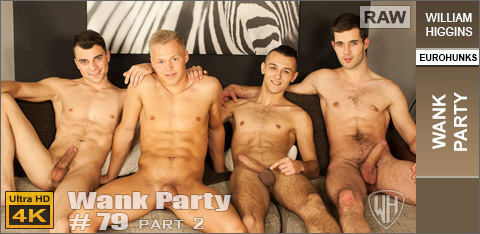 WANK PARTY #79
Wank Party 2017 #1(wp79) finds Boda Gold enjoying the company of Romi Zuska. The two of them are on the sofa, kissing. The help each other off with tee shirts as they kiss. Boda begins licking all over Romi's sexy chest and back up to his mouth. Then Romi'sjeans are opened to release his stiff cock which Boda eagerly takes in his mouth. The blond, handsome head works on Romi's throbbing cock. Romi moans as the hot mouth sucks on his hard cock. As they continue to enjoy each other Alan Carly and Petr Plodner creep into the room and soon have Boda's jeans down. His cock is rock hard and Alan and Petr lose no time in enjoying it, taking turns to suck. Then Petr opens Alan's jeans and starts to suck on his throbbing dick too. Petr pulls off the jeans from Boda and Alan and Romi moves down to suck on Boda's dick. He releases it for Alan to take another turn on it. Petr keeps sucking Alan who moves onto Boda so that he can suck Romi's dick. Boda wanks himself as Alan sucks Romi before releasing the dick and going back down on Boda's . Then Boda's legs are pulled into the air, with Romi rimming his ass as Alan sucks the cock. Romi sucks it too. Alan is on his knees for Petr to rim his hole as well. With the hole wet Petr slips a finger in as well. Romi teases Boda's hole with a finger too. Those asses will soon be ready for fucking.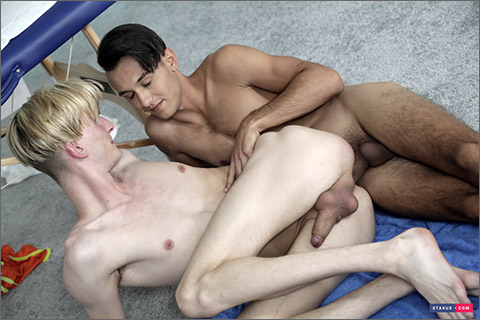 TOUCH MY MEAT: FRESHLY-SHOWERED STUD GIVES HIS MASSEUR A CREAMED-UP ARSE
One of the great secrets of a good massage is time – as Martin Muse quickly discovers when he encounters the talented hands of new boy, Justin Radol. Indeed, there's nothing rushed at the start of this particularly horny rendezvous. Muse heads for the shower-room, where he genteelly soaps himself down; and Radol delicately prepares the massage-table, lighting candles to add to the mood of the occasion. If you're thinking that this relaxed atmosphere holds out for the rest of the scene, however, then prepare for disappointment.
   The return of Muse – now squeaky clean and clearly as excited as fuck! – turns up the dial considerably; and before you know it, Radol is making a beeline for the fellow's crotch. Little wonder, of course, given the very handsome shaft that's straining for attention. Indeed, the rest of Muse's body hardly gets a look-in; and soon Radol is nicely working his client's cock, not only with his hands but with his lips also!
   Given the fact that Muse is already clearly feeling the horn big time, it's no surprise that he's soon determined to take full advantage of his mate's services; bundling Radol over the table, fingering and rimming the fellow for all that he's worth, and then finally squeezing every inch of his now badly-swollen ramrod into the blond boy's arse. Indeed, any sense of procrastination is now long since abandoned; as Muse proceeds to slam the newbie for all he's worth, ultimately pushing the fellow to a deserved crescendo. That leaves our stalwart to eagerly wrap things up by creaming Radol's well-worked hole with a very generous wad!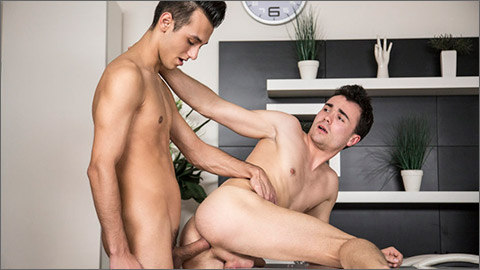 SETH NOVAK GETS BAREBACKED BY MARTIN MUSE
Martin is working hard. Seth comes by with the reports. But one look at Seth's crotch and Martin loses all focus. Work goes to the way side and Seth immediately starts to salivate. Seth lifts up his shirt to show off his ripped abs. Martin moves in for the kill. And the next thing you know, these two hot Euro Twinks are totally naked. They takes turns sucking each other's thick uncut cocks. Then Martin rims Seth's hole before he finally slides his bare dick inside and begins to bareback him. He fucks him every which way he can before he finally releases a ton of white hot cum on Seth's ass and creampies him. Martin then eats down all of Seth's jiz in a hot white facial. Be sure to check out all the hot European bareback action right here at Randy Blue Universe.
RANDY BLUE
STAXUS
JAKE CRUISE'S COCK SURE MEN
CLICK HERE TO GO TO HIS WILLIAM HIGGINS BIO PAGE
CLICK HERE TO GO TO HIS STAXUS DETAILS