Handsome Uncut Hung Hunk Czech Gay Porn Star, Niko Kadera / Jason Smith
Known Aliases / aka: Alcide Ricci, Adam Webb, JD Carlo, Massimo, Niko Kader
Years Active: 2017 – 2018
WILLIAM HIGGINS INFO:
Model Name: Niko Kadera
Age: 18
Home Town: Ceske Budejovice
Height: 180cm/5'10"
Weight: 85kg/187lb
Foot Size: EU42/US8.5/UK8
Penis Size: 16cm/6.3″
Profession/Student of: High School
Hobbies: Sport
Favorite Sports: Ice-hockey
Active Sports: Fitness
Movie/Music/Sport Stars: Daniela Sinkorova
Visited Countries: Croatia
Want to Visit Countries: Portugal
Dream of My Life: I don't know.
Zodiac Sign: Leo (July 23 – August 22)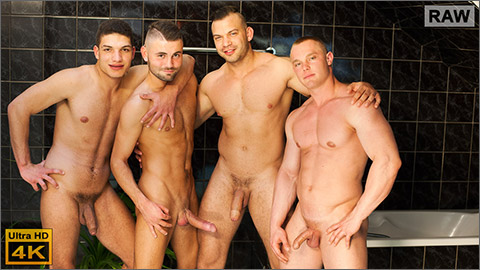 WANK PARTY #85
In Wank Party #85 we have Niko Kadera, Jan Bavor, Milos Ovcacek and Ondra Vidim. We find Milos and Niko asleep on the bed as Jan is in the bath, being assisted by Ondra. Milos awakes and begins rubbing and kissing Niko. Jan gets out of the bath and Ondra starts to dry his body. As the towel is rubbed over that sexy body Jan and Ondra kiss each other. Ondra reaches for, and gently gropes Jan's cock and balls as they kiss. Meanwhile Niko is fully awake and kisses Milos who responds by pushing Niko onto his back and taking down his underwear so that he can suck his cock. Niko's cock is rock hard as Milos' head bobs up and down on it. Ondra drops to his knees as Jan sits on the edge of the bath. He takes Jan's cock in his mouth and begins to suck on it. Jan's cock quickly responds from the attention. Then Ondra stands for Jan to return the favour and suck in is lovely fat cock. Jan licks and sucks on that rock hard cock. Meanwhile Milos continues to work on Niko's dick too. Niko thrusts his cock up into Milo's eager mouth. Milos frees his own throbbing cock and wanks it as he keeps sucking. Then he lays back and Nikos moves between his legs so that he can take a turn at sucking. His hot mouth encloses Milos' rock hard dick and sucks it, lapping at the balls too. Milos suggests joining the others, so they go into the bathroom and start to kiss Jan and Ondra. Jan drops to his knees and sucks Milos' massive cock. Nikos does the same to Ondra, taking the cock deep into his mouth. Then it is all change as Ondra takes a turn on Milos' cock before giving way for Niko to suck again. Niko, Ondra and Jan all take turns on Milos big cock. Then Niko has to depart for work, leaving Jan and Ondra to enjoy Milos' cock. Milos needs more than sucking though and bends over the basin for Ondra to slide his fat cock deep into the waiting ass. He fucks Milos' tight hole as he is encouraged by Jan. Then Ondra pulls out and Jan takes his place, pounding Milos' hole deep and hard. Jan's ass wants some cock too and he lays on the floor, legs up, for Milos to fuck him. He wanks himself as Milos' dick works deep into his tight hole. Ondra squats by Jan's head and wanks himself as Milos keeps fucking. Jan's cock is rock hard and he soon shoots his creamy load over his belly. Milos fucks Jan's tight hole as Ondra wanks hard and shoots his cum all over Jan's hot body. Then Milos pulls out and wanks until he cums too.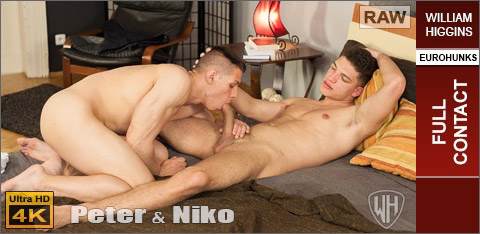 FULL CONTACT SCREEN TEST: NIKO KADERA & PETER LIPNIK
Niko Kadera is paired, for his screentest, with Petr Lipnik. He is sitting on the bed as Petr arrives. Petr joins him on the bed and they chat for a while, about sex. They then begin to kiss each other, and they both get bare chested. Niko enjoys the kissing and is soon kneeling over Petr kissing his chest and nipples. He gropes Petr's groinand pulls down his jeans, releasing a nice hard cock. Niko grabs the cock and wanks it and then takes it in his mouth. He sucks eagerly on that big cock, showing how good he can be orally. Then, also naked, he lays on the bed and Petr kneels over him to return the favor. Petr's mouth works on the big, fat, hard cock as Niko thrusts it up into his mouth. Having sucked it for a while they move to 69, so both can enjoy sucking. Then Petr can resist no longer, he sits is tight as down on Niko's fat, throbbing cock. As he rides that big cock he feels Niko thrusting it up into his ass. He takes the cock well and soon they move to spoon position. Niko keeps fucking Petr;s ass deep and hard. Petr grabs his own cock and wanks until it erupts, delivering his creamy cum. Niko continues to fuck that hot ass until he is ready to cum too. Then he pulls out and shoots his cream all over Petr's balls. Then, after a hot session they kiss one final time.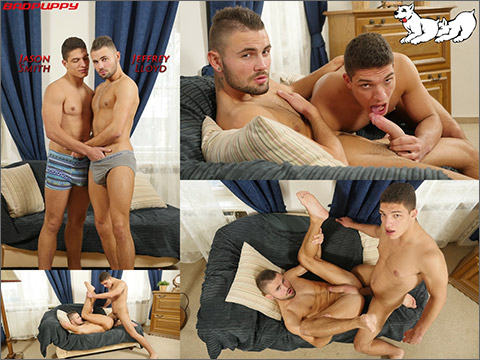 JASON SMITH FUCKS JEFFREY LLOYD
We catch Jeffrey Lloyd lying on the sofa with Jason on top of him; the pair deeply entwined in kissing and groping each other hunky, tight bodies. Jason helps Jeffrey out of his jeans to find that Jeffrey has on no underwear; but, his cock is definitely ready and standing at attention. Jason wastes no time sucking up every inch of Jeffrey's thick, long man-meat. Jeffrey sits up and as Jason takes off his shirt, Jeffrey rips off Jason's pants and swallows the entire length of his cock. Jason continues beating his thick dick while he chokes and gags on Jeffrey's hugeness. Jeffrey motions for Jason to sit down on the sofa and then Jeffrey slides right down onto Jason's thick dick. Thrusting with his legs, Jeffrey rides Jason's cock, his own dick bouncing with the rhythm, getting even thicker and harder the deeper Jason's cock goes in his ass. Jason continues to work Jeffrey's hole; legs pushed back, his hole being seriously abused by Jason. The passion intensifies as the pounding sends Jason over the edge first. He pulls his cock out of Jeffrey's ass, grabs it with his hand and with a few strokes; jizz starts flying all over Jeffrey's cock, balls and chest. Jeffrey's loving every bit of the cum soaking and; grabbing his cock, he sprays thick, juicy cum all over his tummy and chest.