Handsome William Higgins Czech Gay Porn Star, Martin Hovor
Known Aliases / aka: Markus Hovor, Raymond Hamilton, Matt Thurman
Years Active: 2015 – 2018
WILLIAM HIGGINS INFO:
Model Name: Martin Hovor
Age: 19
Home Town: Plzen
Height: 182cm/5'11"
Weight: 72kg/158.4lb
Foot Size: EU44/US8.9/UK8.4
Penis Size: 17cm/6.69″
Profession/Student of: Driver
Hobbies: Sport
Favorite Sports: Athletics
Active Sports: Boxing
Movie/Music/Sport Stars: Eva Longoria
Visited Countries: Poland
Want to Visit Countries: Slovakia
Dream of My Life: I don't know.
Zodiac Sign: Sagittarius (November 22 – December 21)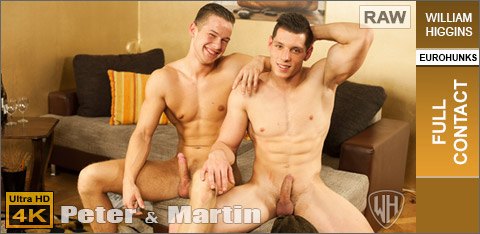 FULL CONTACT SCREEN TEST: MARTIN HOVOR & PETER LIPNIK
Peter Lipnik's Screentest has him paired with Martin Hovor. Peter is relaxing on the sofa when Martin arrives. Martin lays on top of Peter, kissing and caressing him. Then Peter sits up and they kiss some more. Martin helps Peter take off his tee shirt. Then his own is removed too. Martin's pants are bulging and soon they come down to give Peter access to the stiff cock. Peter's hot mouth envelopes the cock sucking on it as Martin moans with pleasure. Martin takes off the pants and goes back for more sucking on his cock. Peter does a great job sucking on the dick, his bead bobbing on it as Martin's balls get tight against the shaft. Then Peter lays back and Martin returns the favor, sucking on the hard cock in front of him. Peter moans as he feels the hot mouth on his throbbing cock. Then they swap again with Peter sucking and Martin fucking his hot mouth hard and fast. Then Peter lays back, legs in the air for Martin to rim his tight hole. Martin's tongue laps at the hole and licks the tight balls. Peter enjoys the tongue and grabs his cock to wank it. Then he sits up and kisses Martin as they change positions. Martin sits as Peter climbs over him and slides his hot ass down on to the waiting cock. Martin's cock opens the hole real well, as he fucks up into it. Peter holds his ass in place as Martin slams his dick deep inside. Then Peter starts to ride the big, hard, cock, taking it all the way. With his hole stretched and ready for more Peter moves so they can spoon, with Martin's dick deep in that hot hole agai. Martin pounds Peter's ass as deep as he can. Martin grabs his cock and wanks it hard until he shoots his cock over his belly. Martin continues to fuck that ass, as fast as he can until he is ready, then he pulls out and dumps his creamy load as well.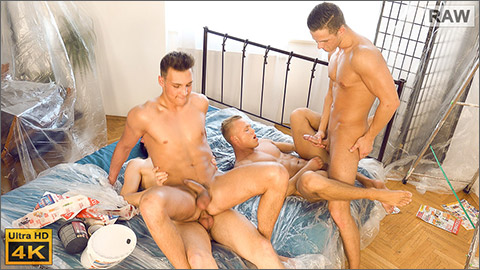 WANK PARTY #80
We rejoin Laco Meido, Martiv Hovor, Boda Gold and Martin Polnak as Boda is laying down with Martin P Kissing him. Laco is doin the same with Martin H kissing him too. Then they swap partners, with Boda moving to the step ladders for Martin H to slide his hard cock deep into his ass. Martin H fucks that ass so hard as Martin P straddles Laco and sits down on his hard cock. They are all moaning as those asses are fucked. Martin P slides up and down on Laco's big, thick, cock as Boda's hole is stretched wide by Martin H. Then Martin H holds his ass in place as Laco pounds his cock up into the hole as fast as he can. Martin P turns around and sits again on that throbbing cock. Boda moves to the bed, leaning on Laco's legs for Martin H to continue to slam his cock in and out of the eager hole. AS Martin H rides Laco's dick he grabs his own cock and wanks it. Boda works his ass onto Martin's cock, then feels his friend really pound his ass. With Martin P wanking hard Boda lays down for Martin H to continue his fucking. As Martin P keeps up his hard wanking his cock delivers the cumshot while he keeps riding Laco's cock. Then he continues to ride the big cock as Martin H pull out of Boda's ass and wanks his big cock. He shoves the dick back inside and returns to fucking Boda as hard as he can.Then he pulls out and shoots his load over his friend. He then lays back as Martin H sucks his cock. Martin P dismounts and suck Laco too. Both Martins suck and wank on the cocks, then they lick balls as Laco and Boda wank themselves. Lace quickly dump his hot cum onto his belly. Boda continues to wank himself snd he soon delivers his cumshot too as Martin H laps at his balls.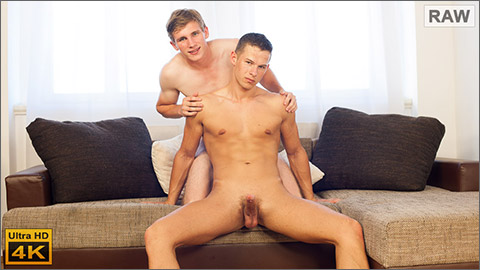 CHERRY BUSTING: DAN HOLAN & MARTIN HOVOR
Dan Holan gets his cherry busted by Martin Hovor today. They have a chat on the sofa to start, with Dan smiling and laughing as they talk about sexy together. Martin pulls Dan towards him and they start kissing. Then Martin removes Dan's tee shirt and the favor is returned. Then Martin pushes Dan back and stands over him to kiss some more as they feel each other. Martin opens Dan's jeans a little and feels inside. Then he drops his shorts to expose his big, hard, cock. Dan takes hold of the cock and begins to suck it. Martin fucks his throbbing dock into Dan's mouth. Dan's lips are wrapped tight around the cock as he sucks on it. He does a great job of sucking and wanking on that big dick. Martin's balls are so tight at the base of the shaft as his dick is sucked. Then Dan's jeans come off and Martin sucks on his cock . He gets on his knees to enjoy that hard cock as Dan's hand rests on his head. Martin keeps sucking for a while and then Dan takes another turn on his cock. Then Martin moves Dan to lay on his back with his legs in the air. Martin's finger finds the virgin hole and starts to finger it. The hairy hole takes the finger nice and deep as Martin works it in and out. Then Martin's big dick is positioned and slides into the tight ass hole. He starts to fuck the ass going in deep. Dan takes it well and then turns over onto his knees so that Martin can fuck him some more. Martin works his big dick deep into the ass, stretching the hole wide. The fucking speeds up when Dan lays on his back again wanking himself. Martin's dick pounds the hot hole as Dan's wanking gets faster. Very soon Dan shoots his creamy cum all over his belly . He milks his cock dry as Martin's cock keeps fucking his ass. Then Martin pulls out and wanks his cock to shoot his cum over Dan's hand and body. He leans forward and kisses Dan again to end a very hot scene.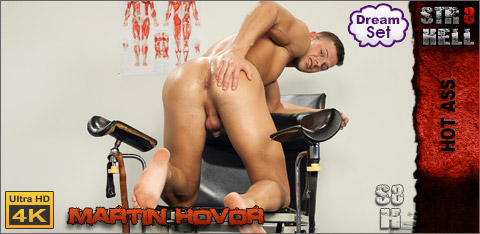 HOT ASS: MARTIN HOVOR
The very handsome Martin Hovor is in this Hot Ass Dreamset which was suggested by "Cell MD". Martin is so hot and looks great as he strips off, showing his great body and his beautiful cock. He keeps his shoes on as he lays on the bed and lifts his legs way up into the air to expose his sexy ass. That hot ass looks beautiful as Martin reaches for the cheeks, pulling them wide apart. Alan Carly arrives as Martin spread his ass cheeks. He pulls off the shoes and the socks and then reaches to feel that sexy ass. Alan drips some oil onto the sexy ass hole, rubbing it over the hole with his fingers. Then Alan takes a toy and pushes it into that hot hole. Martin certainly feels it as it pushes deep into his hot ass. Then the toy comes out and Alan pulls the hole open. He then takes another toy and shoves that into the hole. He fuckes the toy in and out of Martin's tight hole before removing it and inspecting the hole again. That hole looks so inviting and Alan shoves the toy in again. Martin holds his legs high in the air as the toy works his ass. The black dildo appears again and quickly fills that ass, with Alan pushing it in and out. Then he checks the hole again spreading it wide. Martin turns onto his left side, still showing that hot ass for Alan to play with. The black dildo gets more oil and goes back into the ass, as deep as it can. Whne it comes out again Alan pulls on the ass cheeks and the hole opens up a little. The second toy finds its' way back into that hole. With that hot hole well used Martin moves onto his knees and gets even more action. His hole takes the toy all the way and is soon replaced by the thicker black one. Alan alternates between the two dildos, making sure that hole gets used real well. Martin is then move onto his shoulders, with his ass in the air for the black dildo to stretch him again. Then the purple one takes its' place as Martin's face shows how much he is feeling it. Moving to the exam chair, with legs in the the stirrups Martin then feels the scope go into that ass to allow a full inspection. He starts wanking his cock as his tight hole is displayed. He keeps up his wanking until that big cock released the hot cum onto his left thigh.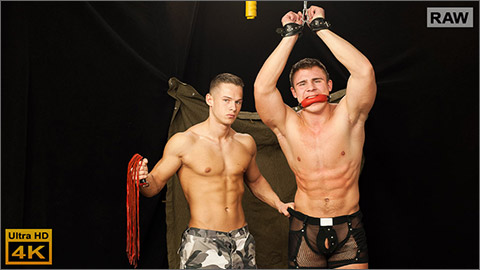 DUTY BOUND: MARTIN HOVOR & VIKTOR ADAM
Viktor Adam is shackled and gagged in the dungeon as Martin Hovor takes his pleasure. Viktor moans loudly as Martin uses a whip on that hot body and feels all over it. Martin then clamps Viktor's nipples making him moan louder as he pulls on them. Martin gropes Viktor's crotch and slaps his thick thighs. He pulls Viktor's cock out of the underwear and continues to beat on his hot body. Then Viktor is moved onto his back, legs up with his ass naked. The ass gets to feel the whip and Martin's heavy hands. Martin also rubs Viktor's cock and balls. The cock is hard and Martin leans over to suck it. he shoves a dildo deep into Viktor's tight ass, making him moan even more. He wanks the cock as he fucks the ass with the toy. Then the toy is removed and Martin's throbbing dick slams deep into the vacant hole. He pounds that ass as hard as he can with Viktor moaning all the while. Martin turns Viktor onto his knees and slams his dick back into that sexy ass. He fucks it deep and hard, spanking the ass too. That cock really works Viktor's ass so well. Martin is ready to cum and pulls out to shoot the hot cum all over it. He sits Viktor up and has him wank himself until he too delivers a big, creamy load.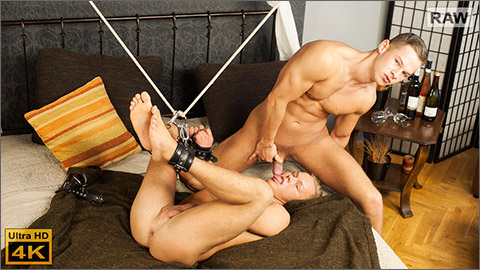 RAUNCHY: BODA GOLD & MARTIN HOVOR
In this hot raunchy scene we have Boda Gold gagged and shackled. He is naked and showing off his hot hole as Martin Hovor wanks and sucks his cock. Martin has his whip for use and is soon lapping at Boda's hot hole and fingering it a bit too. Martin loses his underwear, showing off his rock hard cock as he rubs it over Boda's feet. Then he moves up to the head and slaps his dick on Boda's face. The cock goes into Boda's mouth for some sucking and then licking too. Then Martin moves back to that inviting ass and shoves his dick deep inside. He fucks Boda's hole, opening it real good. His cock slams into the tight hole stretching it wide. Then Boda is moves onto his knees and Martin continues to fuck that ass, this time from behind. Boda takes it so well, enjoying it as he wanks himself. He keeps us his wanking, as Martin fucks him, until he shoots his hot cum all over the bed. Martin continues to fuck that hot ass, fucking harder until he cums deep inside Boda's hole. That hole releases some of the cum before Boda turns around and kisses Martin after a very hot scene.
WILLIAM HIGGINS
STR8HELL
BEL AMI
BEL AMI'S FRESHMEN
EAST BOYS
RANDY BLUE
CLICK HERE TO GO TO HIS WILLIAM HIGGINS BIO PAGE
CLICK HERE TO GO TO HIS STR8HELL BIO PAGE