Handsome Blond William Higgins Czech Gay Porn Star, Adam Kolez
Known Aliases / aka: Jasper Leigh @ BelAmi
Years Active: 2017 – 2018
WILLIAM HIGGINS INFO:
Model Name: Adam Kolez
Age: 20
Home Town: Prague
Height: 181cm/5'11"
Weight: 70kg/154lb
Foot Size: EU43/US8.7/UK8.2
Penis Size: 17cm/6.69″
Profession/Student of: Unemloyed
Hobbies: Sport
Favorite Sports: Athletics
Active Sports: Soccer
Movie/Music/Sport Stars: Jennifer Lopez
Visited Countries: Portugal
Want to Visit Countries: Slovakia
Dream of My Life: I don't know.
Zodiac Sign: Scorpio (October 23 – November 21)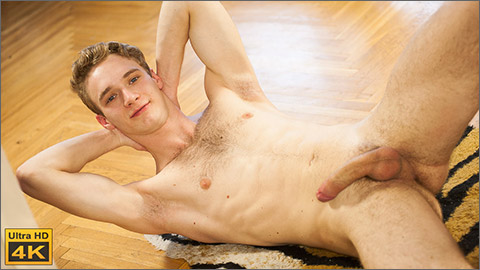 EROTIC SOLO: ADAM KOLEZ
Adam Kolez is age 20 and lives in Prague. This good looking straight guy is unemployed and enjoys sports, athletics and soccer. He looks very good as he sits on the bed for his intereview, which is conducted in English. Then Adam stands up and begins to feel his body. He lifts his tee shirt to show his hairy belly as he rubs his groin. The jeans are pushed down off his ass as the hands run over the sexy body. Taking off the tee shirt Adam fully reveals his hot body, letting his hands run down to his jeans, and slipping inside the waistband. As he feels himself his cock seems to harden in his jeans. Then Adam opens the jeans to release his swelling cock. He takes it in his hand and gently wanks it. The cock looks os impressive as Adam wanks it. He removes his jeans as the stiff cock pokes out in front of him. Moving to the bed Adam lays down and spreads his legs to show his ass crack as he wanks. He pulls the cheeks apart to show off his tight hole. The hole looks so inviting as Adam keeps up his wanking too. He drops his legs and wanks that cock hard and fast, as his balls tighten around the base of the shaft. He keeps up his wanking until the cock releases a nice big cum shot, with the creamy load landing of his belly. Then Adam goes off to the shower to wash up after a very nice show.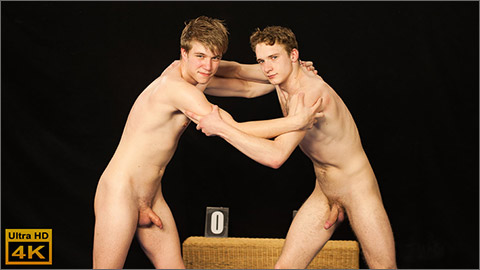 WRESTLING: ADAM KOLEZ vs IVAN SABADO
Ivan Sabado and Adam Kolez are two very hot straight guys who came in for a submission wrestling match. They both look very good as they get ready for the match, doing some warming up. Then it is on with the match with the guys rolling all over the mats, legs entangled until Adam submits. They then remove their underwear to wrestle the rest of the match naked. That lets us enjoy spreading asses and flailing cocks as they grapple with each other to gain an advantage. As they wrestle underhand tactics are employed, such as squeezing balls to gain submissions. Both guys resort to it when their other efforts don't bring the required results. They both give their best efforts but it is Ivan who builds a good lead and they take break at 8-4 to oil each other all over. Then it is on with the match and Ivan continues his winning ways, to claim the overall victory. After that they settle down for a wank off. With cocks hard they wank each other for a while too. Adam does it but then complains about it. However he comes back and wins the wank off, shooting his hot load all over the mats. Then Ivan dumps his cum too and the clean each other off before going off to the shower to wash off all the sweat and oil.
WILLIAM HIGGINS
STR8HELL
BEL AMI
BEL AMI'S FRESHMEN
CLICK HERE TO GO TO HIS WILLIAM HIGGINS BIO PAGE
CLICK HERE TO GO TO HIS STR8HELL BIO PAGE