Handsome Spanish DILF Kristen Bjorn Gay Porn Star, Mario Roma
Known Aliases:
Years Active: 2020 – 2023
KRISTEN BJORN INFO:
Nationality: Spain
Height: 5'10
Weight: 180 lbs
Dick: 7.5" (19.05 cms) uncut
Position: Versatile
Zodiac: Capricorn
Mario Roma is a ruggedly handsome, well built, blue eyed man. Mario's stiff cock is sharp and straight as a spear, and his ass consists of perfect muscular globes. And Mario isn't afraid to use all his assets to please his men!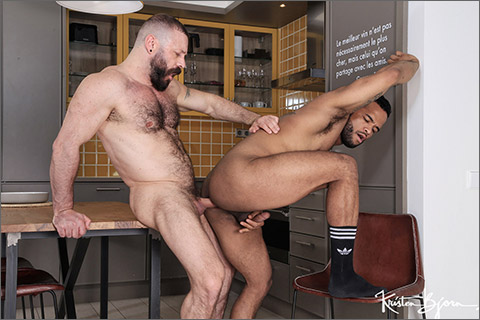 KRISTEN BJORN'S CASTING COUCH #440: JONAS BROWN & MARIO ROMA
Jonas Brown is the newest member to the Kristen Bjorn Society of Select Men and is being inducted by the very sexy daddy, Mario Roma. Mario and Jonas have been messaging each other for some time until finally Mario goes to visit Jonas in France. After a wild first night the guys get up and find that their carnal lust has yet to be satisfied. Bumping and grinding big bulges away in the kitchen, Jonas' cock springs free and is demanding more attention. Jonas jumps up on the counter with his cock fully erect with desire as Mario leans in and shows just how amazing daddy's cock sucking can be. Mario thoroughly works his wet lips up and down the chestnut-colored cock shaft, making sure to pay special attention to the bulging nob on top. Unable to contain his craving, Mario shoves his throbbing cock into Jonas' hungry and eager mouth. Jonas sucks, swallows and chokes down Daddy's cock as he opens wide for more. Jonas looks up at Mario with an animal desire and opens his mouth for Daddy's spit to keep him lubricated. Mario grabs hold of his hairy nipples and begins twisting and pinching them, raising his thirst for more to a new level. Jonas is bent over the table as Daddy Mario thrusts his hard cock into that perfectly sculpted brown ass. Mario rams his cock deep within Jonas' ass and Jonas meets his thrusts by backing his ass up onto the pleasure pole filling him up. Getting flipped onto his back, Jonas is able to look into the eyes of the man rocking his world. Mario has slowed up his pace and is now fucking Jonas's with a touch of passion and romance. Flipping again, but this time Jonas takes the lead as he backs up onto the furry beasts' pulsating cock. Jonas grinds his ass deep and hard onto Mario's cock, causing his own cock to reach its full fortitude. One last thrust back and Jonas' cock is erupting in flowing cum. Jonas feels the pulsating of Mario's cock in his ass and drops to his knees just in time to feel the hot load explode all over his face and especially on his starving lips and tongue. I think we will be seeing much more of our beginner.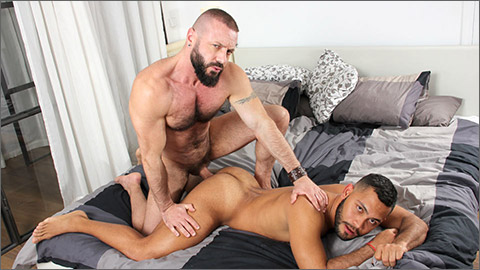 KRISTEN BJORN'S CASTING COUCH #424: MARIO ROMA & CARLO MONTE
Carlo Monte has been scheduled to film with muscle Daddy Mario Roma and wants to get together beforehand to make sure he understands positioning and camera angels. Mario arrives and finds that Carlo's sexual appetite is running on over drive and decides to give him what he wants before getting to work. As the men strip down it is clear to see that the thin veneer of fabric of Mario's underwear with a huge dick bulge conceals none of his desires. Mario drops to his knees and takes Carlo's pulsating cock into his hand as he gently begins to suck on his handsome, uncut cock. Carlo takes his turn and begins sucking Mario's cock through the sheer fabric as Mario's juices start flowing through the fabric. As Carlo is sucking on Daddy Mario's cock, Mario can't help but notice Carlo's huge, muscular ass is undulating up and down in unison with his cock sucking skills. This movement is too much for Mario to resist any longer and pushes Carlo face first into the bed as he shoves his meaty cock into the center of those golden globes of pleasure. Carlo reaches back and spreads his ass cheeks open as Mario fucks his cock in and out of that amazing ass. Mario pulls his cock out and begins eating Carlo's hot, pink hole, savoring the fuck juices the two have just created together. Rolling Carlo onto his side, Mario cuddles up behind him as he again slips his hard cock into that hungry ass. Carlo is too close to cuming and wants a taste of Mario's ass before he does. Mario is flipped onto his back as Carlo spreads his legs and slides his latin cock into Daddy's hairy hole. The guys ride a wave of intense fucking that brings them ever closer to the rim of ecstasy. Carol pulls his cock out and feeds Mario his hot load of cum all over his awaiting lips and tongue. As Mario laps up the last of Carlo's load of cum, he unleashes his load all over his furry abs. What difficult decisions to be made, fuck the hot cubs muscle ass or fuck Daddy's masculine hairy hole, why choose when you can have both.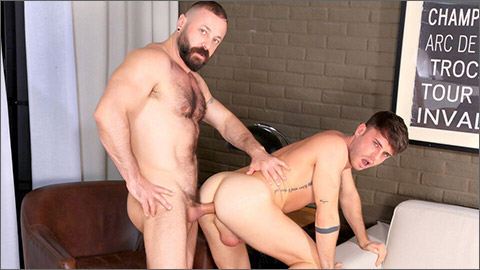 BE MY DADDY: MANUEL REYES & MARIO ROMA
On a leisurely afternoon, Manuel Reyes is seductively lounging on the sofa when Mario Roma, or Daddy as Manuel likes to call him enters the room. Mario has just arrived from a stressful morning of demanding meetings and needs to release some of that stress and tension. Daddy Mario is still in his southern, linen suit and driving gloves that help set the tone for Manuel's fantasy. Mario unleashes his fat, uncut cock and Manuel is enthralled with the pleasures that are about to be bestowed upon him. Manuel grabs hold of daddy's fat cock and presses his hungry lips up against the bulging head, emerging from the foreskin that has kept it concealed. After giving Mario's cock a good sucking, Manuel stands and presents his hot, pink hole to Mario, who is more than eager to get his lips on that hot ass. Mario gives that ass a thorough ass eating, making sure Manuel's ass is wet and ready to be fucked. Manuel turns around and Mario cannot resist such a hard cock demanding his attention and begins sucking up and down the full cock shaft until reaching those smooth balls in his hand. Daddy bends Manuel over and rams his raw cock balls deep and begins a deep, penetrating fuck. Mario likes to keep things new and fresh and takes a seat while Manuel takes a seat on top of his throbbing cock. Manuel works his ass up and down on daddy's cock, feeling every centimeter entering his sweet hole, until he can feel daddy's full hairy bush brushing his smooth ass. Getting his ass flipped again, Manuel is on his back, legs spread wide and Mario shoving his cock deep within. Mario quickly picks up the pace and is giving Manuel a hard ass fucking. With each thrust of Mario's throbbing cock, both men are brought that much closer to explosive pleasures. Daddy's cock has massaged Manuel's ass perfectly as he showers his load of cum all over his ripped abs. All that pleasure pulsating around Mario's cock has blown him over the edge as he explodes his thick cum onto Manuel as his cock  slips back inside of that hot ass. Daddy's gift!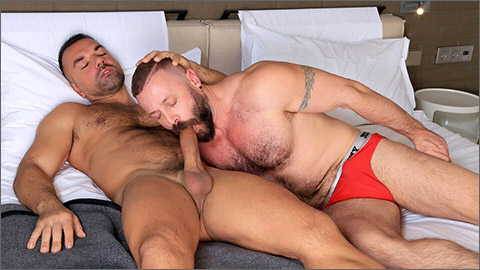 MANEUVERS: MARIO ROMA & OLIVER MARINHO
After a wild hook up last night, Mario Roma and Oliver Marinho are ready for some more tactical and sexual maneuvers. As Mario and Oliver awake to the feel of each other's furry pelts, Mario pulls out Oliver's thick, meaty cock and begins stroking him, making sure to pull back his foreskin and reveal his bulbous head. Mario moves in and can still smell the scent of their sex from the prior night, breathing in deeply, Mario's senses are filled with desire as he begins sucking on Oliver's huge cock. Oliver is extremely turned on as he begins sucking on Mario's cock, as he can taste their fuck juices still lingering on his cock. With the smell of sex wafting throughout the room, Oliver is ready to go again. Lowering his ass onto Mario's cock, Mario can still feel his hot load inside of Oliver's ass, lubricating him perfectly for this morning's sexual maneuvers. Oliver fucks his ass up and down Mario's throbbing cock as his cock flops around full of lust and desire. The guys flip positions and Oliver finds himself on his back with Mario above him fucking him deeper and harder. Mario's cock has massaged Oliver's ass perfectly, which triggers Oliver's cock to erupt with a creamy load of cum. Mario continues with his fucking and flips Oliver onto all 4's and slams his cock into that wet ass from behind. Mario's pace picks up a rapid pace and drives him to the edge as he showers his hot load all over Oliver's ass. Mario slips his cock back into Oliver's ass, adding the remainder of his load with his load from the night before. Now that is a top-notch mixologist.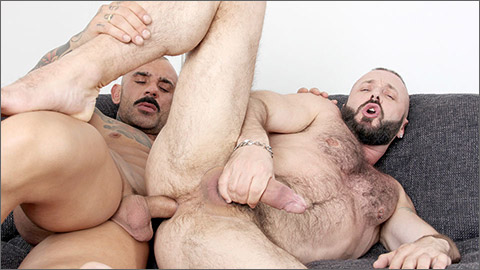 A PRIVATE PILOT: JUANJO RODRIGUEZ & MARIO ROMA
Juanjo Rodriguez is a private pilot for hire and agrees to meet up with one of his clients, Mario Roma. During their recent flight Mario couldn't help but notice how sexy and muscular Juanjo is. Juanjo arrives and quickly finds out that this is not a usual business meeting as Mario begins stripping down. It has been a long day and Juanjo could use a good release and agrees to indulge his client. Mario drops to his knees and begins to consume and suck on Juanjo's hard, uncut cock. After sucking Juanjo's cock to its full strength he swaps with Mario and shows him he is just as talented at sucking cock as the big, muscle bear. Mario is flipped onto his back and Juanjo begins feasting on his hairy ass. After a thorough feasting, Juanjo comes in from behind and slips his hot cock deep into Mario's wet ass. Juanjo slowly builds his pace as Mario relaxes and accommodates his pounding cock. Mario gets flipped onto his side and Juanjo picks up his fucking much to Mario's pleasure. Once again Mario is flipped onto his back this time and on the edge of the sofa as Juanjo rams his cock deep into his hungry ass. This position rubs Mario in just the right way as his cock swells to full girth. Juanjo continues with his deep fucking as Mario grabs his cock and strokes out his thick, creamy load of cum all over his hairy chest and abs. Mario scoops up his cum and coats Juanjo's cock with his hot load and the feel of the hot liquid on his cock pushes Juanjo over the edge. Juanjo shoots his load of cum all over Mario's balls and hairy ass. Now that was a good meeting.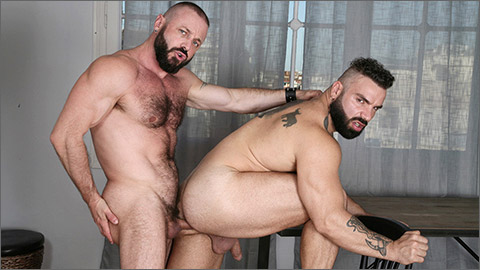 BEEFCAKE: MAX HILTON & MARIO ROMA
The beefy muscle beasts; bodybuilders Max Hilton and Mario Roma return from the gym in their sweaty jocks with huge dick bulges and ready to explode their loads. As Max and Mario grind their cocks and lips together their excitement is beyond containment. Max drops to his knees and unfastens the leather pouch that is holding Mario's straining cock back and as it is set free Max rushes in and begins sucking the scruffy cock in front of him. Max rises for another passionate kiss before Mario drops to his knees and unleashes Max's rigid cock and begins sucking it all the way to the base. After swapping cock sucking pleasures Mario is ready to move on and lowers his hairy ass down onto Max's awaiting cock. As Max's cock slips deep within Mario's ass the groans that escape from Mario are of utter delight. Max guides Mario up and down his strong cock as Mario grinds down and deeper to fill his ass with total pleasure. The guys swap positions and this time Mario is hungry for a taste of Max's hot, muscular ass. Mario's tongue explores and penetrates Max's ass as both men spread those furry ass cheeks apart to expose the hot, pink center. Unable to resist any further, Mario stands and rams his raw cock deep into Max's wet ass. The guys swap it up again and Max finds himself on his back with Mario's cock fucking him even deeper than before. In this position Mario's cock perfectly massages Max and richly brings him to the point where the cum begins oozing out of his cock. Just as Mario fucks the last drops of cum out of Max's cock, he releases his own hot load of cum that showers Max's ball sac then leans in and begins lapping up his own cum. Beefcake cumfest is the best.
CLICK HERE TO GO TO HIS KRISTEN BJORN DETAILS
VIDEO ON-DEMAND: Mario Roma @ AEBN SMUTJUNKIES THEATER
NOW STREAMING: Mario Roma @ NAKEDSWORD
Hot or Not? Let us know.
[Total:

206

Average:

4.8

]