Hung Handsome Spanish Daddy Gay Porn Star, Gianni Maggio
Known Aliases:
Years Active: 2016 – 2022
FUCKERMATE INFO:
Gianni is hot and horny like all guys that come from Southern Italy like him. He got a thick XXL dick and he wants to offer it to any single bottom that can handle his dimensions: don't worry Gianni, you'll find a lot here on Fuckermate!
Age: 35
Height: 182cm
Endowment: 24cm
Role: Top, Versatile
Ethnicity: White
Body Type: Muscled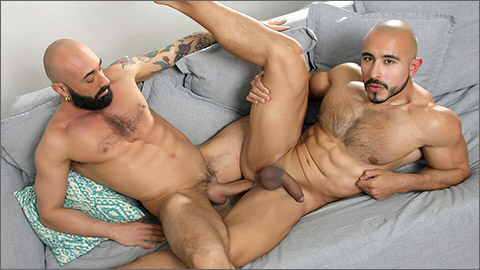 KRISTEN BJORN'S CASTING COUCH #455: ALAN VICENZO & GIANNI MAGGIO
Alan Vicenzo gets inducted into the Kristen Bjorn Society of Select Men in one of the biggest ways by Gianni Maggio. Stripping down to just his underwear, Alan gives a tantalizing view of his magnificently sculpted muscular body. Gianni enters the room and relieves him of his underwear and quickly disrobes himself, releases his monster cock. Immediately, Gianni devours Alan's throbbing cock, feeling the hard, muscular shaft slipping across his wet tongue and down his throat. Alan's has heard of the legend and now it is right there in front of him as his smooth, firm, full ball sac fills to enormous proportions. Gianni feels the swollen ball sac and makes sure to give them equal attention as he takes each into his hot mouth, swirling his tongue around it and feeling the fluids rushing to fill it even further. Gianni knows that he can't let those balls fill up too fast and backs off and waits to see what Alan's cock sucking skills are like. Alan opens wide and begins stuffing that monster cock as far down his throat as is humanly possible. With Gianni's encouragement and guiding hands Alan does everything within his powers to conquer the monster. Alan flips onto his back and Gianni begins a game of cat and mouse, using his strong, wet tongue to moisten his ass and  tease of his throbbing cock to prep him for what is to come. One last exchange, but this time Gianni rams his mega cock into Alan's already drenched ass. Alan is ready, takes a deep breath and immediately begins riding the wave of pleasure that is filling him so profoundly. The guys swap and Alan squats his ass down hard and deep onto Gianni's anaconda and grinds it good. Another flip and Alan is on all 4's with Gianni coming in hard from behind. Alan's muscular ass opens and invites the pleasure to rush throughout his entire body. Gianni's cock has massaged Alan's ass perfectly in this position and Alan's swollen balls explode his creamy load of cum as Gianni is unrelenting in his assault. The firmness of Alan's ass muscles wrapping around Gianni's cock is too much to resist and Gianni erupts a huge, thick load of milky cum all over that magnificent ass.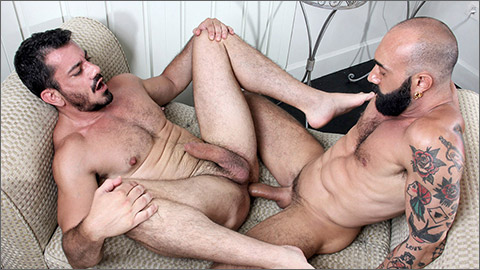 KRISTEN BJORN'S CASTING COUCH #438: JOE GILLIS & GIANNI MAGGIO
As the "newcomer", Joe Gillis may be new to the Kristen Bjorn Society of Select Men, but Gianni Maggio is about to unleash his monster cock for this initiation. The guys quickly strip down and both massive cocks are put on full display. Gianni is always enthusiastic when he sees an equally gifted cock as his own and today, he is eager to get his lips wrapped around Joe's big boy dick. As Gianni begins sucking on Joe's impressive, uncut cock he finds that he has to work a bit harder than usual to get all that cock into his mouth. With his tongue and lips servicing that hot cock, it begins to build in girth and length that makes all mouths water. Joe now takes his shot at the legendary cock that so many want and desire. Taking a moment to admire the sheer majesty before him, Joe leans in and begins sucking Gianni's cock to the point where he is now chocking it down his throat. With his mouth and throat stretched to their limits, Joe turns around and shoves his hot, hairy ass into Gianni's face. As Joe's pink hole tantalizes Gianni, his tongue begins darting in and out of that hot pleasure den. Gianni stands up and rams his rock-hard cock deep inside of Joe. After being flipped in multiple positions, Joe is unable to contain the pleasure building deep within him and begins oozing his thick, creamy load of cum. Gianni grabs his own cock and showers Joe's hairy balls with hot load of cum.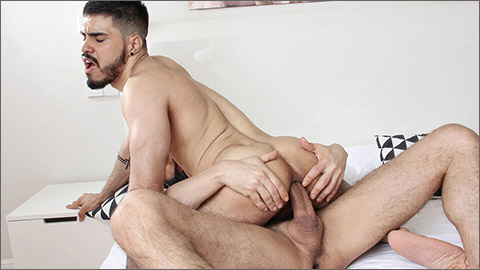 KRISTEN BJORN'S CASTING COUCH #433: VALENTINO SISTOR & GIANNI MAGGIO
Gianni Maggio is "the expert" with a massive cock that is going to show Valentino Sistor, beginner how to show your best side to the camera. As soon as Valentino sees Gianni's monster cock, he jumps on it and shows that he is no beginner when it comes to cock sucking. His cock sucking skills are actually quite impressive as he is able to take all 24 cm (9.5"). Gianni is thinking to himself, "if this guy's mouth is this talented, I can't wait to see how deep I can go in his ass." Valentino's ass gets a thorough tongue lashing before Gianni slams his cock, balls deep inside of him. While holding his ass open, Valentino shows Gianni that he is eager to take that huge, raw, big boy dick. Gianni fucks Valentino in multiple positions before creaming his ass with his thick load of cum. As Gianni swirls his cum all around Valentino's ass, Valentino strokes his cock as Gianni laps up his sweet cum. With that hot tongue teasing his ass, Valentino shoots his hot load. Valentino may be a beginner to gay porn, but not to monster cocks.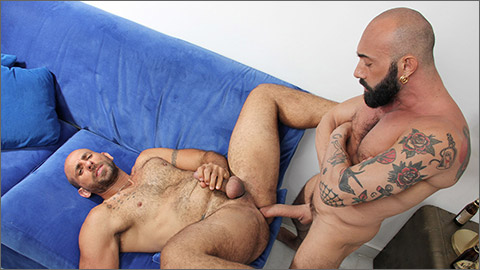 HOLE IN ONE: GIANNI MAGGIO, JORGE LEAL
Stiff competition and rough play occurs when Gianni Maggio and Jorge Leal get together for game night. Gianni uses temptation and distraction to try and get the upper hand on the game and Jorge is all in as he sees Gianni's massive cock exposed. Jorge drops to his knees and begins worshipping the fat, mushroom head of Gianni's cock. Gianni spits and drools his beer onto his cock and Jorge sucks it all up, cock, spit and beer. Getting spun around, Jorge's hairy ass is spread apart and Gianni moves in to eat up all that deliciousness. Jorge's hairy, pink hole is glistening as Gianni's huge cock pierces the magic ring and slowly drives the remainder of his cock shaft up that hot ass. Gianni begins picking up his pace as Jorge's ass relaxes and allows Gianni's colossal cock to go deeper. The guys swap up positions and this time Jorge lowers his ass onto Gianni's rock-hard cock and begins fucking himself to his full level of pleasure. Another swap and this time Jorge finds himself on his back, legs spread wide and Gianni's enormous raw cock penetrating him deep and hard. The fucking reaches an intensive paralleled passion and Gianni is beyond control at this point and creams Jorge's beefy ass with his hot load of cum. Make it a game night tonight.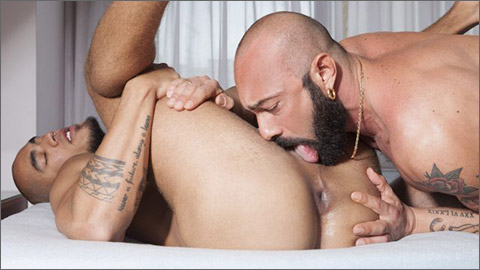 HORSE RIDING – GIANNI MAGGIO & LOUIS RICAUTE
This week two hot countries, Italy and Venezuela, meet in front of our cameras for a hot bareback session. You know all our fuckermates love big cocks and hungry holes, then we paired hung mate Gianni Maggio, with his XXL piece of meat, and sexy Latin stud Louis Ricaute, one of our hungriest and naughtiest boys. Gianni is always horny like a horse and will give Louis a ride to remember for long time! Hard muscles, tattoos and Latin passion mix together for your eyes' pleasure and we invite you to watch and enjoy this candy video till the end!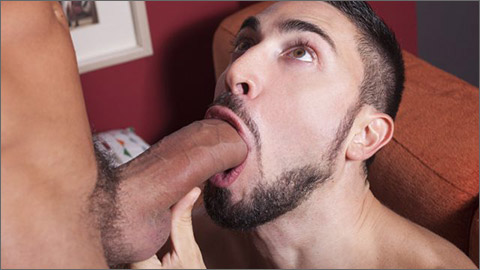 THE ITALIAN JOB – GIANNI MAGGIO & GASTON CROUPIER
After almost two years absence, our Italian sexy mate Gaston Croupier is back with us this week to make a perfect match. He's back to bottom for his supersized compatriot Gianni Maggio. They both have muscled worked bodies and that typical sex appeal for which Italian men are famous, but with another special quality too: Gianni got a giant XXL cock between his legs while Gaston's got a perfect hungry ass that wants only to be fucked with no mercy. What else can we ask? Do a good job guys!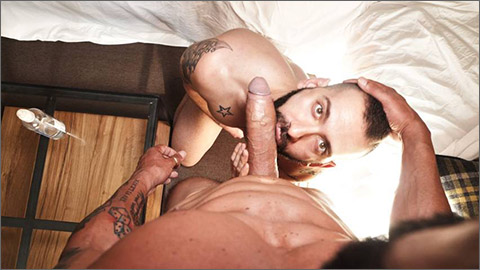 BAREBACK FUCKER GIANNI MAGGIO IMPALES ITALO'S MUSCLE ASS
We got the Italian connection this Tuesday! The Daddy Stallion Gianni is back at Timtales to share his seeds with the eager Italo. As always, Italo knows how to handle a long and thick cock from deepthroating to riding with perfection. Gianni rewards him with a loaded cumshot.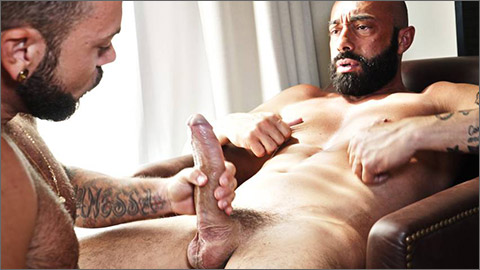 GIANNI MAGGIO FUCKS SERGI RODRIGUEZ BAREBACK
Our sexy hairy muscle boy Sergi Rodriguez is visiting town and we got him a huge cock to ride. Gianni Maggio is a hot Italian stallion with a big thick dick like we love them. Watch Sergi's pretty mouth devour that fat cock. A gorgeous hunky muscle stud with a tight ass getting bareback all day, enjoy!
CLICK HERE TO GO TO HIS KRISTEN BJORN DETAILS
VIDEO ON-DEMAND: Gianni Maggio @ AEBN SMUTJUNKIES THEATER
DVDs & ON-DEMAND: Gianni Maggio @ TLA VIDEO