Spanish Power Bottom Gay Porn Star, Lukas Daken
Known Aliases:
Years Active: 2017 – 2019
MEN.COM INFO:
Hair Color: Black
Sign: Libra
Eye Color: Brown
Dick Size: 8.5″ uncut
Height: 6'0″
Weight: 180
Sexual Positions: Bottom
Favorite Foods: Cookie Dough / Mint Chocolate
Favorite Movie: Basically anything with dragons in it
Favorite City: London
Hobbies: Learning random facts/reading
What I like The Most: Animals
What I Don't Like: Rudeness
Best Thing About Me: My mind
Worst Thing About Me: My mind
How To Make Me Happy: Good fucks, good food, good sleep
Favorite Quote: People think I'm insane, but I assure you I'm not. You on the other hand, desperately need help.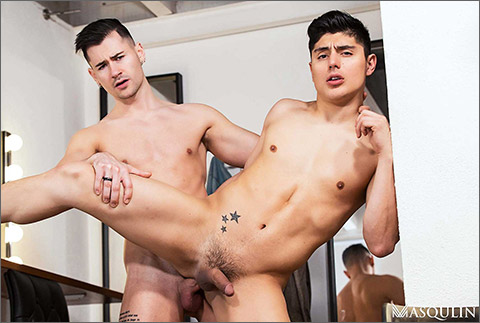 MOTEL SLUTSVILLE – PART 2
After JJ Knight's little adventure in the woods with an unknown Slutsville resident, the guys decide to pull over for the night to get a little R&R. There is clearly something in the air in Slutsville, as a brief encounter with the motel attendant leaves Lukas Daken horny as fuck and wanting nothing more than to pound the hell out of Ken Summers' ass.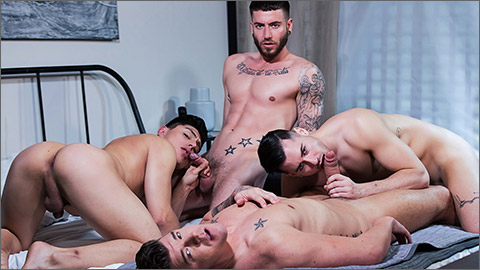 MOTEL SLUTSVILLE – PART 3
In this final episode of Motel Slutsville, JJ Knight gets an unexpected visit from the hotel attendant who reminds him yet again of where the town got its name. The scene really heats up as Lukas Daken and Ken Summers join them for a bareback, cum filled orgy, demonstrating how every buddy should bond on a road trip.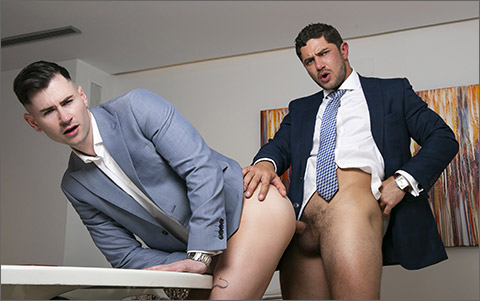 THE MENTOR AND MENTEE
Lukas Daken is on a secret mission. Get in to to the apartment, find the hidden pen drive and get out unnoticed. Sounds easy enough, but as Murphy's Law has proven time and time again anything that can go wrong usually will.
Especially when you're breaking into Dato Foland's apartment and he also happens to be your former Mentor. Embarrassed by Lukas' amateur mistakes, Dato turns this encounter into a corporate espionage re-education moment.
Lesson #1 never get caught! If you do get caught, Lesson #2 never reveal your source. Thankfully for Lukas, Dato doesn't give him the chance to reveal much of anything as he shoves his gorgeous Russian cock down the back of his throat. When Lukas bends over the dining-room table and exposes his smooth hole, Dato can't help but get lost in that inviting ass. It quickly becomes apparent that the mentee has, in fact, played the mentor.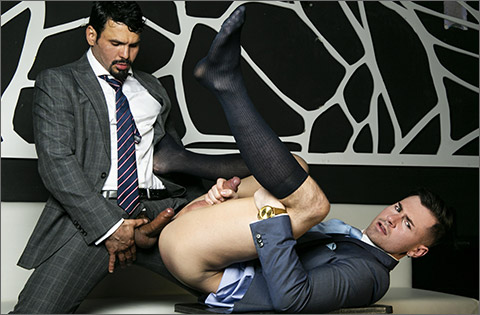 121 BPM
DJ Lukas Daken preps for his upcoming gig while Club manager Jean Franko quietly watches him spin from behind the bar, imagining all the things he'd like to do to his new sexy DJ once he finished up. Jean abruptly cuts the set short to have a word with Lukas regarding the club's proper dress code and uses the opportunity to bring him in the back so that he could get him to try on a new suit that he has hand-picked. He asks Lukas to try on the suit right then and there and then sits back to observe him while he slips out of his clothes and into something a little more club appropriate. Jean does not shy away from enjoying his front-row seat of Lukas' tight smooth naked body. Noticing the ever-growing bulge in Jean's pinstripe, Lukas asks Jean if he likes what he sees clearly already knowing the answer.
   What follows is an intense pounding that ends with both men in need of a new suit.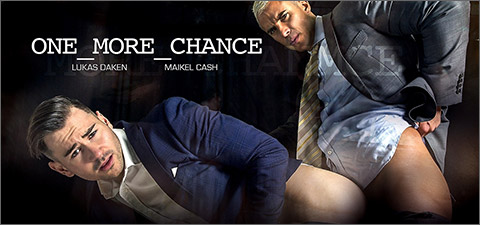 ONE MORE CHANCE
We've got another fuck-up lad in need this week. Lukas Daken can't seem to grow up and assume responsibility. Maikel Cash, a family friend, is helping Lukas out by giving him work, but Lukas has fucked up one too many times. But Lukas is willing to do anything—anything!—to keep Maikel from ratting him out to his dad. Decisions, decisions… We hope you believe in second chances because this week Maikel is giving Lukas one more chance in the form of crazy good banging. Lukas looks quite dashing in a casual black-on-gray suit while Maikel commands in soft gray. These studs don't disappoint. From Lukas—ever the willing bottom—getting on all fours for Maikel's massive cock to Maikel sliding his dick into Lukas's mouth then, soon later, fingering his tight hole, this week's film offers loads of chances to shoot some loads!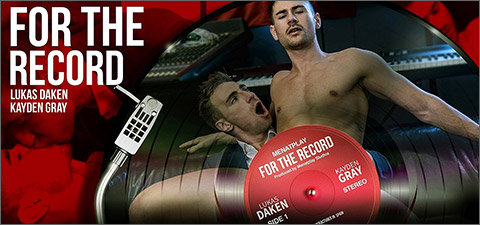 FOR THE RECORD
Kayden Gray and Lucas Daken make sweet music this week in For the Record. Kayden is a musician who has a hard time staying in line. Lucas, his manager, and secret lover gives him a stern lecture about the need to be discreet, especially where their relationship is concerned. But Kayden has other ideas. Our studs are giving you two versions of suited-up sexiness this week. Lucas, dressed in a classic gray suit, exudes sophisticated charm and sex appeal, while Kayden, pairing a dashing blazer with ripped jeans, gives off rock star cockiness, seducing Lucas with his eyes then taking out his enormous cock so Lucas can suck it. Lucas and Kayden wear each other out in the music studio. Lucas lowers himself onto Kayden dick and bounces good and fast. Kayden reciprocates by fucking Lucas on his knees and his back making each of them burst a volcano of cum. The sound of these hot men screwing is music to anyone's ears.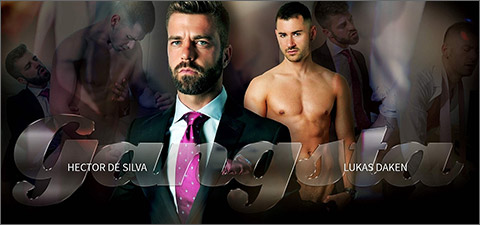 GANGSTA
What is it about ganstas? Why does the sight of a made Mafioso sporting a finely tailored suit get our dicks hard and make our holes pucker? Maybe it's the danger, the money, the thrill of knowing this stud can give you mind-blowing sex and if he wanted, stuff you in the trunk of a car. Gangstas are powerful sex gods. Hector de Silva is stepping into the role of a dapper gansta this week and Menatplay newcomer Lukas Daken is the unfortunate hottie who crossed him. Snatched out of the trunk and tied to a chair, Lukas becomes Hector's willing prisoner. He begins to rub Hector's crotch and soon our gangsta in the fleur-de-lis tie, horned up, gives Lukas the brutal fuck he's been begging for. Lukas bounces on Hector's dick rough and fast. When Hector flips him over and bangs him from behind, neither of them can stand the pleasure for long. They end up glazed in cum, and so will you.
CLICK HERE TO GO TO HIS MEN AT PLAY DETAILS
CLICK HERE TO GO TO HIS MEN.COM DETAILS
VIDEO ON-DEMAND: Lukas Daken @ AEBN SMUTJUNKIES THEATER
DVDs & ON-DEMAND: Lukas Daken @ TLA VIDEO
Hot or Not? Let us know.
[Total:

101

Average:

1.8

]