Handsome Fratmen Gay Porn Star, Luca Rosso
Known Aliases: Jesse at FratMen
Years Active: 2009 – 2016
BRIAN OCKERT / CHAOS MEN INFO:
Luca Rosso started in the industry when he was just a twink. He and his twin did some videos, then they both stopped. I think Luca says that last time he did a video was 2012.
   Luca is local to me, and over the last couple years we exchanged emails about him doing a video, but we never connected.
   He is a distance runner, doing marathons all the time. He is all lean muscle, and looks very aerodynamic!
   Luca is now 26, and I think he looks better than ever with the scruffy beard and bright white shiny teeth!
   I am always looking to have local guys to Service the dudes that fly in for a solo/oral, so I thought we would film a solo just to meet and gauge his energy.
   He is a polished performer, and will likely have him do a few Serviced videos.

TWIN HEAT: Luca fucks Landon Conrad while fucking Liam Rosso
Landon Conrad's in hog heaven rooting around with twin sex fiends Luca and Liam Rosso. Left and right, he's got someone nipping at him, hungry to kiss, suck his dick and lick him all over. And it's just as rewarding for the feisty brothers as they jockey for position to service their lucky playmate. Landon soon gets down to fellate the dynamic duo, his head pivoting left and right to suck down their swollen cocks. Luca and Liam then kneel side by side and bottoms up so Landon can tongue their asses, digging deep inside their holes with slurping jabs. Then they reposition themselves with Landon on his back nursing on Luca's dick while Liam rides his pole. Their harmonized moaning continues as they get up with Landon still plowing Liam up the ass while Luca is behind him fucking his hole. Ready to cum and flanked by the rowdy Rosso bros, Landon jerks off. His hefty climax is quickly followed by the explosive blasts from the twins' over-stretched cocks aimed at his sweaty chest.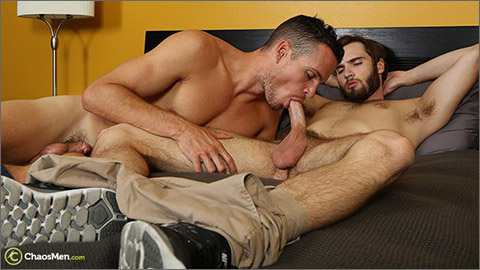 SERVICED: LUCA ROSSO & OSCAR
Oscar showed up a little sad this day. His girl had just broke-up with him, and they were furiously texting each other before the shoot. I was a little worried he would be distracted when it came to do the video. He put the phone up, took a shower, and was ready to play. Even still, he seems very serious in this video.
   Despite being able to lick his own cock, he was not ready to suck another guy's cock. I thought that if I had Luca there, with his cock out, that he may actually take the leap and suck him off. But he only stroked Luca's cock for a short period. Though he did show a lot of interest in watching Luca jerk his own cock.
   Again, Oscar's cock is hard in seconds, tormenting himself by aggressively rubbing his cock head.
   Luca sees how hard he is, so slides down to stroke and suck on Oscar's rod. If you like OutTakes, stay for the ending to see a moment where Luca was sucking a little too well!
   Oscar does some dirty talking, and Luca seems to be into it. He gets super hard while Oscar is fucking his face.
   Since we had a moment when Oscar might accidently cum to soon, we set Luca up to pull the load out of Oscar. Clearly Luca was going to be able to make Oscar cum. With Oscar coaching him the entire time, it only took a couple minutes to make him bust. "Don't stop! Don't Stop!"
   His load spills out of his cock. Luca of course lost his own hard-on while trying so hard to make Oscar cum, so we had to give him a moment to get hard. He bust his load all over Oscar's stomach, adding his own spunk to Oscar's load!
CHAOS MEN
MEN.COM
NEXT DOOR STUDIOS
CORBIN FISHER / AMATEUR COLLEGE SEX
FALCON STUDIOS
CHANNEL 1 / RASCAL
CLICK HERE TO GO TO HIS CHAOSMEN BIO PAGE