Scruffy Hung Uncut ChaosMen Amateur Gay Porn Guy, Leon
Years Active: 2016
BRIAN OCKERT / CHAOS MEN INFO:
Start Age: 25
Debuted: February 23, 2016
Height: 6'3″
Weight: 190 lbs
Cock: 8″ Uncut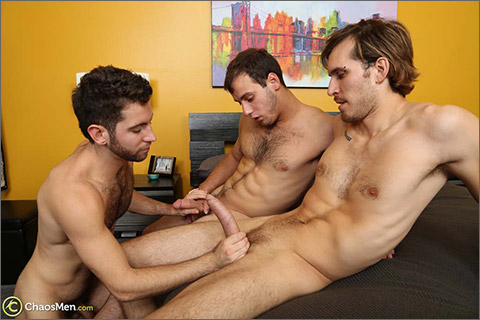 SERVICED: LEON & SEAN PEYTON & TRUMAN
Last week you met both Leon and Sean Peyton doing their solos. I thought I would put them together to see how well they do with cock sucking. Two new guys first time being filmed!
   Truman was supposed to do a cam show, but he got a new job catering, and could not leave. Sorry cam viewers! He was of course looking for money for the holidays and regretted missing the cam show. So I thought why not drop Truman in there and have someone in the shoot that is familiar with being filmed.
   Sean starts by getting Truman hard. Such an easy thing to do as Truman, self-admittedly, is a dirty boy. He has been playing with guys now outside of doing ChaosMen work, but nothing serious. He is still dating girls, and I think the band-aid he is wearing is a result of run in with one of the girls he was dating. He loves getting fucked by guys, but girls keep luring him in.
   Leon was nervous, and it took him a bit to get hard. Sean works his cock until his big uncut cock was fully hard. Truman climbs up so that Leon can suck on him while Sean services him.
   Truman then sucks on Leon's cock, while Sean strokes his own cock to get hard and join in on the fun. Truman goes back and forth sucking both dudes. Finally both Sean and Truman suck on Leon's big cock, licking his foreskin, and sharing the task of taking on his monumental cock.
   Truman straddles Leon and puts his cock up against Leon's dick. Sean has a chance to suck both guys, trying to get both cocks in his mouth!
   Truman spins around and starts to make-out with Leon. That leaves his cock and ass available for Sean to rim and suck. Sean goes to town rimming Truman and then having a nice big cock to suck.
   Sean volunteered to be the recipient of both guy's loads. Leon gets up and feeds Sean his cock. Sean tries his best to get Leon's cock down his throat. Sean also rims Leon's hole.
   All the guys start jerking-off and I have to admit the timing on this video is crazy good! Leon shoots his load onto Sean, then Sean blows his load, and Truman adds his load to everyone else's. Boom! Boom! Boom! It's a domino effect of…
   Sean's furry body is coated in cum! You can practically smell all that cum through your screen!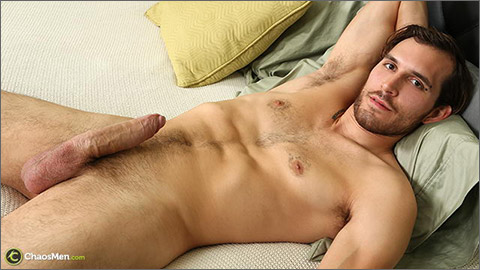 SOLO: LEON
Leon is 6'3″ tall and has a thick 8″ uncut cock. And wow! He has got some big dangling balls!
   He is bisexual, liking mostly girls. It sounds like with guys he has only Topped, and exchanged oral with. Leon sounded like he would be down for anything.
   Leon was a little nervous and it took him a bit to get hard. I had to stop and give him some audio. Once up, he then drooped again. I switched the video playing to a different girl, and he brought his cock back to full mass. Phew!
   He jerks off very fast, so it is hard to see just how massive he is. I was going to ask him to slow it down, but he took the initiative and gives us a few good views of his meat.
   His cum shot is tremendous! I think I counted 10 total spasms as his load literally coats his stomach, chest and face! Now that is a lot of jizz!
   If you love big cocks and low hangers, you will love Leon!
CLICK HERE TO GO TO HIS CHAOSMEN BIO PAGE