Raging Stallion Tattooed German Gay Porn Star, Logan McCree
Known Aliases: "Krieger" Philipp Tanzer
Years Active: 2007 – 2017
GAY PORN BLOG:
I had a college professor who used to say that one thing to look forward to about getting old is that you eventually sleep with everyone you ever had a crush on. Sadly this is turning out not to be the case, but one thing I am noticing is more and more of my lifetime crushes are showing up in porn (not that jerking off to someone is the same as fucking them, but, hey, I'll take what I can get).
   Three years ago at the Eagle, a young man named "Krieger" Philipp Tanzer was handing out cards (above, left) promoting his recent win as "German Mr. Leather". He was so insanely hot all I could do was bat my eyelashes and take his card (which I taped up above my computer, and where it's been ever since.) We've had a good thing going on these past three years: whenever my mind starts to wander, I look up and Krieger sternly looks down at me and reminds me to get back to work.
   INK STORM by new Raging Stallion label Screaming Eagle marks his porn debut (as "Logan McKree"), where he appears to be versatile and I am rather excited. The rest of the cast is pretty heavily inked as well, including Jake Deckard (who also makes his directorial debut), Tamas Eszterhazy, Ricky Sinz, Cory Koons, and Tober Brandt among others.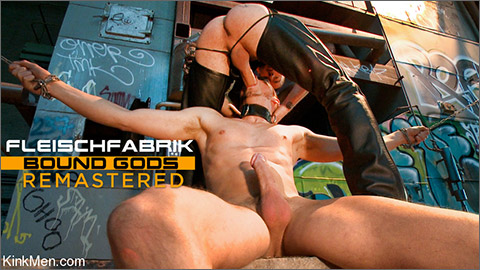 REMASTERED 2022: FLEISCHFABRIK BERLIN – PART TWO WITH LOGAN MCCREE
Sam Barclay waits in the boiler building, chained up, and covered in the cum of his previous Dom. Logan McCree strides in, horny and hungry. Seeing the boy in chains he decides to put him through the paces. Without introduction he owns the boy's body and uses him for his pleasure. With steam rising off his cock in the cold Berlin factory, Logan makes Sam lick his cock from base to head. Taking Sam to another building Logan covers they boy's cock with hot wax then flogs his body to hear his screams. In the abandoned stairwell Logan fucks Sam's ass and adorns the boy's face with his hot steamy cum.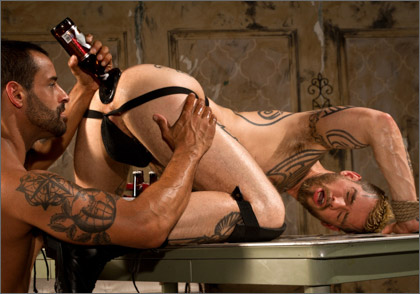 PERMISSION: Logan McCree fucks David Benjamin
Muscle stud David Benjamin and tattooed hunk Logan McCree and sitting at a table drinking beers and playing cards when David Benjamin decides he wants to have another kind of fun. David goes in for a sloppy kiss and the two spit back and forth into each other's mouth. Turning things up, Logan gets on his hands and knees atop the table, and surrenders each limb to David to be tied down to the table with rope. Once Logan is completely bound, David pours what's left of his beer on Logan's back and dives straight into Logan's ass with his long, talented tongue. Logan gets his ass spread apart and fingered to make way for the big, black dildo that David slides into his hole. Using toy after toy, David settles on a transparent anal dilator, and works it into Logan's ass. With the inner linings of Logan's asshole exposed, David pours beer into the hole and drinks it up and it streams out of Logan's ass. Keeping the dilator inside Logan, David finally releases Logan's cock from his jock and sucks him off until Logan can't take it anymore and releases all over the floor. David gets on his knees and deepthroats Logan's uncut meat, taking it all the way down to his balls as Logan face fucks him. Logan maintains dominance when he bends David over a table and shoves his huge, inked rod into David's hungry hole. David screams "fuck yea! Give me that big dick" with each powerful thrust from Logan. Switching positions, Logan puts David on his back and plows his hole until Logan pulls out and synchronizes his cum shot with David's as they blow their wads all over David's rock hard abs.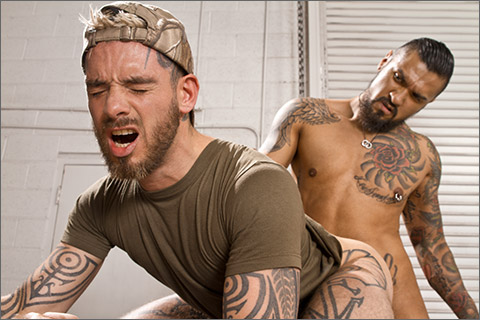 DICK MOVES
Carnivore Boomer Banks is almost offended when Logan McCree brings him a veggie pizza for lunch. Tired of his whining, Logan yells, "Here's meat on your pizza," and whips out his cock, slaps it against a slice of pizza, and hurls it at Boomer. Boomer retaliates, smearing pizza on Logan's face, then forcing him to eat meat: Boomer's meat. Logan has no hesitations about chowing down on 10" of uncut cock. Boomer punishes Logan's face and throat, rapidly while stroking himself. Logan assists, hooking his fingers in the sides of his mouth and stretching his lips as far as possible, until he is swallowing all of Boomer's cock. Having had enough meat, Logan jumps on a bench, landing on his knees with his tattooed ass aimed at Boomer. Boomer leads with his tongue, alternately probing at Logan's hole and sucking him. Logan's ass and Boomer's cock are positioned to connect. Logan reaches back to spread his cheeks, but easing the entry doesn't diminish the intensity of being invaded by such a monster dick. They fuck in two positions, culminating with Logan being water-logged with warm cum that Boomer quickly eats.
FISTING CENTRAL / FETISH FORCE
CLICK HERE TO GO TO HIS RAGING STALLION DETAILS
CLICK HERE TO GO TO HIS FISTING CENTRAL / FETISH FORCE DETAILS
UNZIPPED  January 2009, September 2009
HONCHO  June 2008, April 2009
TORSO  July 2009
BRUNO GMUNDER: RAGING STALLION 2010 CALENDAR
BRUNO GMUNDER: MAGNUM
BRUNO GMUNDER: TO THE LAST MAN
GAY PORN HEROES: 100 MOST FAMOUS PORN STARS
RAGING STALLION: INKED 2010 WALL CALENDAR
STALLIONS 2012 CALENDAR

BRUNO GMUNDER: TO THE LAST MAN
Photo Book, Pages: 96, Size: 21 x 28 cm / 8.5 x 11 inch, Format: Hardcover with dust jacket, Colour: full colour and duotone.
Raging Stallion Studio photographers Kent Taylor and Geof Teague are two of the finest artists working in male erotica today. This book is a collection of photography taken during the two-week production for the blockbuster film To The Last Man, a western epic that is the most expensive and ambitious gay erotic movie ever made. The location of this remarkable shoot was the high sierra of Arizona—a place so remote as to be untouched by modern times. The men who appear in this book were brought in from around the world, each chosen specifically because they had the look and feel of the American West. The rugged men and the Arizona location, combined with the skilled talents of Taylor and Teague, have resulted in To The Last Man, a strong statement about the male form.
VIDEO ON-DEMAND: Logan McCree @ AEBN SMUTJUNKIES THEATER
NOW STREAMING: Logan McCree @ NAKEDSWORD