Sexy Club Dick American GuyBone Gay Porn Dude, Jonah Wheeler
Known Aliases:
Years Active: 2021 – 2022
GUYBONE INFO:
Jonah is that boy next door you crushed hard on at summer camp, then fell in love with as he grew into an absolutely adorable, hot goofball. From the Haus of Someone (as in Joel Someone), Jonah joins GuyBone and makes all our dreams cum true! He's super sweet, has a wicked sexy smile, make you melt chocolate eyes, and a hot dad mustache ready for giving rides. His dick is superb and his hole is a must have. You want an outrageously sexy nerd who can make you laugh in bed? Look no further. Jonah Wheeler is all the YUM you can handle!
Ethnicity: White
Height: 6'0"
Tribe: Guy Next Door, Geek, Jock, Otter
Tattoos: No
Body Hair: Moderate
Facial Hair: Mustache
Dick: Cut
Dick Size: 7.5"
Position: Versatile
Piercings: No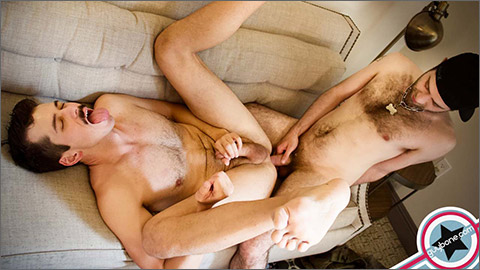 JAY DAVIS & JONAH WHEELER FLIP RAW
"Oh, shit, dude," Jay exhaled as Jonah retrieved his stiffening cock from his shorts and began licking it. These two were an instant match and I was so ready to see them sex each other. Jonah's perfectly mustached mouth made out with Jay's growing boner, pleasing the pup's penis extremely. The excited otter slipped out of his shorts and undies and gave his full shaft to Jonah. He was in supreme need of servicing and Jonah was made for the job. He buried his tongue in Jay's furry butt, rimming his hole to eternity and back. They kissed, Jay tasting his private parts on Jonah's lips. Then he returned the oral favor, slurping down Jonah's thick erection to the base, tasting every inch. What a good pup!
   Jonah fed Jay his cock, their furry bodies complimenting one another as they got each other harder and hornier. Jay lapped that long dong with his broad tongue then turned his butt around for Jonah to eat more. He pulled his cheeks apart and gasped as Jonah's talented tongue teased his asshole. Two hot studs, ready for some raw action. Jay stripped naked to match his costar and slid that bareback bone into his hole slowly. Jonah filled his tight ass completely, feeling his balls rest against that beautiful butt.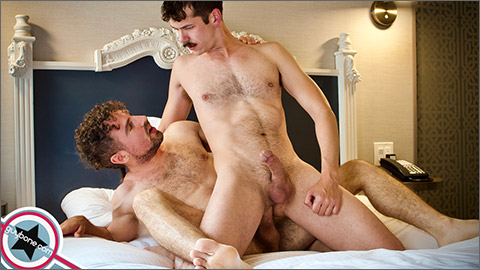 ELI TOPS JONAH RAW
Bushy pits and furry bodies abound, these two were a perfect hairy match. Both with incredibly sexy mouths they knew how to work, they gave quite the stellar show. Jonah swallowed Eli's thick dick to the base, showing his sub side and promising whatever Eli asked of him. Such a good boy. Eli's erection was at full mast in moments. Surely feeling Jonah's slobbering gob on his pole did the trick.
   Eli face fucked Jonah and fed him his giant cock like the dom top he was. He spit in his mouth and helped lube his throat. Jonah ate his dick up, taking it balls deep down his throat. Eli asserting his dominance was so fucking sexy. He held Jonah's head and showed him exactly how he liked his dick sucked. He spit on his face and in his mouth again. Jonah fucking loved it. As proven by his stiff dick flopping out of his underwear when Eli undressed him.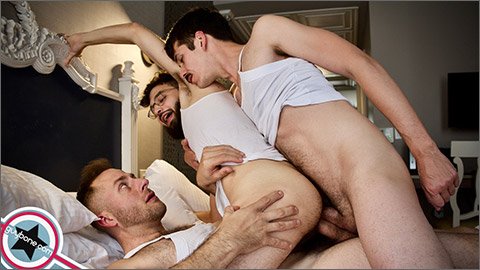 BIG, MIDDLE, LITTLE BROS
Imagine the folks were out and big bro Joel took his rightful seat in the center of the sofa, a sexy sibling to either side of him. They all wore matching tanks, white socks, and colorful briefs that were bulging from their growing boners. Jonah and Edison kissed their older bro and pulled his hard dick out of his underwear. They played with it and worshipped it, quickly scooting down the sofa to suck on it.
   It was a feeding frenzy as Jonah and Edison licked up and down Joel's shaft, pulled at his balls with their lips, and kissed each other across his cock. Every bro likes to please his other bros. And every bro likes to peek at hidden erogenous zones when he gets the opportunity. Joel's chance came to inspect his bros holes and he took it, having them both bend over the back of the couch like they were at the doctors office. He pulled their briefs down and examined their hairy assholes, first with his eyes, then with his tongue. He pulled their stiff pricks out of their packages and touched them with care as he went from rimming to kissing and back. Jonah and Edison were very lucky, very good bros to be getting the special attention from their older bro Joel.
VIDEO ON-DEMAND: GUYBONE STUDIOS @ AEBN SMUTJUNKIES THEATER
DVDs & ON-DEMAND: GUYBONE STUDIOS @ TLA VIDEO