American CockyBoys Gay Porn Star, Levi Karter
Known Aliases:
Years Active: 2013 – 2020
COCKYBOYS INFO:
Meet the handsome new dreamboat at cockyboys, Levi Karter! He was instantly likeable when we met him in person — one of those guys you just want to know more and more about. First off, Levi is from paraguay but moved to small-town ohio when he was very young. He still has a lot of pride for his home country, though, which you can tell by the big tattoo on his back. Levi's known he's wanted to be an adult model for a long time, and started out as a gogo boy shortly after he turned eighteen. He's also very athletic thanks to working out at the gym all throughout high school — he even did some back flips for us when we met him. Sexually, Levi's versatile and had his first boyfriend when he was a freshman in high school. He may be young, but with a good head on his shoulders and lots of experience, we're very excited to see where his career takes him!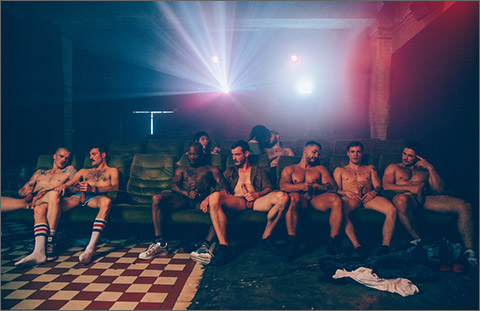 BRUCE LABRUCE'S FLEA PIT
Arad WinWin, Dato Foland, Levi Karter & Valentin Braun
Inside an sparsely attended art house cinema screening of "The Raspberry Reich" one lustful gaze from one patron to another sets up a slow motion domino effect of side-eye looks and seat fidgeting. The moans and groans on the screen stir the libidos of the various patrons even more, the looks become more intense and a few of the movie-goers begin to make some bold moves.
   Cocks are pulled out in one area of the theater and a couple guys start jerking off while a couple starts making out in another section. Hands begin to wander and grope, eyes shift around, voyeurs and exhibitionists make their furtive moves, and soon the movie on the screen is of little interest to the theater goers. For the anonymous pair jerking off turns to bold cocksucking in plain view while the couple that was making out are also now sucking cock.
   Pairings are altered, people change seats to find partners for their desires and soon a rising tide of lust engulfs almost everyone with full-on sex. A handful of brazen men get up on the stage to continue fucking and provide a sex show for an audience of four. The uninhibited sex leads to a line-up of jerking off with euphoric cumshots and the audience of four can only slightly squirm in their seats watching a double-exposure sex show, unsatisfied by not participating.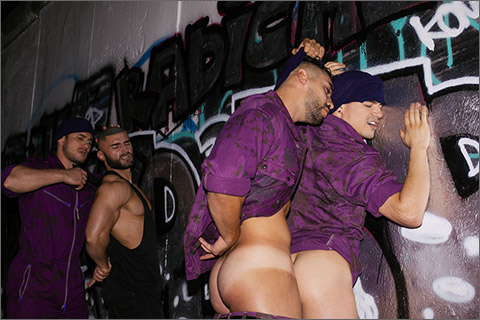 BRUCE LABRUCE'S FLEA PIT: BRUCE LABRUCE'S PURPLE ARMY FACTION
Arad WinWin, Dato Foland, Francois Sagat & Levi Karter
In a topsy-turvy alternate reality, the militant Purple Army Faction (PAF) patrols the streets, hunting sexual deviants who need to be caught and converted. Arad Winwin leads Dato Foland and new recruit Levi Karter on a night patrol and nab François Sagat, taking him to their HQ to "reorient" him from straight to gay! Stripped to the waist and tied to a chair François resists but is soon subject to Arad's forceful kisses and manhandling.
   As François gets hard Levi is brought over to prove himself and suck the prisoner but as Levi gets into it, Arad asserts his authority and takes over. On top of a bare mattress, Arad works over François' ass and fucks him with dispassionate energy. It's only when he satisfies himself and gives François a gushing facial that Arad kisses him and gives him pleasure by sucking his cock. Dato gets into the reorientation by stuffing François' mouth with cock and soon it's only the two of them, sensuously kissing and sucking each other off.
   After Dato blasts a load over François' rippling abs, his conversion reaches the final phase: fucking Levi. With the sounds of revolution outside Levi is brought to his knees to suck a confident François who soon takes charge over Levi. François rims his ass and pounds him intensely and with his pumped-up muscle glistening with sweat he ejaculates a torrent of cum that covers almost every inch of Levi's back. Levi shoots while sucking François who gets his third cum soaking. At the end the PAF is now closer to smashing the straight state…with a new comrade.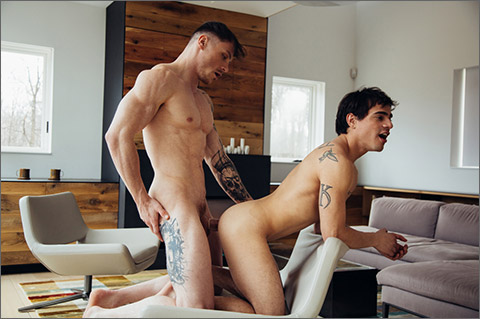 LE GARÇON SCANDALEUX: Chris Loan Fucks Levi Karter
In the maze of the sex club Carter Dane finds Sean Ford's party and discovers it has turned into full-on orgy in the exotic pool, where TWO connections are made. One is Paul Delay who successfully flirts with Sean Ford. The other is muscle stud Chris Loan & Levi Karter, who get separated along the way although. Levi looks and waits for him. Fortunately he gets a text message from Chris who is home…and waiting for him.
   When Levi arrives at Chris' place, he finds out the sweet reason why Chris left early: he wanted to be alone with him! They pick up again by making out and soon Levi's mouth travels over Chris' bulging muscles and down to suck his thick uncut cock. Chris loves it but also wants Levi's ass so he makes him kneel in a swivel chair to rim him. Shortly, after a turn of the chair, Levi is back sucking & deep-throating Chris who soon spins him again. He rims Levi more, then kneels behind Levi to fuck him.
   They press their bodies together, each enjoying the pleasurable thrill until Chris changes places and reclines in the chair so Levi can ride him deep. Chris helps by thrusting with his strong hips and cock into Levi before they slow down to make out. But Levi wants more of Chris' cock, so he lies back to get face-fucked by him which leads to Chris leaning forward into a 69 that they almost can't stop.
   But then Levi gets into a reverse cowboy that they also keep going for as long as possible. Levi lies back into it and they're locked together until Chris's cock drills Levi into shooting off a high-flying cum rocket. In short order Chris lies back and as Levi sucks his nipple he shoots a thick load over his washboard abs. As they kiss again Levi has two words for his "amant franÁais": "Merci beaucoup"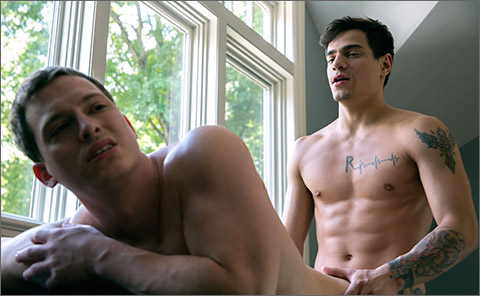 LEVI KARTER & TOMMY REGAN FLIP-FUCK
Tommy Regan is our newest CockyBoy, and he was naturally drawn to Levi Karter for his first scene. He was just really comfortable around Levi, and that's a feeling that's pretty important when you're just starting out in porn. Tommy's a very athletic guy — he's a former soccer player but had to put a hold on sports after a leg injury. Still maintaining a perfect body with rock hard muscles, Tommy's decision to have sex with some CockyBoys seems like a pretty hot thing to do on hiatus!
   Tommy loves getting fucked, he loves the intensity, and he loves the way it intensifies his orgasms. That said, he's still sexually versatile, and he and Levi made an extremely good pair for a hot flip-fuck. Levi was first to pull out Tommy's hard cut cock from his briefs which stood straight up, just begging for a blowjob. Levi went down on him immediately, eager to show him the sheer sexual intensity he was in for. Levi then pulled out his cock and Tommy gave him the same treatment after they jerked each other off for a bit.
   Shortly after, Tommy got on his hands and knees and gasped as Levi began rimming him, prepping him for his first CockyBoys fuck. Levi broke him in gently at first, but the guys soon developed a solid rhythm. Levi then wanted to show Tommy his expert bottoming skills, and Tommy's cock slid right into Levi's eager hole as Levi road him. That led to Tommy taking on more control, pounding Levi in the same doggy-style position as before. Tommy made for one extremely rough top! But Levi wanted to be the one to officially break him in, and so they switched to missionary for Levi to drill Tommy to orgasm. Tommy had no complaints, quickly spewing his load with Levi firmly inside him. Levi was just as turned on and breathless as Tommy — he shot his load seconds later all over Tommy's torso, officially knighting him a real CockyBoy!
CLICK HERE TO GO TO HIS COCKYBOYS DETAILS
2014 CYBERSOCKET BEST NEW PORN STAR NOMINEE
2015 CYBERSOCKET BEST PORN STAR NOMINEE
VIDEO ON-DEMAND: Levi Karter @ AEBN SMUTJUNKIES THEATER
DVDs & ON-DEMAND: Levi Karter @ TLA VIDEO