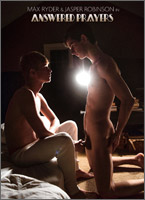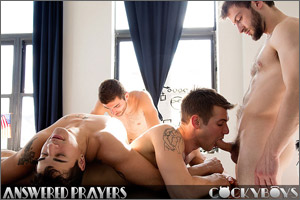 SCENE 2 - THE BULLY: Bravo Delta, Chris Harder, Dillon Rossi & Levi Karter
It's that moment when the lie comes out of his or her mouth, and EVERYONE else knows the truth except the poor sad sap on camera.
   Lest we forget Ted Haggard, the wealthy televangelist caught booty-bumping meth with a male escort. Or Larry Craig, the right-wing senator who plead guilty to cruising in an airport bathroom. Or George Alan Rekers, the southern baptist minister who hired a rentboy to help him "carry his luggage."
   The list goes on and on, but what these men have in common is that they actively preached and worked particularly against gay rights and advancement -- the classic case of "do as I say not as I do." This is why their falls were so swift and yes... delicious to watch.    I admit -- I have a very dark place in my mind that holds the keys to my ideas of the perfect revenge? And yes, I have cooked them up time and again in my mind like a chef with his secret recipes.
   When I see these guys up on the stage, on TV -- with their holier-than-thou smug faces, moralizing for profit and ambition -- my mind races and wanders and I daydream, wishing that a sex tape depicting exactly what they are preaching against would fall out of the sky and magically broadcast itself uncensored on Fox News? Sadly, that never happens. But time and time again, these "moralizers for profit" face disgrace -- for it is always the hubris of a hypocrite that will do them in.
   Yet before you think I'm now some demoralizing asshole doing the same, know this -- I am also a hypocrite. I am a liar. I am selfish. I moralize. I live in fear. I am jealous. I am impatient. I am all of this and more.
   Many believe the characters portrayed in ANSWERED PRAYERS are based on people I dislike, and in fact they are. They are based on the worst parts of me -- struggling every day to become better, more loving, stronger, and most importantly, at peace with myself.    This project -- like the mirrors seen throughout the story -- are a constant reminder to myself: Look. See. And be.