Smooth Sexy American Gay Porn Star, Küper
Known Aliases: Kuper Ryan
Years Active: 2019 – 2020
INFO:
Tall, dark & handsome and deep-voiced Küper is a go-with-the-flow versatile type who likes to feel someone out before moving forward. He can be an in-control top or a submissive body and is very often into trying new things along the way. As such Küper himself will tell you not to try and put him in a box: he will often fool you and be someone different than you might expect. Just try NOT to be seduced by his piercing eyes & full kissable lips.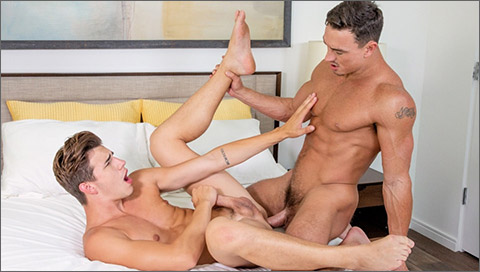 AFTERNOON AFFAIRS: Cade Maddox fucks Küper
When Cade Maddox comes down the stairs and notices his sexy pool boy, Küper, cleaning up, he steps outside and gets in a lounge chair. Turned on by Küper, Cade starts rubbing his cock that's already bulging thru his speedo. When Küper notices the throbbing meat, Cade signals him inside to the couch. Without hesitation, Küper heads straight for Cade's thick cock with his lips. Cade feeds the willing pool boy his meat, making Küper gag on his thick pole. To show his appreciation, Cade puts the Küper's cock in his mouth while continuing to stroke his dick. Küper gets on all fours on the couch to give Cade total access to his hairless hole. Cade spreads Küper's cheeks and gets to work with his fingers and tongue, opening up the pool boy's ass. When Cade has Küper's hole nice and prepped for what's to come, he picks the stud up and carries him to the bedroom. Once on the bed, Cade takes a few more licks on Küper's hole before sliding his bare cock into the willing stud. On his back with his legs in the air, Küper grabs ahold of his cock and strokes it while Cade works the hole over with his cock. Switching positions, Küper rolls over and takes Cade's meat doggy-style. Cade continues the bareback pounding of the horny stud until Küper gets on top and rides Cade's cock. After Küper's ride, Cade throws Küper back on his backside and thrusts his full weight on top of Küper. While Cade is stretching out his hole, Küper lays back and works his load out of throbbing cock onto his abs. Seeing Küper bust his nut makes Cade let loose and shoot a thick load on Küper's ass. After swirling the load around with his cock, Cade slides back into Küper one last time.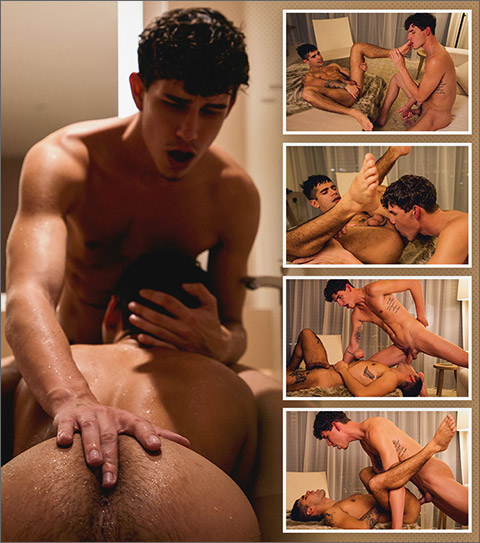 KÜPER FUCKS TY MITCHELL
Are a Cancer and an Aries compatible? Küper & Ty Mitchell make the case for it in a condom-free scene that takes you sensuous to wildly hot & sweaty sex. The guys get to know each other in a warm bath in which Küper can't get enough of sucking Ty's toes. In return Ty plays footsie with Küper's cock before they make out extensively, only stopping so Ty can suck Küper's big dick.
   Küper turns his attention to Ty's bubble butt which he rims & teases several ways before taking him to the bathroom. Lying Ty on his back Küper eats his hole some more before plunging deep into him over and over until he gets used to it. Soon after, with his cock buried inside Ty, Küper carries him to the living room to have him put on a butt show. Küper rims Ty who soon is riding him and energetically taking his deep thrusts.
   In time Küper brings them down a bit so he can feed and face fuck Ty. Ty deep throats him and soon Küper spins him around and flips him over to fuck him from behind and screw him to the bed. Küper works up a sweat jack-hammering into Ty and pulling out just in time to glaze his ass and pump back into him. Küper pulls Ty back to ride his cock and soon shoot HIS load all over himself. Küper feeds it back to Ty and they just lie back, spent and content.
CLICK HERE TO GO TO HIS DETAILS
VIDEO ON-DEMAND: Küper @ AEBN SMUTJUNKIES THEATER
DVDs & ON-DEMAND: Küper @ TLA VIDEO