Sexy Hung Young Lucas Entertainment Gay Porn Star, Damon Heart
Years Active: 2015 – 2020
LUCAS ENTERTAINMENT INFO:
Height: 6′
Weight: 170 lbs
Dick Size: 7.5″
Position: Versatile
Damon Heart has been interested in the gay porn industry ever since he was a teenager, but it's taken a few years for him to decide to make the leap from admirer to participant. Damon manages a night club, so his move into gay porn is a smooth one. He's versatile in bed, too: with big guys he likes getting fucked, but if he's with guys his size or smaller he's up for throwing them around. When we asked him his dream fuck he said: "I don't do fantasy. I do real."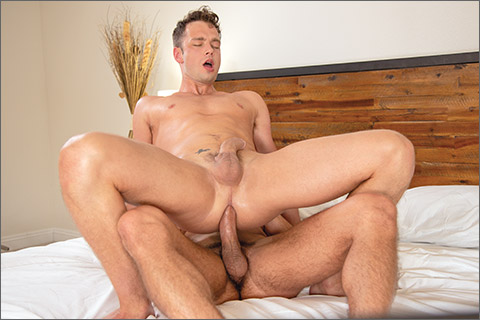 CASUAL CONNECTIONS: Cade Maddox fucks Damon Heart
While Cade Maddox is naked and shaving his face, Damon Heart comes in and starts to caress Cade's chiseled physique. Damon quickly works his tongue down Cade's body until he's on his knees. Turning Cade around, Damon's lined up to meet Cade's massive dick. Without hesitating, Damon opens wide and engulfs Cade's swollen member down his throat – all the way down to the base. After Damon has had his fill of cock in his mouth, he leads Cade to the bed and bends over to give Cade total access to his raw hole. Cade dives right in and works his tongue in and around Damon's eager hole, getting it prepped for what's to come. Damon is eager for more, so Cade stands up and drills the hunks hungry hole with his bare, stiff dick. Damon reaches back to lock lips with Cade before Cade pushes his head down and drills his meat in deeper. Damon wants to see just how deep Cade's cock will go and gets on top of the ripped hunk to ride his cock bareback. He keeps a steady stroke on his own meat while riding Cade's thick pole. Proving he wants it all, Damon gets on his back with his legs in the air to give Cade full control to pound his prostate. As Cade stretches his hole out to the max, Damon lets out a powerful shot of thick ropes that land all over his abs. The sight of Damon wearing his own load sends Cade over the edge and he dumps his cum onto Damon's spent hole before shoving it back in.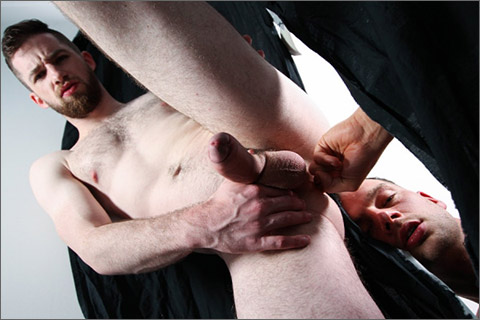 ANONYMOUS BREED – PART 1
Damon Heart is looking for an immediate, NSA release; an anonymous hole to fuck, breed and then leave. Behind a dark curtain awaits a slutty, eager sub – Thyle Knoxx – starving for a stranger's load. Damon plunges his cock through the gloryhole, wasting no time filling that warm mouth and ass on the other side. After inseminating the boy, he leaves just as quickly as he arrived. Satiated.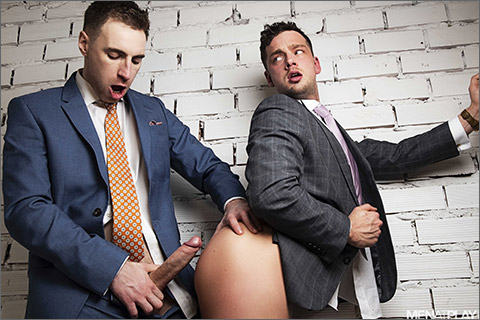 #1 FAN
Fan Favorite Damon Heart is back with his gorgeous model face and tight dancer body and this time he's paired with another fan favorite Kayden Gray in this weeks Men at Play scene fittingly titled..
   #1 Fan.
   Damon, an actor, arrives in his dressing room to find a beautiful bouquet of flowers along with a card from his obsessive #1 Fan, Kayden Gray. Not sure whether to be flattered or disturbed he rips up the card and tosses it in the garbage and begins to get ready for his shoot.
Surprise, Surprise not only did Kayden send the flowers he also delivered them himself and has been secretly waiting for Damon to arrive.
Damon tries to keep his cool while Kayden fan-girls over him and rummages through his rack of suits, even going as far as to put one on with a little help from Damon.
   All appears to be going well until Kayden sees his fan letter torn up in the garbage and to say he confronted Damon would be putting it mildly.
Pushing him up against the wall, Kayden decides to take what he really came there for….A piece of Damon.
   He passionately kisses Damon and strokes his visibly rock hard dick through his pants, eventually turning him around to loosen up his tight hole with his tongue.
   Damon has no choice but to surrender to the whims of his fan, letting him plunge his fat cock so deep inside of him his eyes roll.
The two continue to suck and fuck until Damon can no longer contain himself from gushing cum all over Kayden. Damon repays Kayden for his worship with the fan treatment he was expecting, tonguing and licking his balls until he also spurts his massively thick load .
This is Men at Play fucking at its finest.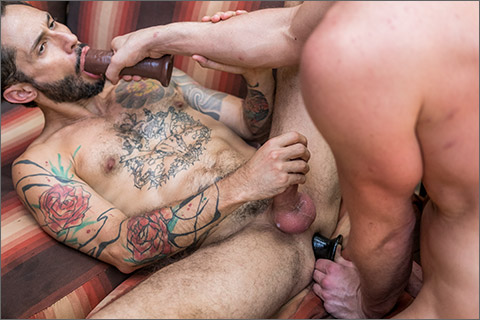 BAREBACK AUDITIONS 10 – RAW DOGGED: Rod Fogo Bottoms For Damon Heart
Damon Heart is proving himself to be quite the no-nonsense top, as he shows his fans with Rod Fogo. Damon introduces Lucas Entertainment viewers to Rod in an interview for the fourth gay bareback sex scene of "Bareback Auditions 10: Raw-Dogged," but before long he leans back and pulls out his cock for Rod to service. The guys strip down when the sucking gets old so Damon can pound Rod Fogo raw!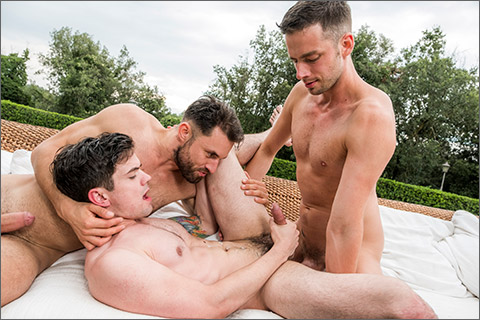 BAREBACK AUDITIONS 9 – EAGER TO PLEASE: Damon Heart And James Castle Double-Team Dakota Payne
Lucas Entertainment's new exclusive model, Dakota Payne, has been in a few scenes already since the summer of 2017. But Dakota gets his formal introduction to the set with Damon Heart and James Castle in "Bareback Auditions 09: Eager To Please." Damon and James make nice with Dakota in the interview portion, but once the talking is over Damon and James take turns using Dakota as their own personal bareback sex object. Dakota certainly is eager to please, and he uses his leanly muscle body to bend into plenty of positions for Damon Heart and James Castle!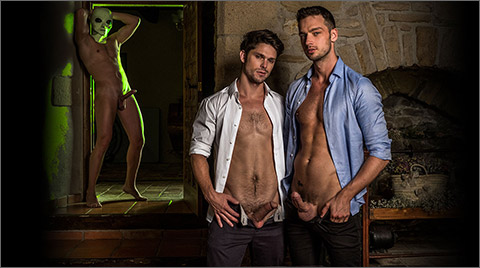 MUST SEED TV: THE XXX FILES | Devin Franco, Damon Heart, Bogdan Gromov
It's a parody, it's a reboot — it's a reboot-parody! It's Must Seed TV! Special Agent Cox Smulder (Devin Franco) wants to prove he was abducted by an alien, but with a skeptic of a partner like Agent Sully (Damon Heart) it's easy to get pulled back to earth. With one unsolved mystery after another, Sully and Smulder find themselves closer to the truth, until they come face to face — and face to cock… and ass to mouth — with a close encounter of the probing kind.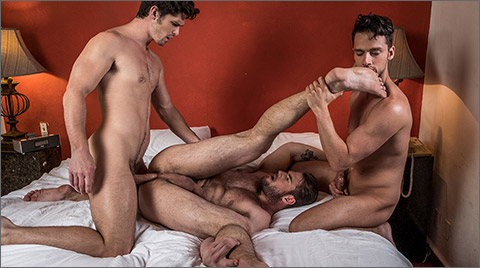 BARE TENDERS: Ace Era, Devin Franco, And Damon Heart's Raw Threesome
Devin Franco never says "no" to a beefcake, so when Ace Era makes a move on him they immediately start making out and exploring each other's bodies. Devin gets into sucking Ace's hard dick fast, and when they sneak into an empty hotel room to be kinky, they're not expecting the resident to return. But he does, and it is Damon Heart. If they're going to be in his room, he's going to get something out of it. Damon breaks out his arsenal of sex toys before he and Damon take turns breeding Ace in his ass.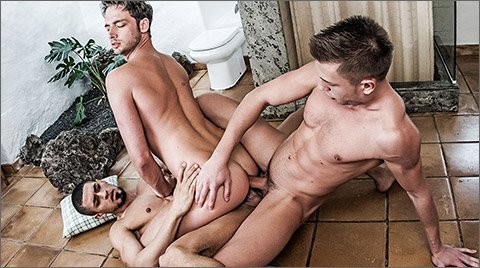 RAW DOUBLE PENETRATIONS 5: Damon Heart Gets Double-Fucked by Ibrahim Moreno and Bogdan Gromov
Ibrahim Moreno has lately been the reigning master of double penetration at Lucas Entertainment, and in today's bareback encounter he once again shows us he's ready and willing to see how much cock he can take up his ass and for how long. First, however, another exclusive model wants to give raw double penetration a try: Damon Heart. With help from Bogdan Gromov and Ibrahim Moreno, Damon gets his ass stretched out by two cocks at once!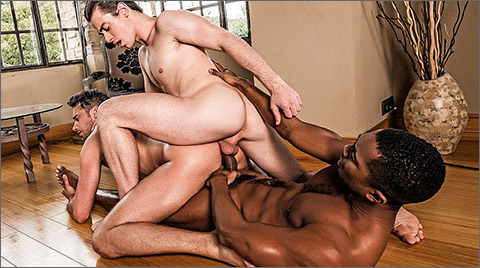 RAW DOUBLE PENETRATIONS 04 – STUFFED: Damon Heart Gets Double-Dicked By Sean Xavier And Jon Bae
Jon Bae shows off his dance moves to Sean Xavier and Damon Heart, prompting Sean to step up and show Jon his own brand of dancing — it's a lot of fun watching their big dicks flop around with every move the two guys make. The performance turns sexual when Sean and Jon start making out while Damon plays the voyeur by watching them and smoking a cigarette. Sean and Jon invite Damon to join them, and he drops to his knees to suck them both off back and forth. Damon gives up his ass completely, getting fucked back and forth by Jon Bae and Sean Xavier before they go all out and double-penetrate him bareback.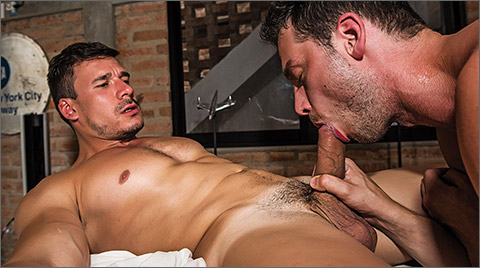 GREEDY HOLES: Damon Heart Bottoms For Roman Berman
Roman Berman is an impatient guest when he stays at hotels — he has a bad reputation for mistreating the help. Roman has two things in mind when he demands turndown service from Damon Heart. He wants to shake Damon up a bit and make him think he's going to loose his job. And once that's done, he's going to take advantage of the situation. Do you think Roman Berman takes it easy on the guys he fucks' No, he certainly doesn't. Roman is a total top and he treats his bottoms as such. Rest assured: Damon Heart's throat and ass will be thoroughly used by Roman's raw cock!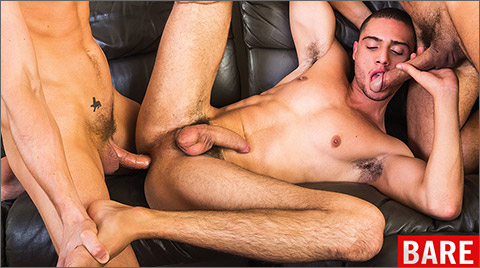 LUCAS MEN 2.0: Damon Heart Bottoms For Rafael Carreras And Javi Velaro
Damon Heart deserves credit: not only is he excited to take on the huge endowment of Rafael Carreras, but he also tests his bottoming skills with Javi Velaro at the same time. Some might shrink from the challenge (figuratively and literally) but Damon goes after them both. But there's only so much dick anyone can take, so Javi jumps in to save the day; he offers himself up as a bottom for Rafael and Damon alike.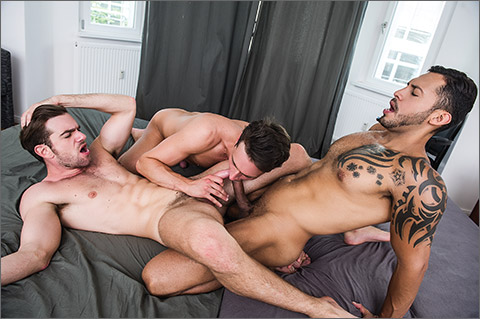 ZANDER CRAZE SHARES HIS MEAT WITH DAMON HEART AND VIKTOR ROM
Craze is a great last name for Zander, because this guy is wild and crazy in the sack: he loves having sex, and he loves showing it off. He and the dominant stud Viktor Rom take turns passing around Damon Heart, a new Lucas Entertainment exclusive model. Damon is challenged from the onset, but it's one he excitedly accepts: Zander breaks in his ass with his uncut elephant trunk of a penis, and then passes his hole over to Viktor for some breeding. To give Damon a rest the truly versatile Zander Craze gives it up for both Damon Heart and Viktor Rom.
CLICK HERE TO GO TO HIS MEN AT PLAY DETAILS
CLICK HERE TO GO TO HIS LUCAS ENTERTAINMENT DETAILS
>
VIDEO ON-DEMAND: Damon Heart @ AEBN SMUTJUNKIES THEATER
DVDs & ON-DEMAND: Damon Heart @ TLA VIDEO
Hot or Not? Let us know.
[Total:

167

Average:

2.6

]