Corbin Fisher Amateur College Man, Kennedy
Years Active: 2013 – 2015
CORBIN FISHER INFO:
Age: 20
Waist: 31
Eyes: Green
Height: 6′
Weight: 170 lbs
Hair: Brown
Build: Athletic
Cock: 7.0″ cut
Shoe: 11.5
It's hard not to love Kennedy. He's a handsome, boy-next-door, Southern gentleman with a nerdy/geeky twist. He's incredibly polite and a true intellectual that has a genuine interest to engage and get to know everyone he meets.
   His interests and passions are so eclectic that he can fit into any conversation or scenario. Whether it be playing video games, debating Star Wars vs. Star Trek, gushing over his favorite magicians Penn & Teller, or expertly working an intense orgasm out off his partner, Kennedy's intelligence and passion overtake the room.
   Studying to be an Engineer, Kennedy stays in shape as a member of his college cheerleading squad. The skills he's learned have served him well at CF too. Self aware of his body and how to move it, he's quickly risen to be a fan favorite!
   There's no mistake he is a talented bottom that loves to let go of control and serve his lucky partner. Yet he's also shown that he's capable in taking control as a top for the right kind of guy. In either position, he throws himself into the scene and his partner completely, passionately, and without a single ounce of reservation.
   Getting lost in what he's doing only makes this sexy geek more lovable. With one twinkle of an eye he charmed us all and solidly earned himself a spot on the Dean's List!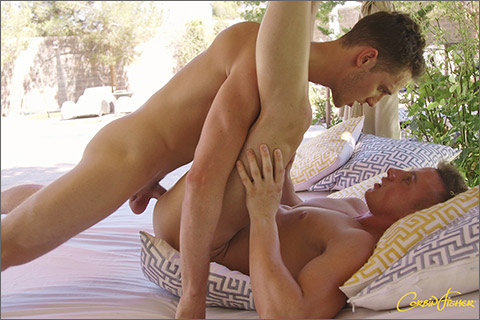 IAN & KENNEDY'S SUMMER FLING
Ian and Kennedy have some fun out by the pool, but as cooled down as they are by the water, their sexy bodies heat them up. Ian plays hard to get- but he so badly wants to be caught!
   They want it too badly and fuck right out in the open. Ian licks on Kennedy's balls, sucks on his dick, and shows his body off at Kennedy's request. There is no mistaking how bad these guys want it!
   Ian's jacked body is on full display as he pounds into Kennedy's mouth. Then he lays back to give Kennedy full reign of his tight ass! As much as Kennedy loves being a bottom, he's definitely enjoying topping Ian- and Ian's surprised how hard he can cum from being fucked!
   Pool or not, Ian ends up drenched!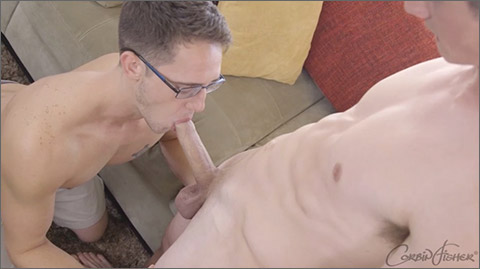 KENNEDY BLOWS EDWIN
Edwin's nervous for a few reasons. He admits that he's thought about getting a blowjob from a guy before, but he's never gone through with it. Now he's getting himself ready to go through with that fantasy- and on camera!
   Kennedy comes in with his gorgeous smile and talented mouth, excited to welcome the tall stud to the pleasures of guy/guy experimentation. He starts off with a long passionate kiss, and all of Edwin's nerves melt away.
   Kennedy works his way down to Edwin's uncut dick. Edwin pumps into Kennedy's mouth and Kennedy works on getting it as far down his throat as he can! On his knees, Kennedy quickly realizes what he's really up against as Edwin's dick keeps growing, skin peeling back to reveal a giant cock!
IAN & KENNEDY'S SUMMER FLING
KENNEDY BLOWS EDWIN
COLT, KENNEDY, & QUINN'S FUCK FEST
KENNEDY & RYDER'S LOCKER ROOM FUCK
KENNEDY BREAKS IN VANCE
KENNEDY FUCKS ROWAN
KENNEDY RIDES QUINN
KENNEDY & KELLAN'S FLIP FUCK
KENNEDY SEEDS MARC
KENNEDY & TANNER'S MASSAGE
CHRISTIAN & KENNEDY FUCK
KENNEDY RIDES NOEL
COLT & KENNEDY TAKE TURNS
KENNEDY TAKES TYLER'S LOAD
ADAM FILLS UP KENNEDY
JACOB RIDES KENNEDY
KANSAS CITY: COLT RIDES KENNEDY
KANSAS CITY: KENNEDY CREAMS BRAYDEN
KANSAS CITY: ZEB & KENNEDY'S FLIP FUCK
COSTA RICA: KENNEDY & JOSH'S SHOWER FUCK
COSTA RICA: TOM TAKES IT FROM KENNEDY
COSTA RICA: JOSH'S FRESHMAN FANTASY
KENNEDY & TAYLOR'S BATHTUB FUCK
KENNEDY GETS FUCKED
KENNEDY & QUINN
KENNEDY'S FIRST TIME
SWALLOWING KENNEDY