Handsome Hung Uncut Corbin Fisher Amateur College Guy, Justin
Years Active: 2016
CORBIN FISHER INFO:
Age (2015): 24
Waist: 32
Eyes: Brown
Height: 6′ 1″
Weight: 185 lbs
Hair: Dark Brown
Build: Athletic
Cock: 6.5″ uncut
Shoe: 12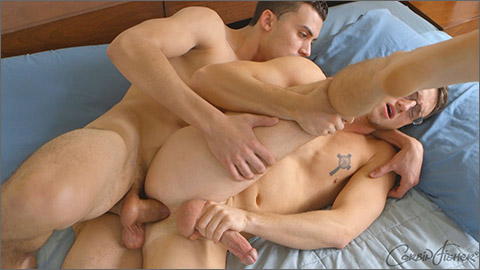 JUSTIN STUFFS KENNEDY
I have to admit it didn't take much convincing to get Justin to get into guy/guy on camera. In fact, all we really did is introduce him to Kennedy and leave them in a room for a while and stand by for a resounding "yes" to a scene together!
   Once Kennedy heard the rumors of Justin's big dick, he ached to experience him for himself! Kennedy works hard to get all of Justin's cock down his throat- taking a face fucking like the champ he is! Of course Justin helps out by pushing Kennedy's head down on it!
   As much as he looked forward to it, I don't think Kennedy realized how Justin's cock would feel! As experienced as he is, its girth is still something to get used to! Kennedy opens himself wide and moans under Justin. Suddenly his moans take on a more sensual turn and his breathing is broken in whimpers. Kennedy's orgasm comes on hard and suddenly- and Justin's orgasm cums in Kennedy's mouth!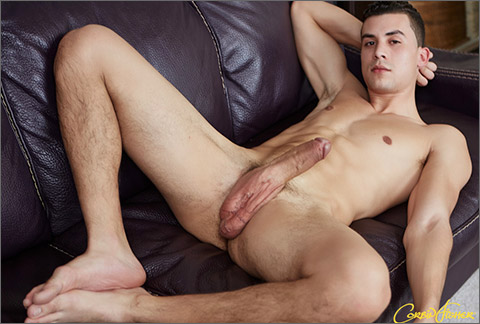 JUSTIN SOLO
Justin is a hot young man with quite the amazing build! His fit frame, combined with his tan complexion, makes for quite the physique!
   Along with his good looks, his personality is fascinating. He's confident and friendly. Justin has that tough accent the East Coast is known for, but he's a complete sweetheart and quite surprising in his responses- in the hottest ways!
   The real treat came in seeing this stud naked. He has a splendid ass, there's no doubt about that… but that dick! Justin's uncut cock grows to a massive size- and to see that monster dick ooze out a thick load left me pining to see this stud in action!