Handsome Ginger American Str8 Hunk & Go Go Dancer, Jordan Cleary
Known Aliases: Jordan, Jordan A
Years Active: 2013 – 2017
CHAOS INFO:
Jordan has a day job doing upholstery, and a couple nights a week, he dances at a local gay club (Atlanta). He is straight, but with all the guys coming on to him, he is getting to be a bit more flexible in his thinking.
   He has had been with the same girl for a year, and I think they might be married. She is the one who put him up to dancing, and she also seems flexible in her thinking. I love it when these guy's girls pimp them out! I did wait a bit to have him grow out his pubes for Ginger fans. Like most straight guys and dancers, he shaves it all off. Of course he found after growing it out that it was indeed a lot more popular while he was on stage. Pretty sure he wont be trimming the carpet again.
   This is a dang good solo as he is very comfortable being naked and showing-off for the camera. I tossed in a FleshJack to give him something new to play with, and his fat cock looks amazing going in and out. He had to slow down a couple times or risk nutting too soon. I even like his cumshot, cool angles, and he nuts in such a way we get a nice clear shot of his dick spitting up DNA. Jordan will be back next week to play in G:hOle with Aries, and it is likely he will be back to do more with a dude.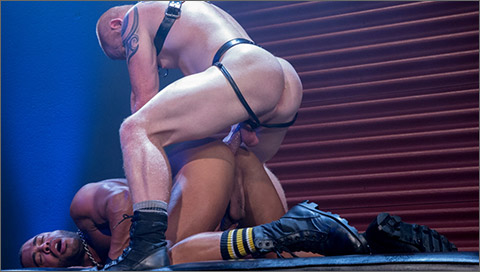 SKUFF: ROUGH TRADE 2: Jordan fucks Micah Brandt
Micah is eagerly awaiting someone to come in and fill his hole with another cock. We don't know how long he's been there. He could be 10 dicks in by the time Jordan approaches and takes the bait. Micah entices him arching his back, serving up his hole in partially tore underwear with 'FUCK ME' written on them. Jordan eagerly obliges and tears those tighty whities into oblivion. He wants nothing in the way of getting at Micah's perfect ass. He goes primal and tears into Micah's hole face first attacking it. He spits on it heavily, teases it, and rims that hole as Micah is moaning and begging for more. He's in Jordan's able hands now. He offered up the goods and now he's strapped in for the ride of what's to come. After Jordan feels adequately satisfied lubing up Micah's hole with spit, he rams his 9′ cock all the way to the pubes opening Micah right up. He's relentless in his fucking. Even after Micah cums uncontrollably, Jordan keeps pounding away. Micah cums again and Jordan isn't done until he says he's done. He lays Micah flat and fucks him deeper and deeper past the point of pleasure and pain. When he's satisfied, he offers up his sweaty hole for Micah to take in, pleasing his dom and getting off on the experience. Micah cums a third time. Jordan fucks Micah's mouth and shoots a big load on his face and down his throat. Jordan leaves that used fuck hole behind and heads off to his next conquest leaving Micah to hop up on the platform waiting to get filled up by the next hot stranger.
CHAOS MEN
NEXT DOOR STUDIOS
HOT HOUSE
RAW: BYRON & JORDAN CLEARY
RAW: JORDAN CLEARY & WREN
RAW: GLENN & JORDAN CLEARY
RAW: JORDAN CLEARY & VANDER
RAW: BAY & JORDAN CLEARY
PURE: JORDAN CLEARY & TATUM
RAW: JORDAN CLEARY & THEON
G:hOle ORAL: ARIES & JORDAN CLEARY
JORDAN SOLO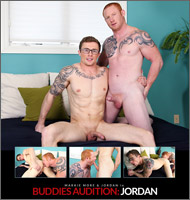 BUDDIES AUDITION: JORDAN
HUNGRY FOR IRISH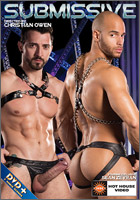 SUBMISSIVE