Hunky American Gay Porn Star, Adam Bryant
Years Active: 2014 – 2017
TWITTER @adambryantxxx
FAB SCOUT INFO:
Height: 5′ 6″
Weight: 175
Hair: Brown
Eyes: Brown
Cock: 7″ cut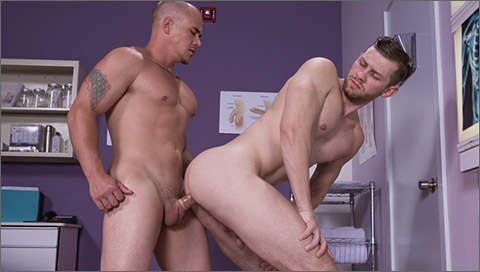 INTERNAL SPECIALISTS: Adam Bryant fucks Jacob Peterson
As the doctor leaves for the day, he sternly instructs his assistants Adam Bryant and Jacob Peterson to clean up the examination rooms and get the office ready for tomorrow. When the door closes behind the doctor, Adam and Jacob look at each other mischievously. They know they'll be reprimanded if they don't do their job, but the temptation of the empty office is too much to resist. Without a word, they make their decision: screw work! They want to fuck! Slamming their faces together, they kiss passionately while stripping off their scrubs. Jacob inhales Adam's fat cock all the way down to the base. Adam slaps Jacob's ass and shoves his tongue deep into Jacob's crack. With his boner throbbing, Adam gets Jacob spit-lubed and ready for an internal examination. Sliding his dick into Jacob's tight hole, Adam commences an intense doggy style pounding. Bracing himself against the wall, Jacob savors every second that Adam's cock is inside him, stretching out his hole and massaging his prostate. Adam lies flat on the exam table and Jacob jumps up to go on a ride. Grinding his hips, Jacob uses his ass to milk Adam's cock while jerking himself off. Jacob's hot, white load gushes from his uncut cock while Adam is still inside him. Dismounting from Adam's cock, Jacob sucks on Adam's balls, watching intently as Adam's cock swells and throbs. With giant spurts, Adam shoots his load onto his chest, and Jacob laps it up, savoring the taste on his tongue. Damn the consequences; it was worth it!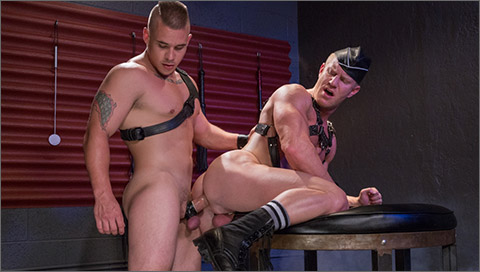 SKUFF: ROUGH TRADE 2: Adam Bryant fucks Johnny V
Muscly barber Johnny V is strapped in leather, and he's shaving tatted hunk, Adam Bryant's head as he strokes his cock in the barber chair. Adam's cock and balls bulge through his constricting cock ring during the haircut. Johnny checks his work, ditches his jock and hits his knees to polish Adam's boots and dick. Johnny lowers his wet mouth onto Adam's hard cock as he polishes his boots. Once Adam's cock and nutsack are coated in Johnny's spit, Adam bends Johnny over a padded Lazy-Susan and spreads his ass open wide to slink his tongue into. Licking from the tip of Johnny's cock, all the way up to his winking hole, Adam buries his face in between Johnny's cheeks. With Johnny's hole lubed up in spit, Adam glides his meat rod into Johnny's pink center with one swift thrust. Pounding from behind, Adam holds Johnny in place by his leather harness. Johnny switches to his back and gives Adam direct access to drill his prostate. Johnny's screams intensify until he loses control and explodes thick ropes of pearly white cum onto his washboard abs. Seeing Johnny climax sends Adam over the edge and he bursts his hot load all over the inside of Johnny's thigh.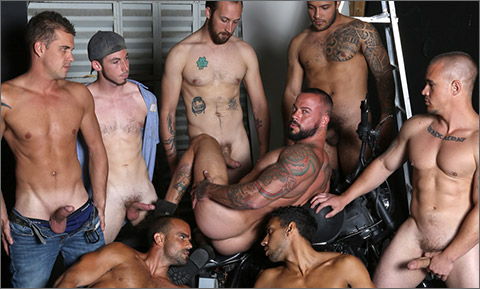 HOG WILD: SEAN DURAN GANG BANG
One insatiable cock fiend, starved for dick, pounded senseless and left covered in loads of hot jizz. Thick cocks are blown greedily and shoved into Duran's eager hairy hole!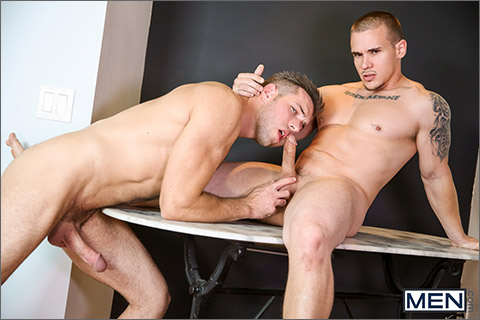 THE NEXT MEN EXCLUSIVE – PART 3
There is just something about Alex Mecumís innocence that we love! And we are sure that everyone will love watching Alex take Adam Brantís thick tool balls deep and tasting his sweet load.

ERECTOR: Adam Bryant dildo-fucks and fucks Johnny Ryder
Adam Bryant stands like a god on a pedestal in his rubber gear. Johnny Ryder kneels in worship at his feet, with his mouth wrapped around Adam's thick cock. Spit and slobber drip off the tip of Adam's dick, and he keeps his hand resting on the back of Johnny's neck, offering subtle guidance. Johnny jacks his dick with excitement, and he gets his first taste of penetration when Adam bends him over and works his hole with an extra-long dildo. Adam's hulking biceps flex as he opens up Johnny's man cave with the toy, and Johnny's face contorts in pangs of bottoming bliss. With Johnny's ass good and ready, Adam mounts him from behind for a ball-slapping pounding. Sweat covers their muscled bodies as they slam together again and again. When they come to the edge, Johnny flips onto his back and locks eyes with Adam. They blast their thick white loads at the same time onto Johnny's ripped stomach, panting in their erotic connection.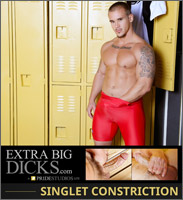 SINGLET CONSTRICTION
Adam is ready for some wrestling but then realizes that the singlet feels amazingly great against his cock. Once his cock begins to grown in the singlet he starts to use the fabric to stroke his cock slow and steady. He stands up against the lockers rubbing and pulling on his dick and then pulls it out in all its glory. He has a thick veiny cock as he strokes it to completion in a few different positions. He loves to show his muscles off and that round firm ass for all the viewers.
HOT HOUSE
CHANNEL 1 / RASCAL
PRIDE STUDIOS
BAIT BUDDIES
NEXT DOOR STUDIOS
SUBURBAN BOYS
CLICK HERE TO GO TO HIS PRIDE STUDIOS BIO PAGE
BRADLEY BOYD BAITS ADAM BRYANT
SINGLET CONSTRICTION
BEST SEX OF MY LIFE – PART 2
MISTLE HOE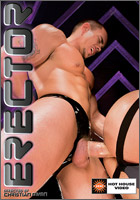 ERECTOR