Sorta Straight American Muscle Gay Porn Star, John Magnum
Known Aliases / aka: Joey at Sean Cody
Years Active: 2009 – 2014
STATS / INFO:
Nationality: U.S.A.
Hair Color: Blonde
Height: 6′ 1″
Position: Versatile
Body Type: Muscular
Endowment: 8 cut
SEAN CODY STATS / INFO:
Hair Color: Blond
Eye Color: Blue
Dick Size: 8
Sign: Leo
Favorite Foods: All natural paleo foods, lots Of veggies.
Favorite Movie: Dark Night.
Favorite City: New York City.
Hobbies: Hiking, skydiving, rock climbing.
Likes The Most: Technology.
Doesn't Like: Laziness.
Best Thing About Me: My small dick.
Worst Thing About Me: My flat ass.
How To Make Me Happy: Tickle me, Elmo, please!
Favorite Quote: "Harder."

JOEY SOLO
If you like your guys big, then you are going to love Joey!
   He's 23 years old and 200 pounds of solid muscle.
   He's very confident and describes himself as very sexually adventurous.
   "My mom's a lesbian," he told us. "So I've been around that community my entire life."
   He's bisexual and likes to do three-ways with straight couples.
   When asked what he looks for in the male half of the straight couple he replied, "Just well endowed and definitely in shape. Something I can really get my hands on and work with."
   In that department, he says he's versatile.
   "I don't mind taking a stiff one in the ass," he laughed. "That's for sure!"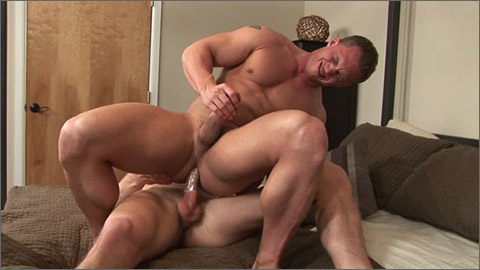 DAKOTA FUCKS JOEY
Joey finally gets fucked up the ass!
   Yes, he's been talking about it for a while, but now he gets a stiff one up his beefy, muscular ass.
   The thing I like best about Joey is that there isn't any pretense. He likes cock and isn't afraid to admit it. He's been fucked before and he was quite excited to be able to do it on camera!
   Another thing about Joey is that he's a ham. I loved the look on Dakota's face when Joey attempted to charm him with a corny pickup line, bad "Arnold" impression and all!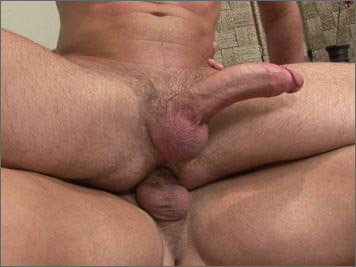 JOEY FUCKS RYLAN
"I'm taking it today," Rylan said as we were driving toward my place in the car. "I'm not used to that so yeah…"
   Of course, the conversation immediately turned to dick size and Rylan was really curious about how long Joey is.
   "I don't that's going to be the biggest issue here," Joey said, smiling and chewing gum. "Because I'm really wide."
   "Oh, shit," Rylan said, laughing.
   Of course what Joey failed to mention was his massive butt muscles and legs that were going to be thrusting that thickness up into Rylan's asshole!
MEN.COM

JET SET
MASSIVE STUDIO

CLICK HERE TO GO TO HIS FALCON STUDIOS DETAILS
CLICK HERE TO GO TO HIS SEAN CODY DETAILS

COLT 50th ANNIVERSARY ALBUM #1 – HUNG
An extraordinary chronicle of highlights from COLT Studio's last fifty years, showcasing the highest standards of COLT Men who have been generously endowed!
Since 1967 COLT Studio has been setting the standard in masculinity, showing the male physique in all its glory. The world has changed a lot over the last 50+ years, but what hasn't changed is COLT's dedication to providing you with the world's hottest and strongest men… COLT Men are what dreams are made of.
In celebration of our anniversary, we have put together a brand-new set of magazines dedicated to our rich history of COLT Men. Our 50th Anniversary Albums show you exactly what you want to see and much, much more. Our first installment, Part 1 – HUNG, brings into focus those men who are blessed in many ways… Including what's in-between their legs.
Whether you like em' hairy or smooth, bulging muscles or lean and ripped… We can all agree that there's nothing quite like a man with a huge bulge in their pants. These men have what it takes and they know exactly how to use it. Why not find out for yourself?
Follow along as we offer you the legendary equipment of legendary COLT Men, such as Terry DeLong, Vito Cesari, Big Bill Eld and Tom Chase along with newer editions to the COLT stable of studs such as Gage Weston, Kristian Alvarez, Buck Santiago and many more! ?
VIDEO ON-DEMAND: John Magnum @ AEBN SMUTJUNKIES THEATER
NOW STREAMING: John Magnum @ NAKEDSWORD