Premium Studio Gallery & Content Sites:
Extensive variety of Galleries from the 80s to present. One of the Premier "Gallery Sites" on the web. Has serveral other add-ons, such as Chi Chi LaRue's "Live & Raw" for members. Merges all the Galleries of Men, Freshmen, [2] and Unzipped magazines.

On-Line Shop & Members Galleries / Streaming Media / COLT Members get discount on all purchases / Video On Demand with Membership of Films no longer available.


Massive Galleries, Web-Only Solos and Duos. In the Dungeon... the nastier side of Hot House and Club Inferno Films on-line for viewing.
Extensive Galleries featuring the Men and Videos. Also the first place to see the new men.
Videos on demand, and exclusive Web Only content.


Extensive Galleries featuring the Young Men and Videos. Most of the videos are available for viewing to members with Download Options. Members also get additional discounts for Jet Set product.



Full Video and Model listings. Members Section has Extensive Model & Action Galleries. Streaming Video of Movie clips and exclusive Web Only content.
Studio Links:
Gallery / Media Sites:
3-D & standard 2-D online films offered. Solo and Duo's of new and established Sex Performers in a High Qulaity Presentation.
Jake Cruise proves you can make a straight guy do anything for money.

The men of Jake Cruise fucking, jacking off and shootin' cum all over, without Jake Cruise.

Jake Cruise lets his men loose on the ladies, but geared for men to watch. Galleries and Steaming Media.
The Website of Dean Coxx and his buddies. Loads of Solo FIlms featuring Dean, and Duos with His Buddies.
Model Galleries & Video. Excellent quality. Straight guys doing not very Straight Things.
The Bang Brothers go Gay! Luring a Straight Dude into the bus with hot gals, only to be tricked into getting serviced by a guy!
Young Men having Sex in Public Places. Part of the Bang Brothers / Haze network of websites.
From Director Van Darkholme, comes the Wrestling Version of his Bound Gods concept. Download the Films or watch online, with extensive photoshoots of each exciting session.
On-Line Streaming Media and Galleries of Solos and the Men together. Membership is for all Suite 703 sites, which include Downloadable Hi-Def Films and extensive Large Format Photogalleries.

Extensive Video Archives and Photo Archives. Ranging from the seldom seen men to very popular Porn Stars of the day.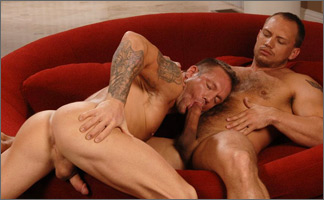 Straight, Bi and Gay Solo Performanes in Streaming Media and Photo Galleries.
Straight, Bi and Gay Duo Performanes in Streaming Media and Photo Galleries.