Cute American Latino Bareback Gay Porn Star, Joey Rico
Known Aliases: Gabriel Louis (Jake Cruise), Joey
Years Active: 2012 – 2016
AEBN INFO:
Height: 5 ft 10 in (177 cm)
Weight: 170 lbs (77 kg)
Hair: Brown
Eyes: Brown
Ethnicity: Hispanic
In spite of his edgy, tattooed look, Puerto Rican porn stud Joey Rico is sweet and shy until he takes off his clothes. When he's fucking some lucky bottom with his seven-inch uncut cock, Joey loses all inhibitions. He loves it when a guy nibbles his foreskin. Hot!
   Joey got into porn in 2012, appearing in West Coast Barebackers from San Diego Boy Productions. Some of his most popular videos include the military-themed Glory Days from Dirk Yates and The Cum Machine from SX Video.
   Aside from his porn career, Joey is also a personal trainer.
RANDY BLUE INFO:
Joey Rico has those puppy dog eyes that make you want to take him home with you. But then you get him naked and you realize that this straight latin hunk is full of tattoos and dirty secrets. He is very shy, and says he is straight. But once you get a dick in his mouth or his ass, he cannot hold back. And the passion comes forth like a tidal wave. His smooth brown skin and soft voice contrast with his hard muscles and inked up body. Joey is not new to the porn scene, but he has not barebacked with another guy before. Until Now.
GUYS IN SWEATPANTS INFO:
5'10? | 170lbs | 7″ uncut
Sagittarius
Joey comes to us from Southern California. He may have that bad boy look, and may very well be, but in person, he's super nice and almost shy. He loves to fuck though, and when he does, that shyness goes right out the window. He's a personal trainer, so loves to workout and do cross fit. He also loves when people bite on his foreskin..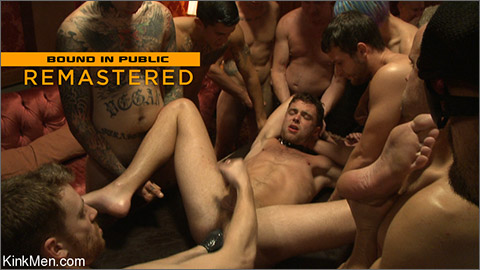 REMASTERED 2022: HORNY PARTY GOERS GANGBANG AND FIST A BOUND STUD'S ASS
Crawling on his hands and knees Brandon Moore brings in drinks for the crowd on a platter that's plugged in his ass. His ball gag and the platter are removed as Hayden Richards drives Brandon's head into the crotches of horny party goers. The guys shove as many cocks in his mouth as they can fit before Hayden has Brandon tied down on the fuck box. With their cocks out the guys line up for Brandon to suck them off while Hayden plows him from behind. Back in the center of the room, Brandon's hands are tied above his head with a spider gag in his mouth as the guys suck and stroke his hard cock. Brandon has clover clamps on his nipples and ordered to bite down on the chain as Hayden and Sebastian give him a dual flogging. The guys untie Brandon's hands as he's pushed down face first onto a couch full of horny dudes as he services their cocks while getting fucked from behind. The guys then drag him onto a table, pinning him down and shoving their cocks in his mouth as Brandon's hole opens up for a fist. They fist Brandon's ass and milk a load out of his cock before giving him some painful post-orgasmic torment. Back by the fireplace the guys circle around the community slut and douse his face with all their cum.

JOEY RICO AND RANDY DIXON HAVE A HOT BAREBACK FLIP FUCK
Joey Rico and Randy Dixon are no strangers to porn. They conversed about their prior adult film careers and then decided to start the scene off with a friendly rub down. Randy got on top of Joey and started to work his back. Joey started to get frisky and slipped Randy on his back and started to rub his chest. This led to some kissing and finally Joey pulled out Randy's dick and began to suck it. They 69'd each other and got their dicks hard and wet. Then Randy pushed Joey up against a mirror. He knelt down and rimmed his tight latin hole. You could see the tattoos on his body quiver as he melted with every lap of Randy's tongue. Finally Randy raised up and slid his raw dick inside of Joey. Joey screamed out in pain and pleasure. After some doggie style fucking, Joey wanted a piece of Randy's ass. He laid down on the bed and Randy rode his stiff cock. Finally randy got on his back and begged to have the cum fucked out of him. After shooting his load, Joey could not hold back and started cumming inside of Randy before he could even pull out. This is some hot latin muscle fucking going on. And we got it all for you in full HD. Randy blue, the best gay porn around.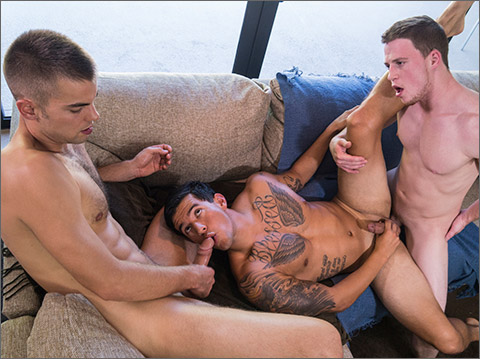 HALLOWEEN HANGOVER – PART 1 JOEY RICO GETS SPIT ROASTED BY MALACHI MARX AND DUKE CAMPBELL
Halloween is the funnest night to get laid. You put on your slutty construction guy outfit. Or your slutty boxer outfit. Or your slutty cowboy outfit and you wait to for the tail to come your way. But Halloween is also a night to party too hard. And sometimes too many shots and too many smokes and too much goofing around with the ouija board can leave you blacked out with blue balls. Joey Rico, Malachi Marx and Duke Campbell wake up the next morning the only ones left at the party and they need to get off. Luckily they are all willing to help each other out. They start to strip and immediately. Joey and Duke go down on Malachi sucking his big fat cock. Then Joey stands up to let Duke take two big dicks in his mouth at the same time. But Malachi wants to get some cock in his mouth, so they all drop to the floor and have a triangle blow job. Everyone is getting their cock sucked, and once Malachi starts playing with Joey's ass, he tells Duke how good it feels. They lift Joey up and start to eat it out. Joey begs to be fucked. And Duke, our usual bottom guy decides to give it to Joey nice and hard and raw. He shoves his raw dick in him and fucks Joey bareback while Joey sucks on Malachi's uncut cock. Finally Duke cream pies Joey with a fountain of cum. Be sure to stay tuned this Friday for the second part filled with some hot bareback fuck action here at Randy Blue.

DIRTY TONY
HOT BAREBACKING
SAN DIEGO BOY PRODUCTIONS

VIDEO ON-DEMAND: Joey Rico @ AEBN SMUTJUNKIES THEATER
NOW STREAMING: Joey Rico @ NAKEDSWORD