Nasty Naked Canadian Gay Porn Star, Chris Cool
Known Aliases:
Years Active: 2022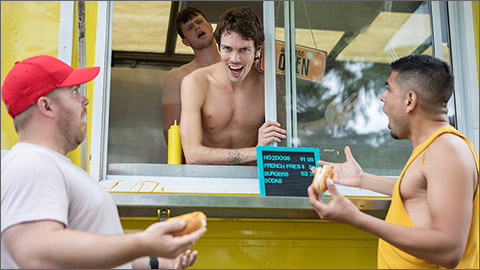 BIG SAUSAGE IN MY BUNS
Chris Cool is a regular at Finn Harding's food truck, and not for the hot dogs. As Chris's flirting starts interfering with business, Finn invites him inside so they can work and play at the same time. Chris tries to take orders as Finn rims him, but he's not a people person… he's a cocky person, so he sucks Finn as the top works. Finn bends Chris over to fuck him doggystyle as Chris mans the window, then pounds the bottom on the counter. Chris takes Finn's big sausage in his buns till he cums, then puts the top's dick in a bun and takes some special sauce on his face.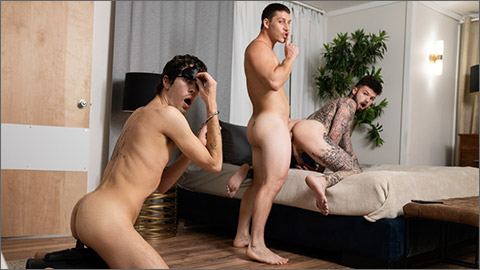 HORNY MOTORS – PART 2
Paul Canon is having some romantic sex with his boyfriend Chris Cool when his side piece, Hatler, sneaks into the bedroom! To avoid arousing Chris's suspicions, Paul cuffs and blindfolds him, then puts him on their riding sex machine as he secretly penetrates Hatler behind his man's back! When a stranger's cum lands on Chris's face, he suspects something's up, and soon he catches the tattooed homewrecker riding Paul's dick! "All your cocks are mine now," Chris declares as he pushes Hatler down on the motor toy, then sits on his dick as he sucks Paul. It's Hatler's turn to wear the cuffs as Chris and Paul spit-roast him, then Paul fucks both their holes until he cums on his bf's ass and his side piece licks it off. Chris shoots a thick load on Hatler's face before kicking him out.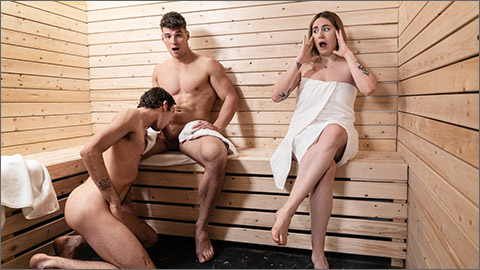 STEAMING THE STRAIGHT JOCK
Muscular jock Malik Delgaty and his girlfriend think they got lucky and have the sauna to themselves, but they're quickly joined by Chris Cool. When Chris catches Malik staring after he drops his towel, he's the one who's about to get lucky. Malik makes eye contact with Chris and sneakily strokes his dick, and Chris sneaks over and sucks the top right under his gf's nose! When Malik's girlfriend opens her eyes and catches them, she storms out, bringing over an employee to complain, but the spa attendant is so turned on he keeps watching Malik fuck Chris's mouth through the window! Malik pounds the bottom in doggystyle, then Chris rides the top's dick. The lucky bottom cums as Malik rams his ass, then gets it filled up with a creampie!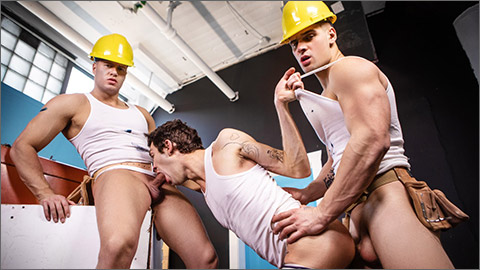 JACKHAMMERED & DRILLED – PART 2
Construction workers Malik Delgaty and Clark Delgaty are hard at work on the job doing some drilling and looking for just the right screw, but their co-worker Chris Cool would rather interrupt their work by swinging his cock and balls around or showing his spread ass. When Chris jizzes all over their freshly painted wall, the muscle hunks vow to teach him a lesson. Chris hides in a box with a hole at each end, and when Malik finds him inside, he makes Chris suck his cock, then calls Clark over to pound the prank-playing bottom's ass doggystyle. They take Chris out of the box to make him suck Clark as Malik takes his turn on that hole, then put him in piledriver and drill his ass with a dildo… literally! Chris promises not to cause trouble again as he takes first Malik, then Clark in missionary, and after the bottom cums he takes two big loads on his face.
CLICK HERE TO GO TO HIS MEN.COM DETAILS
VIDEO ON-DEMAND: Men.com @ AEBN SMUTJUNKIES THEATER