American Military Active Duty Amateur, Jerry Price
Years Active: 2015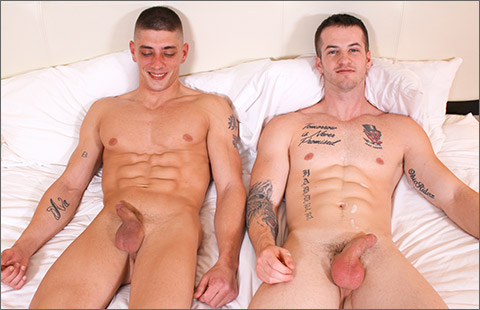 JERRY PRICE FUCKS QUENTIN GAINZ
Now this is what it's all about, my friends. This is an extremely special event! It's Jerry Price and Quentin Gainz together, and I'll tell you why this is such a special encounter.
   Claude says that Jerry's wife is allowing him to get into some action with other dudes on camera, but she has apparently forbidden him any contact with females. Quentin laughs and says he hopes she won't be angry when Jerry realizes he sucks a better cock than she does hahaha! From Jerry's response, he's certainly not dismissing the possibility.
   When they pull their dicks out, Quentin does hesitate to brave uncharted territory by wrapping his mouth around Jerry's meat. Not long into his first blowjob from a guy, Jerry, with that smile and wide eyes says, 'goddamn, I know what I've been missing out on now!' From then on, Jerry's cock gets increasingly harder while Quentin works his magic. Jerry continues to have his mind blown more as each moment unfolds with his stiff erection inside Quentin's loving mouth.
   They move positions in the room after a little while, and finally Jerry is persuaded to kiss Quentin. You just have to see the absolutely wonderful reaction both boys (and Claude) have after this kiss happens! It's just a magical moment that I know I'll revisit on days when I need cheering up. 'Is he a good kisser,' Claude asks Jerry. Jerry affirms, and asks Quentin, 'What about me, bro?' Of course, Quentin let's everyone know Jerry did so well.
   And after that, Jerry was itchin' to push his limits even further. 'He's about to taste his first dick!' we hear from Claude, just before Jerry leans down and takes Quentin's hard cock between his lips. He starts off a bit timid, but after a few minutes, he's up on the horse and riding!
   Then Claude suggests they take things to an even more fun level, and the guys get into a 69 position. This really gives Jerry a chance to find out what it's like to get into a symbiotic groove. This is training that'll stay with him for the rest of his time here with us.
   And believe it or not, we work our way up to Jerry allowing Quentin to actually sit on his cock! That's right, we have Jerry losing his man-on-man virginity, fucking Quentin's exquisite hole. For this go-around, Quentin takes the reigns and bounces on Jerry, doing most of the hard work.
   Well, I don't think I need to tell you how much I can't wait to see Jerry's Journey. This is the beginning of what I hope will be a long, adventurous run with us here at Active Duty.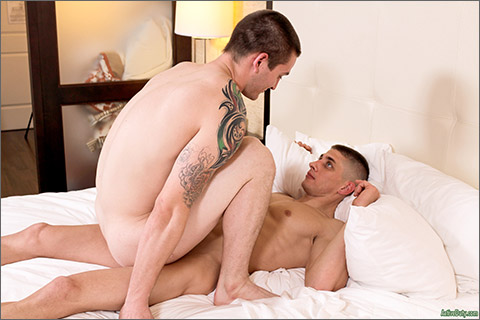 JERRY PRICE FUCKS ALLEN LUCAS
Now here're two fine recruits that are gonna really get yer engine started! It's one of our newest, and one of my most recent favorite soldiers, Jerry Price returning! He's matched up with another very special recruit, who's coming in with a tad more experience, the handsome and charming Allen Lucas.Jerry is definitely not accustomed at ALL to getting sexual with other guys, let alone on camera. I'm glad we get to see him here with such a laid back dude, with a bit more experience, who certainly seems eager to show Jerry the ropes. It's not 2 seconds that Jerry's cock is out before Allen is wrapping his soft lips around it. You absolutely have to watch this part. Jerry's face shows his feeling of sheer disbelief at how good it is to have this mouth lapping and sucking at his dick and balls. I've never seen a reaction like this!!Once Jerry calms down just a bit, he gets up from the bed and stands so Allen can continue enjoying his hardening cock. Not much later, Jerry braves the waters — so to speak — and goes in for a taste of Allen's throbbing, needy erection. As one of the first dicks Jerry has ever attempted to suck, this is a monumental moment. I mean this not only because it's one of the first, but because Allen's cock is so massive, it's nearly the size of a standing national monument! But Jerry is not dissuaded. He marches forth, putting the huge, girthy meat pole into his mouth and bobbing as best he can. All this fun loosens them both up a bit more, and they move into a 69 position on the bed. Finally, Allen ends up climbing atop Jerry and taking that nice boner for a ride. Allen really gets into an excellent groove here, and Jerry does a wonderful job fucking. My favorite shots of the whole experience happen here, when Claude gets in tight on Jerry's face and chest as Allen rides him, and we see Allen's fat, stiff cock bouncing on Jerry's impeccably shaped chest.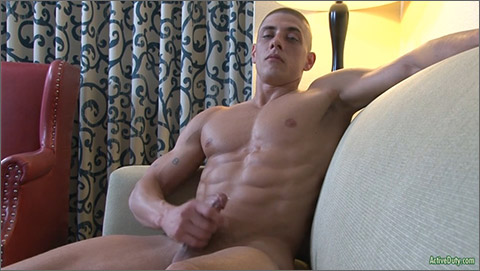 JERRY PRICE
One of my favorite types of guy (for obvious reasons) is the strong Southern gentleman. They ooze a special, old-world flavor that's so unique and charming. Jerry Price is just that type of gentleman.
   Once Claude leaves Jerry alone to get comfortable (and naked), Jerry moves to a more comfy chair and strips on down to what the Lord gave him. My sweet goodness, those abs are divine! And take a look at that herculean cock. If we're lucky enough to have Jerry jump into the mix with our other recruits, he'll definitely be in the running for hottest bod on the squad!
   After Jerry gets a bit more loose and a lot more lubed, Claude comes back and gets us some really nice, tight shots of Jerry's face. I love that Jerry frequently licks his lips while looking into the camera. He has a luscious mouth and a very aesthetically-pleasing bone structure.
   I'm certain y'all will be surprised when Jerry erupts, in his words, 'like a volcano' after only about five minutes of tugging his swollen meat. It is truly an epic explosion of hot juices, and one of the most outrageously heavy loads I've ever seen. Don't worry though, at this point Jerry is FAR from ending this stroke session. Like a stalwart soldier, Jerry advances further into battle, jacking his fat stiffie with even greater fervor than we'd seen.
   Claude gets nice and low for an underneath angle that allows us to look up at the jerking Jerry, as if we were waiting for his second blast to bless us as a nice, warm shower. But it's not at this point that we see a follow up.
   Jerry moves to the couch, where he seems to get even more comfortable, partially kicking up a leg and relaxing one arm across the back of the couch. After getting good 'n' tight on Jerry, really showing off the dick-hardening intricacies of his chest and stomach, Claude comes over Jerry's shoulder to give us a POV shot.
   Around this point, we get another wonderful cumshot from Jerry. 'It's another gusher every five minutes!' Claude says. Then Jerry moves back to the chair to CONTINUE stroking his fat cock! We get some more incredibly hot solo action from Jerry before he explodes AGAIN!!!