American Military Active Duty Amateur, Guy Houston
Years Active: 2015 – 2016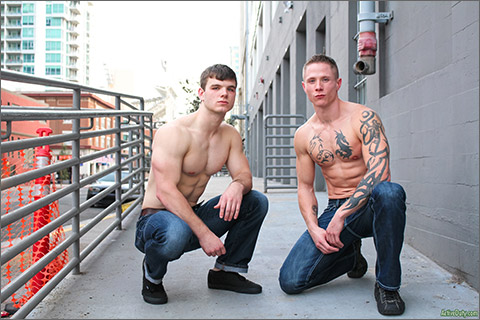 GUY HOUSTON FUCKS IVAN JAMES
Most of you know how much I've been enjoying Ivan James, and I know everyone else has has been too. He has a very special cute, spunky energy and a nice, plump ass to which I can't say 'no'! This time, he's paired up with a less experienced recruit, Guy Houston. But what Guy may lack in experience, he makes up for with passion!
   Just like he did with Quentin, Guy asked Ivan to wrap them soft lips around his cock, right from the get go. Ivan suuuuure likes that suggestion and Guy's dick fattens up inside Ivan's mouth quickly. 'You sure do like a hard cock in your mouth,' Claude remarks to Ivan as he goes to town on Guy's luscious meat. 'Mmm hmmm!!'
   Then it's Guy's turn and we get to watch this wild man in action! Guy really tosses his inhibitions out the window when he sucks cock, and it's a beautiful thing. Boy, Ivan gets extremely hard during this intense slurping and Guy loves it.
   The boys don't spend too much time before getting down to that good, hard fucking they've been looking forward to. We know Ivan enjoys getting pounded hard, by fat erections, and now Guy sure knows it too haha!
   We soon go to a tight shot of Ivan's precious ass getting fucked, as Ivan lays on his back. Then we get a nice, wide look that includes Guy really having fun with this cute, energetic boy. I really like the way Guy isn't afraid to get in there and dominate with his power. Guy likes to fuck, and I'm certainly glad to have him back and jumping right into the line of fire. I can't wait to see him paired up with another smaller bottom…perhaps Johnny Riley would enjoy receiving some punishment from this strong enforcer!
   Before Ivan climbs on top for a ride, Guy gets a few more mouthfuls of Ivan's big, swollen cock. Claude moves in close to really show us that wonderful intensity from Guy. Then, once Ivan mounts his new squad buddy, the action picks back up.
   They do a bit more fucking, this time standing as Guy bangs sweet Ivan from behind. Then, of course, the two finish side-by-side on the bed. Both of these fine recruits are really great parts of the troop and I know we'll see some nice stuff from each of them in the near future.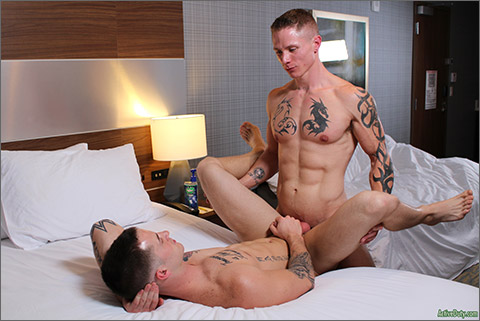 GUY HOUSTON FUCKS QUENTIN GAINZ
Our Veteran Quentin Gainz is back with a new recruit who has never been with a man before but ready to explore all options. We broke Guy in with a very sensual solo and now hes back to feel how a real soldier handles the front lines. Guy will be working his way through this until hes comfortable enough to give Quentin what hes been waiting for.
   Claude gives them the run down and lets the soldiers loose on each other at their own pace. Quentin is not shy at all and Guy has come a long way from his solo cause we thought he would take some time before he let Quentin on his cock but nope right off the bat Guy asks him if hes ready to suck on his cock and of course Quentin does not hesitate. Last time we say Quentin riding a fellow recruit was with Allen Lucas and we all know how great that was seeing his ass get rimmed and plowed.
   After some extensive cock sucking from Quentin and some amazing deep throating skills that almost sends Guy over the edge the flip switches and Guy tries his first time sucking on a sexy meaty stick. Right off the bat he's a pro and Quentin can't believe how good he is for a rookie.
   Guy is fully packed with a beautiful hard dick as he aims for a direct shot into Quentin's eager ass awaiting the penetration. Nice and slow he enters for the first time and he is amazed how great it feels. The smooth bare skin pushing open his wet hole and wrapping back around his cock as Guy pumps deep and hard into Quentin..
   Claude never lets a good moment go to waste and shows off the beauty in a few camera positions as the two sexy men fuck around the room.
   The pounding is long and hard but every soldier needs a break so these two hunker down next to each other to stroke out their edged up balls releasing some of the biggest loads we have seen yet.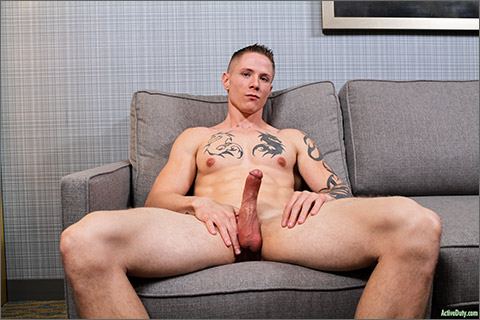 GUY HOUSTON
Guy is the quiet type yet shows lots of promise as a dominate top and I'm sure eventually you all will see that soon enough. Guy has never been with a man let alone has Claude sit quietly by filming him but once you see his amazing eyes and physique you'll know he is the man for the job.
   His body is strong, ripped and the veins are pulsating with excitement as he finishes his chat with Claude. Claude lets him know he can take his clothes off whenever he is comfortable and not a moment later Guy is standing up dropping his pants and shirt to reveal what I've been talking about. Man I'd love to take my fingers and caress his sexy abs.
   His blue eyes are gorgeous and Claude gets a great view of them. Guy loves to move around and show all that he has to offer. His butt is all muscle, firm and very plump. He lines up in one position where he has one leg stretched out on the couch and the other on the ground, mmmmm its pure enjoyment.
   Finally, we finish off with Guy milking out every last drop. It's a quiet blast as he milks away but the stern look on his face tells you he's ready for anything we throw at him. Wow I sure loved this scene, it's probably one of my favorites now, and you'll see what I'm talking about once he has no clothes on. This may be his first time here but it won't be his last as I'm looking forward to when we all can see his rock hard cock deep in one our soldier's asses.