Handsome Hung ChaosMen Amateur, Jensen
Years Active: 2015
BRIAN OCKERT / CHAOS MEN INFO:
Start Age: 25
Debuted: August 17, 2015
Height: 5'9″
Weight: 140 lbs
Cock: 8″ Cut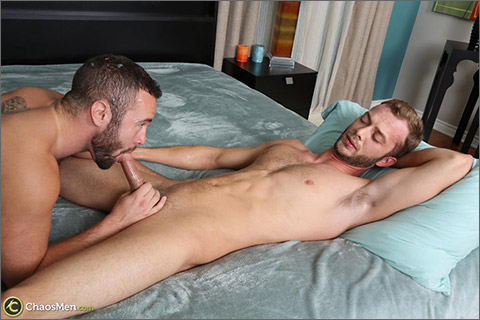 SERVICED: JENSEN & NOAH RILEY
Jensen was really nervous for his solo, and even more nervous to get head from a guy his first time. Thankfully, the solo went well, and he got more confident.
   I don't think his cock wilts but once during this video. He kept his hands in his sweats, playing with his cock, while we setup the camera and got Noah in position to start. He pops out of those sweats bone hard and ready to go!
   I gave Noah some tips on how he likes to stroke, so he gets right down to sucking it like he means it. He deep throats his cock a couple times, and I think it is the best Noah has done at this. His cock is a great length, and it can be put in any direction, so Noah could find just the right angle to go balls deep.
   Jensen doesn't pay too much attention to the video playing for him, so pretty much got lost in the sensation. He did say it was the best blowjob he had gotten. He also kept requesting Noah to play with his hole. Noah even fingers his hairless hole while sucking his cock.
   After getting his ass rimmed, Noah lays down so Jensen can fuck his face. He does lose firmness while fucking his face in an awkward position, but I think in this position it kind of needed to be bendy. Jensen sure liked fucking his face aggressively!
   Jensen lays back down, and Noah sets to the task of making him nut. He works real hard at it! Every time I thought he might give up, Jensen would make an encouraging noise, and then Noah would suck harder.
   And the hard work was worth it! Jensen starts shooting and Noah lets some fly in the air, but also makes sure to eat some as it come out of his cock.
   You may notice that it started raining really hard while Noah tried to make Jensen cum. So in a way, Jensen makes it rain all over Noah hair and face. Very fitting!
   It is raining cum inside today!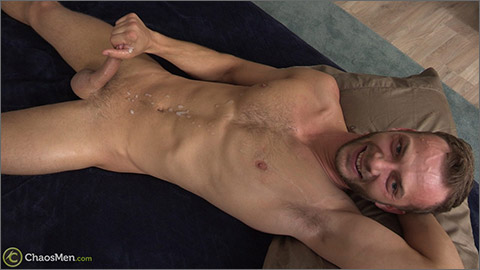 SOLO: JENSEN
Jensen has got a hot body and a nice 8″ cock. He does trim his body hair, but I think there is enough there to 'count' as having it. His trim job actually suits him, given how little body hair he has on his arms and legs.
   He also only weighs 140 pounds, all of which must be muscle and cock! He works out every day and said he actually just added some mass.
   Jensen is straight, but there is some curiosity there. He has had long term girlfriends, but right now he is single, hoping to make some money to pay down student loans.
   He is a quiet guy, but gets his cock hard quick. It is long and floppy! His backdoor is equally awesome, and he says girls love to play with it. Clearly he keeps his balls and butthole shaved, so that always makes you wonder what's going on with interest in his back end.
   Jensen's cum shot is amazing. He said he jerked-off the night before, so I was not expecting a lot. It shoots at least 3 feet in the air, coating his body, face, and his pillow!
   He was easy to work with, and look forward to him getting head and having that cock of his shoot ropes of cum into someone's face!
CLICK HERE TO GO TO HIS CHAOSMEN BIO PAGE