Massively Hung ChaosMen Amateur, Colby
Years Active: 2015 – 2016
BRIAN OCKERT / CHAOS MEN INFO:
Start Age: 25
Debuted: July 27, 2015
Height: 6'1″
Weight: 180 lbs
Cock: 9″ Cut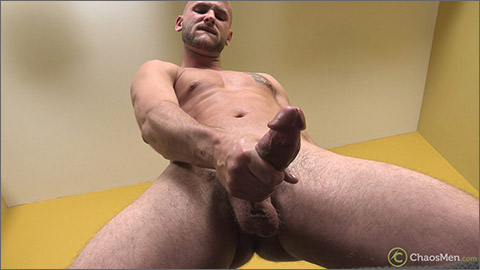 SOLO: COLBY
Colby is packing some major meat! It is somewhere around 9 to 9.5 inches, and it is so big that gravity just pulls it down. It hangs super long, both hard and soft. It gets marginally longer when hard, but expands in place like a sponge soaking up a gallon of water.
   Colby has been doing cam work, so he was very comfortable in front of the camera. Not sure if has done other video work. Ya never know with these guys. Colby is eager to do more video work, and become famous for his big unit.
   He grew his pubes out for us, and actually moved recently to beach, so has a nice tan going. He has a hot tight body, and his ass is really quite nice. A juicy hole to go with his big juicy cock!
   He is one of those guys that finds a huge cock more of a curse. He tends to have to fuck girls real slow, and has only had anal sex once. No girl has ever deep-throated him. Still, he is proud of his cock, as well he should be!
   As for getting his cock sucked, I think I have someone who can swallow him balls deep!
   Time to impress Colby with what we gay guys can do!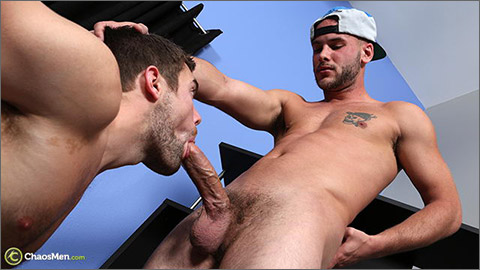 SERVICED: COLBY & GRIFFIN
I had sent Griffin a couple advance images of Colby. I think he was salivating days before doing this shoot. Griffin said he could not wait to worship his cock.
   So we started with Colby standing there, simply getting head. His cock always seems a little wobbly. I think it just gets a lot of blood near the end, and he has no foundation inside his body to support the gravity pull.
   But it slides down Griffin's throat with ease, who really could be a sword-swallower for the circus.
   And you can tell that Colby has NEVER had anyone deep throat him before. He talks under his breath, clearly astonished. Cock blown, mind blown!
   We kept this shoot to just cock worship. Griffin loved the texture of his cock (he said that about Troi) and just could not get enough. Colby does have a nice ass, but I did wanna keep the focus on just his dick.
   Colby sits down to give Griffin a few more angles of attack. Colby strikes me as an aggressive dude, so we moved from a passive sitting position, to one where he could really pound Griffin's throat with his cock.
   Griffin's specialty! Throat fucking!
   Colby's relentlessly hammers his throat while his balls are smashing into Griffin's cheeks and eyes! The under shot on this video is tremendously hot! I love that you can see Colby's face and his cock slides all the way down Griffin's neck.
   Colby grabs his dick and jerks a load out for Griffin to eat. And Griffin, who barely got a chance to touch his own cock, nuts moments later, glad to have eaten Colby's seed straight from the pipe!
CLICK HERE TO GO TO HIS CHAOSMEN BIO PAGE