Blond Hung Uncut Handsome Australian Bentley Race Aussie Mate Gay Porn Star, Jake Jensen
Years Active: 2014 – 2015
BENTLEY RACE INFO:
With the beginning of summer upon us in Australia I have gotten extremely busy shooting with my mates a load of new guys. I was really excited this week to meet up once again with my red headed mate Jake Jensen. I have been trying to tie the sexy 23 year old down for a shoot for several months. So you can imagine how excited I was when he called me last week and told me he was back in Melbourne and ready to get in front of the camera again. Well things got a bit out of hand once the photos were finished and the filming started. My eyes were popping looking that that big uncut cock. But it was when Jake stuck his bum up in the air that I decided I should try tongue fucking the big spunk. Jake quickly returned the favour by pulling my cock out of my shorts and quickly devouring it. It gotta say that it's one of the most horny and fun shoots I have done in a while. And now that Jake is back making porn again I'm going to make sure I keep him very busy this summer.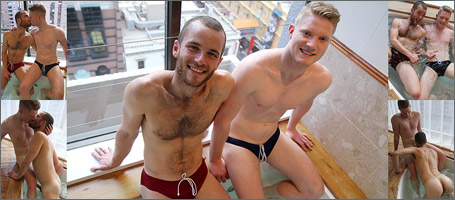 HOT TUB MATES – JAKE AND JAY HOOK UP IN THEIR SPEEDOS
What a perfect hot couple Jake and Jay make in this scene I filmed recently with them. Both of my mates are totally adorable and I knew that they would get along really well. So well in fact that they couldn't wait to get naked. Dressed in just speedos the guys started this shoot with a dip in the hot tub. It was funny shooting the tangle of arms and legs in there. Eventually they slipped up on the edge of the tub so I could get better shots. There was lots of kissing and eventually those speedos worked there way off to reveal two nice large uncut dicks. Jay was straight down there to start working on Jake's fat boner. I could tell pretty quickly that this shoot was going to be very hot. These are the photos from the spa tub section of our shoot. Look how happy Jay is!
HOT TUB MATES – JAKE AND JAY HOOK UP IN THEIR SPEEDOS
AFTER SCHOOL DETENTION – MATES GETTING EACH OTHER OFF
GETTING MY MATE JAKE JENSEN OFF