Australian Bentley Race Aussie Mate Gay Porn Star, Cody James
Years Active: 2014 – 2015
BENTLEY RACE INFO:
I'd like to introduce you to my newest Aussie mate Cody James. Cody recently moved to the city from country Tasmania. I love shooting with the guys from the country. He contacted me a long time ago about possibly modelling for me. And now that he lives in the city I jumped at the chance to get the Aussie red head around. What I didn't know is that this 23 year old is very well hung! You see Cody is packing one very fat uncut dick. It kinda surprised me when it popped out of his undies.Cody had just popped around to meet me when I suggested that we grab some quick shots. It ended up turning in to a full shoot as Cody reached for the fleshlight and started fucking it. This turned in to one incredibly hot scene. I know for sure that my mates are gonna love Cody and we'll be seeing a lot more of him this summer.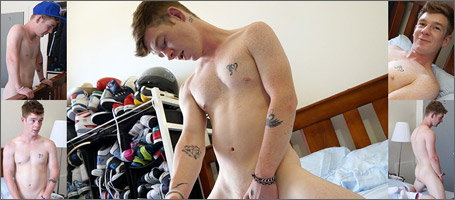 CODY JAMES RAMS HIS BIG UNCUT COCK THROUGH THE RUBBER FUCK TOY
For a little guy Cody sure is packing a huge dick! For his first video Cody starts stripping off and stroking that big dick out of his undies. It grows big very quickly. Cody is watching some porn but soon becomes more interested in trying out the rubber fuck toy. I show him how to fill it up with lube and push it down over his cock. You can tell that he really likes it. My favourite part of Cody's video is where he fucks the toy as it's pushed down on the bed. I gotta say that I loved watching this video even as much as I did when I made it. Cody looks great and I'm sure all of my mates will be lining up to get in to a scene with him once they see this video. Make sure you watch it rift to the end to see the big load of cum Cody has been saving up.