American College Jock Exhibitionist & Gay Porn Star, Jake Davis
Known Aliases: Jake West (My Friends Feet)
Years Active: 2015 – 2016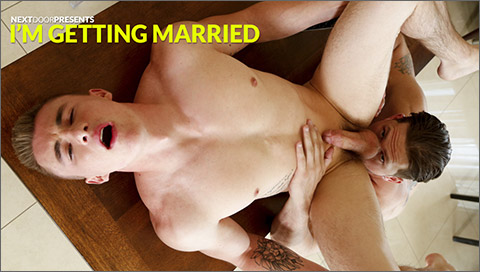 I'M GETTING MARRIED
With a knock on the door, teacher Jake Davis is suddenly confronted with a blast from his not so distant past. As Roman Todd stands in his doorway, a flood of memories comes back to Jake. After some meaningless small talk, Jake grills Roman about the purpose of his visit, and Roman shocks Jake with a wedding invitation. As Jake reads it, he shakes his head, barely able to process the reality in front of him. He asks Roman what this means for the two of them, and Roman tells him it's over and can't happen anymore. Jake takes Roman by the hand and tells him he'd like to send him off one final time. Roman is reluctant, but as Jake inches closer, brushing against Roman's cock starting to stiffen up inside his shorts, it becomes obvious to Jake as to what Roman really wants. Kissing him hard, Roman throws Jake down onto his desk and begins to work his way up and down Jake's body. Jake falls to his knees and takes Roman's hard cock into his mouth, downing it immediately as Roman closes his eyes and leans against the ledge. Jake's hands run up Roman's body as he sucks him off, and Roman's cock gets rock hard as Jake works his magic. Switching places, Roman sucks Jake off with a passion and hunger he has yet to feel with his fiance, rocking Jake's legs high into the air as Roman playfully tongues his ass. Jake begs Roman to fuck him hard, and Roman obliges, plunging his cock deep inside Jake as he fucks him missionary on the desk top. Jake strokes himself as Roman fucks hard, bending Jake over and taking him from behind, then letting Jake take a ride as he bounces on Roman's sexy dick while getting ever closer to losing his nut, busting it as Roman continues to pound away. Roman pulls out and blasts Jake with his load, and as Jake lay there cum covered and sated, he suspects this won't be the last time the two of them mingle. Hopefully the future wife will understand.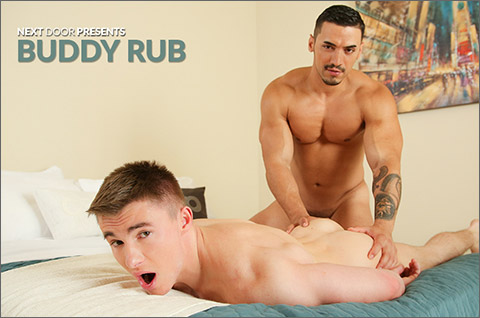 BUDDY RUB
Luckily for Jake Davis' ailing back, new gym buddy Arad specializes in therapeutic massage. What Jake doesn't know is that Arad is also fluid in sensual massage as well, so Jake is taken aback when Arad transitions from one to the other. To Arad's credit, he didn't come over to take advantage of Jake, but once he sees Jake's beautiful, bubble butt, Arad just can't help himself. He stares at Jake's ass as Jake lay on his stomach, eyes closed, and Arad decides to just go for it, licking up from Jake's balls all the way up his crack. Jake is startled and asks Arad what he's doing, but Arad assures him everything is fine, and Jake allows it to happen, trusting Arad's touch. Arad goes back to massaging Jake's hole with his tongue, slipping a finger in Jake's hole as they 69 each other, Jake gagging on Arad's hard cock. With his back feeling much better but his cock feeling hungry and horny, Jake concedes to Arad fucking him, so he mounts himself on Arad's hard cock as Arad pounds him from behind, first in doggy, then in reverse cowboy. Arad fucks Jake hard before turning him over. Jake is rock hard and ready to cum, so Arad gives him a few more power strokes as Jake lets his nut fly all over himself, just as Arad pulls out and blasts him with a load up and down his stomach. Jake admits Arad's techniques are a bit unortodox but has to concede that his back feels much, much better.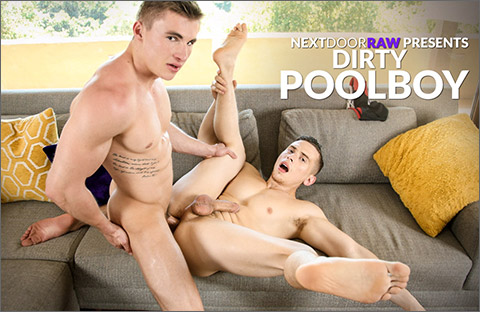 DIRTY POOLBOY
Under the hot sun, poolboy Jake Davis does his job as homeowner Dante Martin relieves him with a pitcher of lemonade. Jake has done work for Dante and his husband for a while, and Dante asks Jake about his girlfriend. Jake tells him that his girl is really boring in the bedroom, and it's obvious to Dante that Jake is seeking something more, sexually.
   Jake tells him that his main problem is that he hates the apps and online solutions, and is just looking for a fuck buddy that he already knows. Smiling, Dante places his hand on Jake's knee, and Jake realizes he's been dropping hints unknowingly.
   Taken aback, Jake nonetheless finds the offer appealing, and so when Dante offers to stretch Jake's horizon's, the poolboy agrees. Moments later, Jake is sweating harder than the condensation on the pitcher of lemonade, as Dante peels off his skivvies and downs his hard cock. Jake gets hard as a rock immediately, as Dante deep throats his dick down to the base, teasing the head with a flick of his tongue before they move inside. Once in the house, Jake strips Dante out of his clothes and returns the favor, sucking him off, spitting on the head, then downing him all over again. Dante is hungry for Jake's ass, so he has him straddle his face.
   Jake grinds his ass as Dante tongues his hole, jacking himself hard as Dante slips a finger inside himself. Dante's hard as a rock but he wants something more, so he mounts Jake's cock reverse cowboy, his meaty ass right in Jake's face as he bounces up and down on his meat stick. Jake is uninhibited, fucking Dante hard and rough just like he likes it as they switch from cowboy to doggie style. Jake pounds Dante hard from behind, grabbing him by his shoulders and then around the neck, all the while filling Dante up with his hard dick.
   Jake pumps hard as Dante strokes himself off, shooting a huge load all over the room as Jake pulls out and coats Dante with his own over-due load. Sated, sweaty and covered in cum, it's a good thing the pool is clean to go rinse off.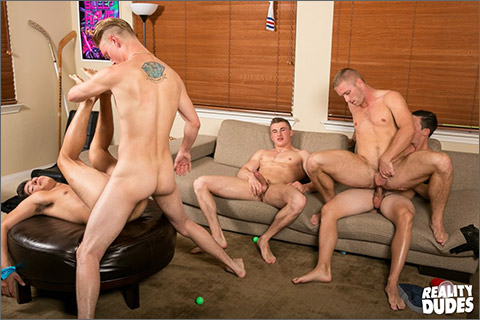 A SPIT DELIGHT
When they got a new pledge to the fraternity, the guys thought of a few ways to welcome him. The best way they could think of though was to take turns fucking his tight ass bareback long and hard. We get to see some of the hottest action (and cumshots) we've ever produced.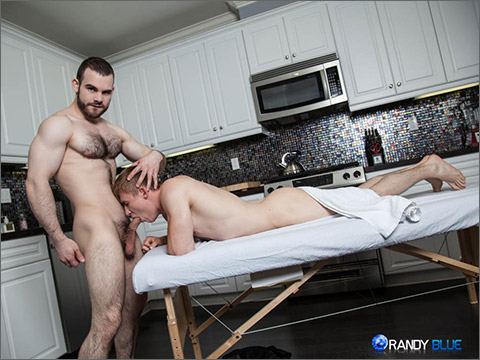 ABELE PLACE RETURNS TO GIVE JAKE DAVIS A BAREBACK HAPPY ENDING
Jake Davis is sore from a long work out. Luckily, he was able to bring Abele in to help ease is his tension. Abele is strong and thick with muscles covered in hot hair. This hairy stud has the power to get out any knots in Jake. Jake is also hot and muscled, with gorgeous pecs and giant biceps. But he is smooth and blonde. Abele starts working on the glutes, and as he started to knead his ass, his uncut cock got hard. He pulled it out and slapped it on Jake. He asked if he could fuck him. Jake said of course. Abele took the body oil and used it to lube up his hole. He stuck his dick deep inside and began to fuck him. Then Jake needed that dick in his mouth. After some hot deep throating, Abele pushed Jake back and swallowed his cock. Then Abele lifted up Jake and shoved his raw cock back inside. He barebacked Jake until finally he pulled out and came on his hole and shoved his cum back inside. This turned on Jake so much that he finally shot cum out of his dick. Be sure to check out the free gay porn trailer of all the hot gay bareback action.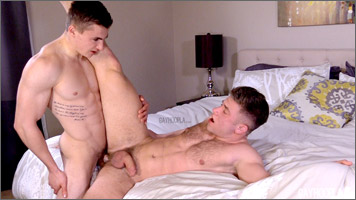 JAKE DAVIS FUCKS TYLER HANSON
Just Hysterical, Jake Davis drops a big load on Tyler Hanson's face and rubs his big dick left overs all over Tyler's gravy face. These guys genuinely had a blast porking. Tyler had a hard time taking his sweet smile off while gazing straight into Jake's alluring eyes. Funny how when I type this, Celine Dion, My Heart Will Go On, happens to start playing. What does this tell me? This was definitely a special update for those who enjoy a fun, pleasurable & memorable fuck. As Celine said,"Love can touch us one time, and last a lifetime." I don't think Jake or Tyler will ever forget this hook-up.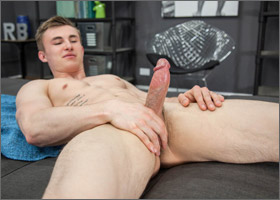 JAKE DAVIS GIVES A PREVIEW BEFORE HE GOES RAW
Jake Davis has such a friendly smile. And he has such a cute face. And such a perfectly smooth muscled body. And such a fucking long rock hard dick. He likes to tease us. He slowly lifts off his shirt. And by the time he pulls out his cock, he is already nice and hard. His dick is long and thick. And he begins to jerk it. He bends over and spreads his cheeks to show off his hole. It is peppered with some blonde fuzz, and his pink hole is just begging to get fucked. He flips over and begins to jerk off harder. Finally he shoots a gusher of cum all over himself and smiles right into the camera. I think I am in love. Be sure to check out the free gay porn trailer of the hot action. And stay tuned this Friday for his bareback debut.
NEXT DOOR RAW
REALITY DUDES NETWORK
RANDY BLUE
GAYHOOPLA
MY FRIENDS FEET
RANDY BLUE LIVE CHAT & PRIVATE SHOWS