Uncut American Military Active Duty Amateur, Allen Lucas
Years Active: 2015 – 2016
TWITTER @AlanLucasGA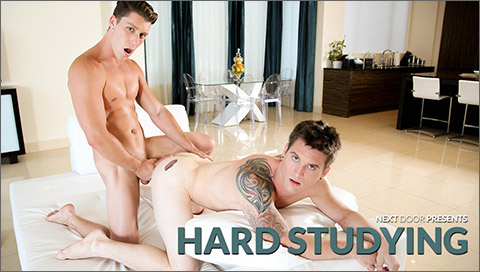 HARD STUDYING
Allen Lucas is such a studious guy. He's spending his Saturday afternoon studying for Monday's test. He knows all the hard work will pay off, but his buddy Paul Canon can't wait to hook up!
   As Allen takes a little nap break, Paul sneaks into Allen's house. He carefully approaches and gets close to snoozing Allen. When he knows the time is right, he licks on Allen's bulge, popping out from underneath his undies. Allen rouses a bit confused. But when he realizes it's his sexy friend Paul, Allen kisses Paul passionately and Paul takes it as a green light to pull out Allen's hardening cock.
   Wow, what a fat boner! It looks so good being sucked by Paul's caring mouth. Yes, this is exactly the type of distraction Allen needed from his books. After getting some of Allen's delicious dick, Paul decides to flip him over and lick that sweet hole. Allen spreads his cheeks apart to allow Paul to get the total experience.
   And once Paul feels Allen's ass is perfectly ready, he slides his stiff cock inside and works up a good pace. Allen knows that Paul likes to fuck hard, so after being pounded from behind for a while, Allen goes to his back so Paul can really dole out a hard pounding.
   Join these guys and find out why it's important to take occasional study breaks to blow off some steam!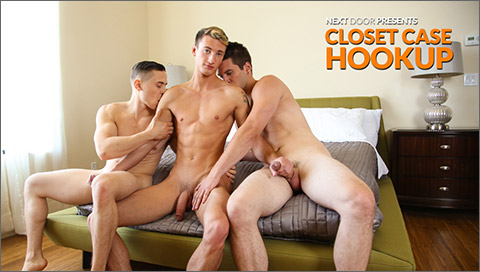 CLOSET CASE HOOKUP
As Dante Martin and his boyfriend Damian Black get busy in Dante's bed, roommate Allen Lucas lurks in secret hiding in Dante's closet. Stirring around, the two hear him and discover his spying. An irate Dante demands answers, but Allen can only offer up weak sauce excuses. Dante notices Allen staring at both of their cocks and asks Allen what he's doing. Allen confesses that he's never seen another cock besides his own, and Dante picks up on Allen's cue, asking him if he wants to touch them. When Allen doesn't immediately decline, both Dante and Damian close in on him, swinging dicks hanging out in the breeze as they inch them closer and closer to Allen's face. Confronted with two giant hungry cocks, Allen gives in and takes one in each hand, alternating as he gives each one a little taste, before plunging both of them into his mouth. Dante notices that Allen, himself, is packing quite the package, and he decides to take a ride on Allen's pole while Damian continues to feed Allen eight inches of meat.
   Allen fucks Dante well but what he really wants is to see what it feels like to get fucked, so Damian and Dante abandon the original plan and decide to take full advantage of the treat they've been gifted, taking turns pounding Allen's virgin ass. Allen takes the pounding like a champ, as Damian loses his load all over Allen's face. Feeling the cum dripping down his face, cockpig Allen spits his load as Dante fucks him harder and harder, pulling out and dousing Allen with a huge facial load that seems like it will never end.
   Now cum covered and broken in, Allen realizes why Dante was always sneaking around the house, and Dante realizes why he always thought he heard something coming from the closet. Looks like both guys will be able to be more open now.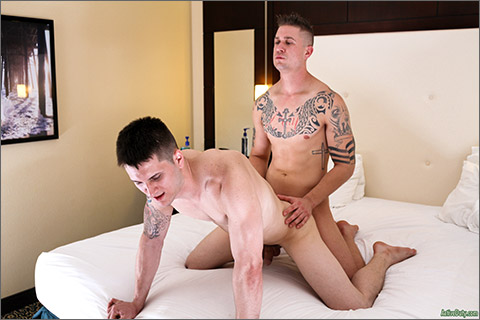 MICHAEL MOLOTOV FUCKS ALLEN LUCAS
Not long after their trousers are off, Michael tells Allen to scooch over and suck his fat cock. No arguments from Allen! Allen takes Michael's lovely erection very deep, slurping it with lots of gusto. I especially enjoyed the way Allen runs his hands all over Michael's strong, tattooed chest. He had absolutely no reservations when it came to enjoying his fellow recruits amazing body. Just a wonderful job by Allen…blowjob that is!
   Michael goes to his knees to take a more dominant position, and uses this leverage to slap that stiff cock on Allen's open mouth and tongue. This gets Michael hungry for a taste of dick for himself, so Allen lays back and lets him get more than a mouthful. Gosh, look at the gorgeous cock on Allen! I somehow am always awestruck by his massive, wonderful cock. Michael sure does the job to the fullest here, taking the whole length, nice and slow. This leads right in to some hot 69 action, where both boys let loose, sucking fervently and jerking each other good. 'Now that feels REALLY good!' Allen tells Michael as Michael works on his swollen meat.
   Then we go right into some good, solid fucking. Allen bends over the side of the bed and allows Michael to slide that big dick right into his tight, hungry ass. Michael has never been scared to show a squad mate what kind of power he's capable of delivering. And with a willing and eager partner like Allen, Michael is blasting at full power! Claude does a bang-up job of getting some wonderful shots of Allen's face while being pounded. He also sneaks underneath the boys and captures a great angle of Michael's cock going in and out of that tight hole, while Allen tugs his hard dong. HOT!!!
   Before the glorious finish, Allen switches to his back. This leads in to a final eruption that ended up being a little bit unique from what we're used to seeing, and the credit is all due to Claude. As Michael is really getting close, putting all his effort into pumping Allen good, Claude tells him to jerk finish by 'jerking all over him.' And golly, what an amazing eruption! This is a must-see and certainly in the running for my favorite ending.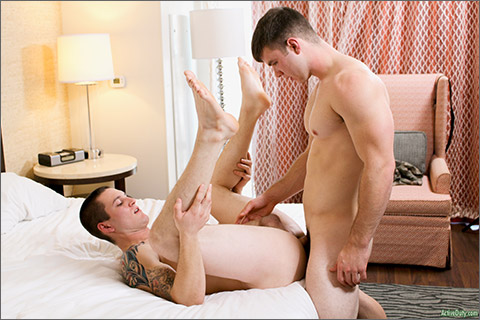 IVAN JAMES & ALLEN LUCAS FLIP-FUCK
Looks like we have Ivan back out in the battlefield and this time with Allen Lucas. Allen has been a soldier with us testing out some recruits as well and finally we got these two muscle studs together for a war story you won't ever forget.
   Last time we saw Ivan with another soldier it was Brad Banks who got to squeeze his fat cock into that smooth ass of Ivan's. Ivan never had so much fun sucking on that meaty dick let alone having it deep inside him.
   Allen is back to teach Ivan some new tricks this time around. Last time we saw him in the line of action was with Jerry Price and boy was that a show for the rookie. Allen knows how to bring the new recruits up to speed especially if it's their first time with another man. Allen had Jerry in the line of fire the whole time and even got his cock deep into Allen's ass just the way he likes it.
   Once the pants are off Ivan wraps his mouth around Allen's stiff cock ready to suck and lick every inch of that rock hard dick. Ivan can't get enough of that cock as he deep throats it feeling Allen's balls on his face. Claude gets a great angle from above as the two hunker down in 69 position. Allen wants to be the first soldier to get fucked so he ready's his fellow soldier by deep throating him until he gags and lots of spit comes flowing off Ivan's now rock hard dick. Allen is a deep throat master just as good as any sniper hiding in the brush.
   Claude is up close and personal in the front lines with some amazing camera angles. You have to give it to him though because you never know when one of these soldiers is going to explode. Ivan is hard and ready to take Allen's eager ass for a trip no new recruit could handle. This scene is for Vets only as Allen gets a pounding with his legs spread extremely far just like hiding from machine gun fire.
   You never leave another soldier behind and that's why Allen takes charge and bends Ivan over to take a new position where he has the top view. Face in the bed with an enormous smile on his face Ivan loves how the cock is going in and out of his ass. Nothing like seeing these chiseled men go head to head for an ultimate climax no soldier would ever forget.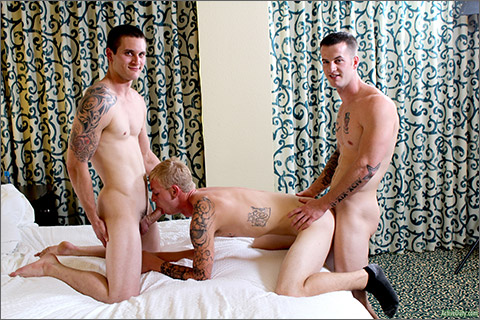 QUENTIN GAINZ & ALLEN LUCAS FUCK SHAWN
It doesn't get any hotter than this, boys! We have two newcummers matched up with an Active Duty soldier I think I can confidently call a veteran by now. It's Allen Lucas and Shawn getting a trial by fire, led by our stalwart and trustworthy Quentin Gainz!
   This time, we see even more of that as the chemistry here steadily builds to a point of complete eruption. Quentin, being the vet, jumps right into the sweet, sweet action by taking Allen's enormous, pulsating cock in his mouth and taking it deep. Shawn enters the water slowly, starting out by getting into some passionate kissing with Allen. Once the intensity really starts building, Shawn makes his way around to the other side of Quentin, where he goes in for a taste of his nice, tight hole.
   Eventually, Shawn moves upward and shares Allen's superb cock with Quentin for a while. Allen has both tongues licking up and down for a while, and he sure enjoys it thoroughly, before Quentin gets up on his knees so Allen can take some dick in his mouth. He gets a good taste of Quentin's hard cock, then turns him around to lick his ass. I'm sure he could taste Shawn's mouth too while rimming that sweet hole.
   As Allen takes his time tonguing Quentin's ass, Shawn moves to sucking Quentin's big dick. This gets Shawn good 'n' eager for his hole to get fucked. Quentin takes the reigns and has the rookie Shawn climb on top of Allen for a good ol' fashioned pole ride.
   Once everything is running smoothly, Quentin pops his dick into Shawn's mouth. Shawn, like a good newbie, eager to please, keeps right on riding Allen's cock while taking Quentin's too. Claude gets in tight and captures some wonderful views of Allen's truly large erection making its way in and out of Shawn's ass.
   They decide to switch things up so Quentin can bang Shawn. Allen gets in there on the other end, being sure Shawn has a good mouthful of his swollen dick. Claude really enjoyed seeing this great chemistry. He asks Shawn, 'you like having a big dick in your mouth and one railing your ass?' Shawn looks at him with a big smile and says, 'it feels great!' What a champ! Allen and Quentin use the opportunity to get into some very hot kissing over Shawn's back.
   Then it was the icing on the cake: Quentin lays on his back and wraps his lips around Shawn's dick while Allen gets back to licking Quentin's amazing ass. 'I feel like I'm being worshipped,' Quentin tells Claude as both guys treat his body like a wonderland. But it's not long before Claude calls for Shawn to take some more breaking in. 'I think it's time for you to put that big dick in his hole,' he says. Quentin has a dick in his mouth, but Allen answers with a hearty affirmative.
   Quentin steps into position and pounds Shawn again. It's not long after this point that Allen assumes the position and takes a solid banging from Quentin.
   Well this one is sure a doozy! It's a great time and one that'll sure go down in the books as a favorite three way among the whole platoon.
NEXT DOOR STUDIOS
ACTIVE DUTY / DINK FLAMINGO