Handsome American Gay Porn Star, Jake Andrews
Known Aliases: Mark Bandero
Years Active: 1992 – 2000
AEBN INFO:
Date of Birth:1/24/64
Height: 6 ft 0 in (182 cm)
Weight: 195 lbs (88 kg)
Hair: Brown
Eyes: Brown
Like so many stars, Jake Andrews (aka Mark Bandero) was once just a Midwestern kid who moved west and ended up on video sticking his dick in men for money. Interestingly, he became a porn star because his boyfriend was starting in the business and Jake wanted a piece of the action. Isn't that one of those great moments of kismet for which we should be grateful? The 1992 debut of Jake Andrews, with his epitome-of-chiseled features, super toned physique, and romantic shock of curly hair (trimmed neatly), was a revelation in the gay porn world. He has since become a legend with more than 60 films to his name.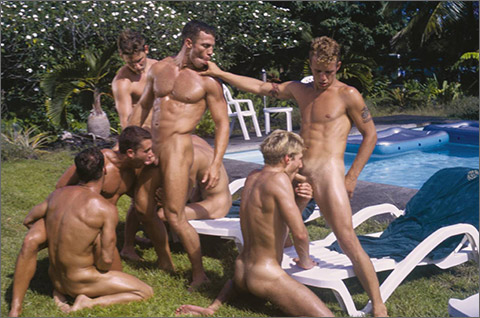 HIGH TIDE: Poolside Orgy with Kyle Becker, Rod Barry, Anthony Shaw, Christopher Scott, Kristian Brooks, Travis Wade, Matthew Anders and Jake Andrews
Back at the house, Matthew Anders meets Jeremy's buddies lounging poolside-Jake Andrews, Christopher Scott, Travis Wade, Kristian Brooks, Rod Barry, Anthony Shaw, and Kyle Becker-enjoying the sun. Christopher Scott takes on Jake Andrews and Kyle Becker; Kristian tangles with Travis, while Anthony devotes himself to servicing Rod Barry's stiff prick. The scene becomes a frenzied orchestra of male satiation. Jake feeds Christopher a dildo, which he eagerly accepts. Travis stretches Kristian's hole with a buttplug while Rod inches a set of latex balls into Anthony's ass. Anthony groans ecstatically as Rod pulls the toy out…one segment after another. Rod zeroes in on Anthony's ass, pounding it with abandon. Christopher sucks Jake as Kyle fucks him from behind while Travis buries his tool deep in Kristian's hole. The seven studs continue fucking, sucking, stroking and pleasuring themselves until each man-urged on by his lusty mates-forcefully ejects his load, soaking in all the masculine energy.

THE OTHER SIDE OF ASPEN 4 (FVP-100): THE 13 STUD ORGY
It's off to the races as 13 studs give yet another orgy for the record books. From the huge meat of Ken Ryker to the chiseled body of Jackson Phillips to all stars like Max Grand, Carl Erik and Kevin Dean, this one has it all, including dildo play and a double penetration with the masked Bryce Colby taking both Dean and Phillips. Colby also takes a line of studs in a hot gang bang.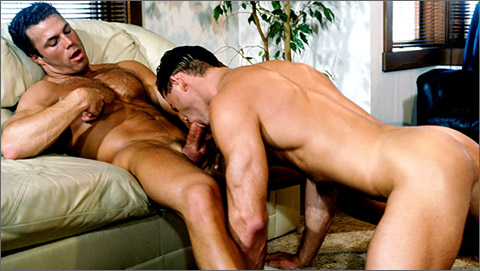 THE OTHER SIDE OF ASPEN 4 (FVP-100): Ken Ryker fucks Jake Andrews
Gay porn superstar Ken Ryker feeds his legendary cock to the hungry mouth of Jake Andrews, who deep throats the giant piece before taking it up the ass. It's power bottom meets total top in a pairing of pros.
ALL WORLDS
CATALINA
HIS VIDEO
STUDIO 2000
BG ENTERPRISES
BRUSH CREEK VIDEO
CLICK HERE TO GO TO HIS COLT STUDIO DETAILS

COLT CALENDAR MEN #11 – LEATHER
COLT Calendar Men Digital Magazine #11 – Leather is a full-color digital compilation of major highlights from various COLT Calendars which features some of our most iconic COLT Men from over our 52+ years in PDF downloadable format.
Features COLT Men Icons: Cover man Walt Ford, Pete Kuzak, Mike Pereyra, Joe Falco, Mark Alexander, Haus, Neal Howard, Nick Dipalma, Franco Corelli, Joel Hancock, Tony Mills, Beau Wheeler, Pat Webb, Ed Ventresca, Mike West, Skip Piston, Tom Chase, Erik Korngold, Buddy Houston, Ken Ryker, Buck Hayes, John Bell, Tony Lombardy, Jake Andrews, Wade Neff, Rod Roddick, Rio Majeska, Jesse Ditmar, Jake Tanner, Chet O'Roark, Mike Dasher, Billy Herrington, Marshall Cline, Todd Maxwell, Jason Brahm, Carlo Masi, Nick Battle, Scott Butcher, Frank Vickers, Link Benedict, Gus Mattox, Ray Dragon, Diego De La Hoya, Zak Spears, Gunner Hyde, Paul Underwood, Bruce Abidor, Matt Horner, Fritz Bowman, Tony Ganz, Taylor Burbank, Jeff Williams, JD Amos and Brant Royale.

[2] March/April 2006
UNZIPPED September 2006, June 2009, October 14, 1997, February 16, 1999
HONCHO February 1999, October 1995, December 1997
TORSO May 1997
ALL MAN December 1995 (special), November 1996, July 1998
BLUEBOY January 2002
JOCK November 1992, January 1995
MANSHOTS August 1994, December 1994, August 1995, April 1997, September 1998, November 1998
JOCK – ALL STARS May 1997
RUMP January 1995
SKIN v16 n03 (1995)
SKINFLICKS January 1995, November 1995
STROKE v14 n03, v14 n05, v15 n05, v17 n05
SAVAGE MALE Aug 1995 #14, Oct 1996 #27
THRUST v10 n05
URGE #2, July 1996
XXX SHOWCASE v02 n08

COLT CALENDAR MEN #11 – LEATHER
BUCKSHOT VIDEO MAGAZINE #4
COLT LEATHER CALENDAR 2005
COUPLES 2011 CALENDAR
COUPLES 2014 CALENDAR
COLT BARE CHESTED MEN CALENDAR 2007
COLT MEN CALENDAR 2007
NAKED MUSCLES NOTE CARDS

BRUNO GMUNDER: ULTIMATE FALCON
BRUNO GMUNDER: FALCON – LEGENDS – MEN OF FALCON
ADAM GAY VIDEO: 500 WORLD'S GREATEST PORN STARS
ADAM GAY VIDEO: THE FALCON MOVIES OF JOHN RUTHERFORD
ADAM GAY VIDEO: THE TOP 40 FILMS OF CHI CHI LARUE
INTO GUYS #2
MEN SUCKIN' MEN #5
STUDS IN ACTION v01 n01
THE DIRTY DOZEN – 12 YEARS OF HOT HOUSE VIDEO
MEN MAGAZINE PRESENTS: FALCON 30th ANNIVERSARY

WATCH IT NOW AT: Jake Andrews @ AEBN / SMUTJUNKIES THEATER
AVAILABLE FROM: Jake Andrews @ TLA VIDEO