Colt Studio Model Gay Porn Star, Hank Ditmar
Known Aliases:
Years Active: 1980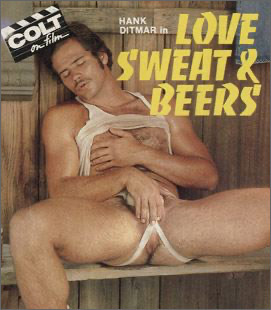 LOVE, SWEAT & BEERS (MV-48)
After hauling rocks all day with his construction crew, macho, hairy HANK DITMAR digs into his torn levis and grimy jockstrap for another kind of load.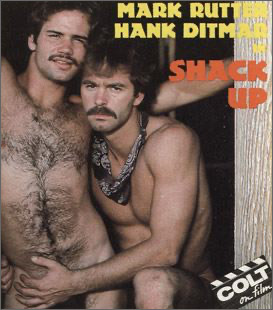 SHACK UP (MV-55)
Looking for some peace and quiet, hunky HANK DITMAR takes to the woods for a weekend camping trip in the wild. To his surprise his campsite is soon visited by another hiker – friendly, horny and super-hung MARK RUTTER. Little time is lost hiding their mutual lust and a nearby shack provides the setting where things come to a head. Ah, the wilderness!
CLICK HERE TO GO TO HIS COLT STUDIO DETAILS

COLT CALENDAR MEN #9 – HAIRY CHESTED
COLT Calendar Men Digital Magazine #9 – HAIRY CHESTED is a full-color digital compilation of major highlights from various COLT Calendars which features many COLT Men from over our 50+ years in PDF downloadable format.
Features COLT Men: Anthony Page, John Pruitt, Ali, Steve Kelso, Franco Arbruzzi, Pete Kuzak, Hank Ditmar, Mike West, Wade Neff, Marchall Cline, Carl Hardwick, Judd Cooper, Dave Sansone, Rick Koch and Jerry Haymes.

HONCHO July 1981, October 1979, October 1981
MANDATE December 1979
BLUEBOY June 1980
NUMBERS December 1979

COLT ANNIVERSARY ALBUM #1
COLT CALENDAR MEN #4: LEATHER
COLT CALENDAR MEN #9 – HAIRY CHESTED
COLT MEN 6
COLT STUDIO PRESENTS 10: MEN AT WORK
COLT STUDIO PRESENTS 2: DENIM
COLT STUDIO PRESENTS 4: YOUNG COLTS #1
COLT SPURS 19: MAN TO MAN COUPLES
COLT CALENDAR 1980
COLT CALENDAR 1985
COLT HAIRY CHESTED CALENDAR 2007
COLT LEATHER CALENDAR 1981
COLT MEN IN UNIFORM CALENDAR 2004
MEN MAGAZINE PRESENTS: COLT STUDIO

COLT COLOR PRINTS: CP-001
COLT COLOR PRINTS: JIM FRENCH – THE LIMITED EDITION GROUP
COLT B&W PRINTS: N-31
COLT AGFA SLIDE SET & VIEWER: SV-2
COLT MAGAZINE SLIDE SET: MS-11
COLT SLIDE SET: S-156
CLASSIC COLOR PRINTS: CP-1-C
CLASSIC COLOR PRINTS: CSC-1

WATCH IT NOW AT: Colt Studio @ AEBN / SMUTJUNKIES THEATER
AVAILABLE FROM: Colt Studio @ TLA VIDEO