Corbin Fisher Amateur College Man, Harley
Years Active: 2012 – 2016
CORBIN FISHER INFO:
Age: 20
Waist: 31
Eyes: Blue
Height: 5′ 10″
Weight: 147 lbs
Hair: Blond
Build: Athletic
Cock: 6.5″
Shoe: 9.5
Harley, our newest freshman, is a tight-bodied, muscular young man who's into parkour. Now, I didn't know what parkour was until he went out to the park and showed me. It's basically running and jumping around the obstacles in your immediate environment.
   Harley looked like Jackie Chan, leaping up and over fences, tumbling off the roof of the dugout – even vaulting over five of our other guys!
   It's amazing to watch him do this stuff. He could be a stuntman! But once I saw him in solo action, I don't want Hollywood to grab him yet. I want him around here doing his own stunts!
   Harley said he was nervous, since he'd never done anything like this before. But once he stripped down and his big, stiff dick bounced out of his shorts … I couldn't see any nerves!
   Harley's body is lean and defined. He has some extremely luscious lips. His head is shaved military-style. Overall, he's one hot guy, who loves an adventure.
   Harley rubs his feet and calves, then his arms. He feels his cock though his jeans, then undoes his belt to get more of a grip on his dick. He pulls the jeans off and plays with his cock through his underwear.
   He rubs his head and torso, before pulling off his underwear. Harley's dick is rock-hard. He strokes it and pinches his nipple as he jerks his cock.
   Harley bends over the chair and smacks his ass a few times. He feels himself all over. Judging from how hard his dick is, he's having a great time. He smacks his shaft a few times and I think it gets even harder!
   He sits down and strokes his big cock. Harley clutches the arm of the chair, the build-up is so intense. He says he's going to come. He shoots all the way up to his chest.
   Then, Harley surprised us all – he scooped it up and ate his cum! Definitely not what I expected from this guy, but to him it was like "go big or go home." I love that attitude.
   And it got me thinking of some big stunts that I would love to see Harley to try!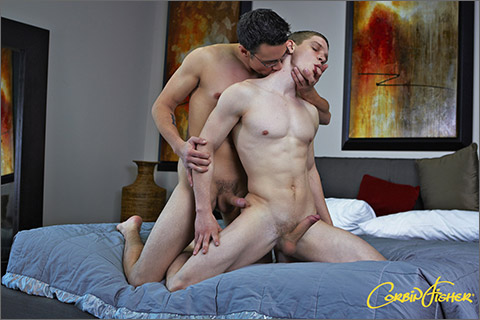 HUNTER DICKS HARLEY
It's always fun to see either of these two guys- they're not just good-looking studs, they both have an appetite for sex that they can'e ever seem to satisfy!
   Hunter and Harley make out and both their dicks are already stiff and sticking out of their pants! These two athletes are both eager to make each other feel great, which they do by deepthroating each other and fucking! Harley is a voracious bottom to Hunter's insatiable top, so they fuck in every position they can think of! Hunter fucks a load out of Harley's uncut cock, then finishes him off with a creampie.
   In the shower afterward, they have a special surprise guest! Too bad he wasn't in time to jump in earlier- but there's always next time!