Blond Handsome Corbin Fisher Amateur College Man, Connor
Years Active: 2008 – 2016
CORBIN FISHER INFO:
Age (2008): 20
Added: Nov 13, 2007
Waist: 34
Shoe Size: 12
Height: 6'2″
Weight: 190 lbs.
Build: Athletic
Cock: 7″ cut
Can you imagine how happy I was when Connor came out for a shoot? Very. Very Very!
   Connor is, simply put, an incredible specimen of college man! He's tall, muscular, has a great face, and is absolutely the kind of guy that turns heads (so fast he probably leaves a stream of strained necks in his wake!) wherever he goes!
   He was so much fun to chat with during his interview that I had to remind myself we were there to film him jerking off! He's so polite and easy to talk to that he must just leave the ladies drooling… as he did me!
   Connor is the latest stud with that combination of features that seems to drive CF fans wild… a very youthful face with a powerful, masculine body. What's more, he has a nice, big dick that got hard fast and has a near-perfect shape. What isn't amazing about this young man?!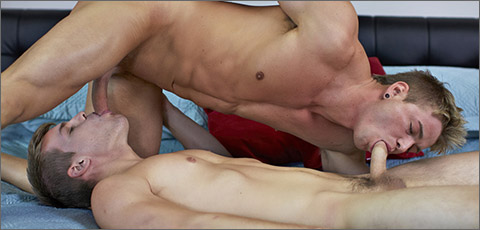 CHUCK SWALLOWS A LOAD
Around the studio, Chuck seems like a quiet reserved guy. Once he gets naked, he perks up, ready to fuck or get fucked! He's got such a great lean body and hot ass, that I figured it was time to get him pounded by one of our biggest stars – Connor!
   Connor takes it easy on Chuck at first, getting him warmed up with a great blowjob and by teasing Chuck's ass with his finger. Once he shoves his huge cock into Chuck, Chuck takes it in every position he can manage.
   Connor fucks a nice load out of Chuck, then feeds him his own cum – which Chuck eagerly sucks dry!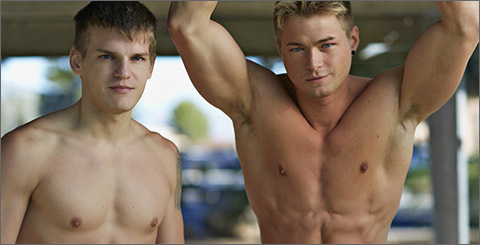 CHUCK & CONNOR'S FLIP FUCK
Hot baseball player Chuck hits a home run with both his and Connor's bats in some hot flip-flop action! Chuck is pretty reserved and quiet in the studio. You can feel his intensity though, especially once he gets naked. Chuck likes to fuck, and appreciates a guy with a great body. Connor, of course, has a great body and also an aggressive attitude. I knew these two would get off on each other- and they did.
   Chuck and Connor start out with some 69 action. Connor wants to fuck Chuck first, and fingers Chuck's hole. After pounding Chuck, he's ready to take Chuck's cock. Chuck slides into Connor's ass, pumping away until he makes Connor blow a load on his ripped abs. Chuck follows up with his own creamy load- right in Connor's mouth!