Sexy Scruffy British Gay Porn Star, Gabriel Phoenix
Years Active: 2016 – 2020
TWITTER INFO:
18+ only!! new porn actor!! hairy, versatile and adventurous! English born and bred 🙂 always looking to work with gorgeous guys!
UK NAKED MEN INFO:
A sexy dirty blonde, making his debut in porn at uknakedmen, and with that big, pulsating, pumping, squirting, uncut cock – you know you'll be seeing more of this hairy chested cutie.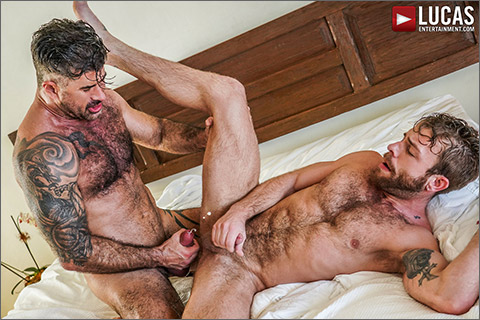 BAREBACKING BRENT EVERETT: Adam Killian Slams Gabriel Phoenix
Adam Killian sure does look damn good as a muscular, hulking silver daddy, and Gabriel Phoenix certainly agrees. Gabriel has always been turned on by Adam and wanted a chance to take his dick up the ass. When Adam gets Gabriel alone in a bedroom, he takes his time showing Gabriel's ass lots of attention and has plenty of fun eating him out. By the time Adam pounds Gabriel's ass, these two gay porn stars are dripping with sweat and Gabriel Phoenix explodes with lots of cum from Adam Killian's ass fucking!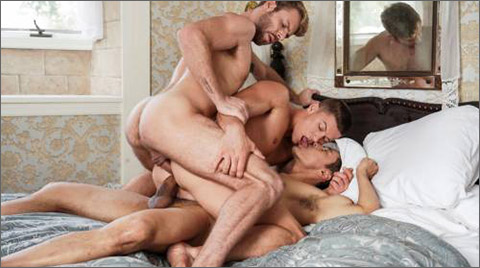 BANGING RUSLAN'S BUBBLE BUTT: Rafael Alencar And Gabriel Phoenix Double-Penetrate Ruslan Angelo
Ruslan Angelo is known for his handsome face, beautifully muscled body, big uncut dick, and—most of all—his bubble butt that he loves to get thrashed. Well, then we need to give Rafael Alencar a call. Because Rafael , one of the ultimate uncut tops to star in the entire gay porn industry, is just the man to bang Ruslan's bubble butt, and snatches up Ruslan on Fire Island to do exactly that. But Ruslan's appetite to take raw dick up in his ass is great and deep, so he invites his buddy Gabriel Phoenix to join them. Rafael lets Gabriel loosen up Ruslan first, but then he moves in and claims his territory. Rafael and Gabriel take it to the next level by opening up Ruslan further with dildos before double-penetrating him!

LAST WILL AND TESTAMENT
Gabriel Phoenix has been suddenly admitted to the hospital. As he anxiously awaits the update from Dr. Deane, his best friend JJ Knight and JJ's girlfriend show up to offer moral support. Upon Dr. Deane's return, Gabriel learns that the news is not very promising. Devastated by the results, Gabriel explains to JJ that although he has had the chance to experience wonderful things in his life (money, travel) he never found love and worse still has never had sex.
   
How close will this friendship get and how far is a best friend willing to go to help check off a bucket list item for a dying man?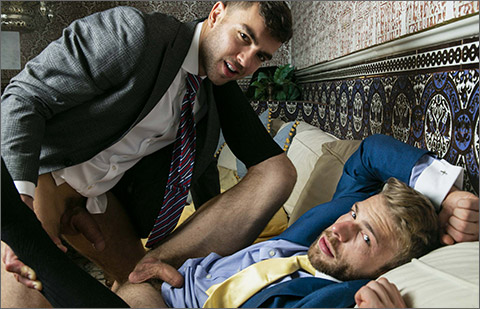 REAL ESTATE 'BROKER' – PART 1
It's Open House day and Agent Alexander Muller is preparing to show the hottest new listing in town. It's absolutely perfect, amazing design, great location but at a price tag of $1.5 million, it's going to take a particular type of client to close this deal. In walks furry British stud Gabriel Phoenix who takes an immediate liking to both the house and the hunky Brazilian agent showing it off. A conditional offer could be near if Alexander is willing to be included with the close. In the cutthroat real estate market, you need to be willing to go the extra mile and Alexander hates to disappoint. Gabriel drops to his knees and gets the face fucking of his life from all 7.5 inches of Alexander's thick uncut cock and then rolls over to offer up his furry peach of an ass for Alexander to devour. You simply can't miss what follows next… be warned it might just make you want to sell your house.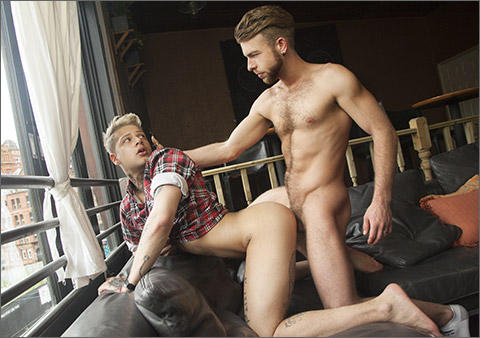 GUYSPOTTING: Mickey Taylor & Gabriel Phoenix flip-fuck
Kayden Gray finally picks up his phone and Mickey Taylor is in a mood. They agree to meet for drinks on Canal Street and Kayden adds he is brining his totally fuckable friend Gabriel Phoenix. As soon as they hit the pub Kayden yells SHOTS! and it's the train goes off the tracks fast. Before you know it all three of them are Fuck'd up. Kayden pushes his friends' faces together and they go hard, barely noticing that Kayden slips away to hookup with a fuck buddy. Gabriel's defined, hairy body and trimmed beard are the perfect compliment to Mickey's smooth tattoos and boyish good looks. They suck and fuck in a private room upstairs at the bar but something happens afterwards. Rather than part ways they decide to grab a bite – this could me more than sex – it might be love. Now they're really fuck'd.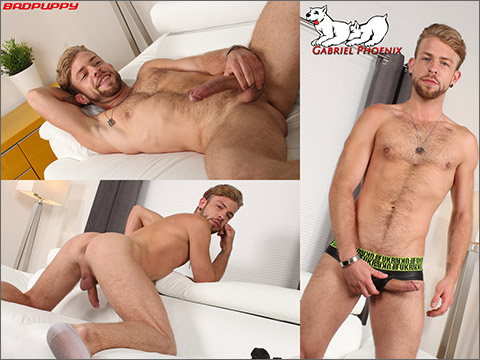 GABRIEL PHOENIX SOLO
27 year-old, London-born Gabriel Phoenix makes a return visit to Badpuppy and performs his first solo video. During the interview, we learn that Gabriel is primarily gay, likes the hunky, jock type and would prefer to dominate if possible; but, will bottom for the right guy. Gabriel pulls off his shirt; his furry chest is ripped and chiseled from working out. It becomes obvious that he can't wait to get out of his underwear. He bends over the sofa, pulls the back of his underwear down just far enough to give us a view of his freshly hairless ass. It' not long before his underwear hits the floor and Gabriel is sitting on the sofa with his rock-hard cock in his hand. He strokes his long, thick cock with one hand and fingers his hole with the other; keeping his cock stiff and his nuts tight. Gabriel lies back on the sofa; one hand tweaking his nipples as the other hand continues to pound his meat. His nuts tighten farther, his body coils up and his cock starts spraying jizz all over his stomach, chest and the sofa. As the last squirts of cum rush out, Gabriel starts to relax on the sofa wiping the cum down his furry chest.

KILLIAN JAMES FUCKS GABRIEL PHOENIX
'Who stole Killian's sneakers'? It's hardly a whodunit! But when Killian finds his favourite sneakers/trainers missing and his flatmate Gabriel Phoenix sniffing them and whacking his eight inch, uncut cock, he gives the cutie something better to do, by waving his own juicy, circumcised but delicious dick in Gabriel's face. Gabriel's been red hot for Killian for days ( and not just for this scene, but in real life, these guys have been chomping at the bit for days, Killian's straight off the plane and ready to shoot a thick load – YUM). Gabriel's already rock hard, sliding his tight foreskin back and forth over his glistening cock head, Killian's bends him over and licks around his fuzzy peach of a bum and slides his tongue inside – Gabriels favourite kind of lube – spit. Then when he's spanked him, OW look at that red hand print! its time to break in Gabriel's tight little hole and ride him like a bucking-bronco, but not before Killian's has redressed him – in his sneakers at least. Gabriel's pushing back for more as his arse is well and truly punished, but where oh where to shoot those sticky-steamy-gloopy loads, on in the face and one in the sneaker!
VIDEO ON-DEMAND: Gabriel Phoenix @ AEBN SMUTJUNKIES THEATER
DVDs & ON-DEMAND: Gabriel Phoenix @ TLA VIDEO