American Gay Porn Star, Elliot Blue / Elliott Blue
Years Active: 2013 – 2016
COCKYBOYS INFO:
Elliott Blue has that rare ability of being an extremely sensual and sweet versatile bottom with a cutting-edge look and confidence that kind of throws you off balance. His tattoos, muscles, and piercing brown eyes fully accentuate his sexual prowess, which he clearly demonstrates in his flip-fuck debut scene with Lukas Grande. Also something to note is Elliott's perfectly round ass which seems almost custom-made for horny, aggressive tops. He's got quite a thick cock, too, which he loves to use to full effect on the right guy. Elliott's a very well-rounded stud — he'll make you smile with his charm one second and then leave you moaning the next — making him a very welcome addition to CockyBoys!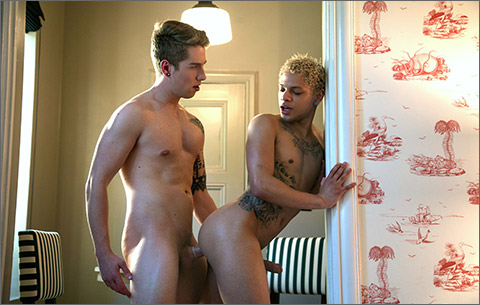 ELLIOT BLUE & LUKAS GRANDE FLIP-FUCK
Elliot Blue is new to Cockyboys and Lukas Grande has been hanging out with him at the beach, playing games on the pier and getting to know him. As they casually stroll around the beach it is obvious that the guys are nuts for each other as their boners would suggest as well. Then Elliot decides to take Lukas to his secret spot underneath the pier hoping to get some quiet time with him but there seem to be people everywhere.
   Nonetheless, they still manage to get a pretty good make out session going until their boners could no longer be hidden in their pants which forces them to get back to the hotel room. Once back at the room Lukas wastes no time taking Elliot's cock out of his bulging shorts and Elliot starts to suck Lukas off right away. Then of course Lukas decides to return the favor and suck Elliot's big cock down his throat. He can't stop saying how much he loves his cock and it shows. He sucks on it as if he had waited to do that all his life. But this wouldn't be a proper introduction into the Cockyboys' Hall of Fame unless Elliot got royally fucked and Lukas has been waiting all day to do just that.
   Once their cocks are both wet and dripping with pre-cum Lukas decides that it's finally time to bend over the new-comer and show him what it's all about. As they continue to flip-fuck in every corner of the room Elliot notices someone outside their window staring at them fucking so they move to the bedroom to continue their fuck fest. But this time as Elliot is riding Lukas' thick cock he can't help but shoot his massive load all over his chest. Lukas is so turned on by the sight of all that cum that he decides to shoot his load too. Now that's how you welcome the new-cummer!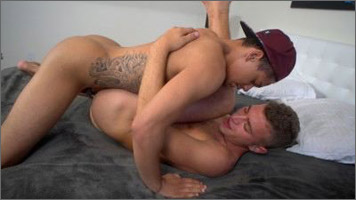 ALEX AND ELLIOTT FLIP
Versatile boys have more fun. Exhibit A. We put Alex and Elliott on the bed, turned on a webcam, and let them go at it… then I filmed it. Elliott is a good top, but an insatiable bottom… and it just so happens that Alex is too! They spent most of their time rimming each other and then flip fucking all over the bed. Elliott told us "the bigger the better," which is perfect because Alex's cock is fucking massive. How do you sexually satisfy two guys? This.
CLICK HERE TO GO TO HIS COCKYBOYS DETAILS