CockyBoys Latino Gay Porn Star, Alexander King
Years Active: 2016
TWITTER @24ALEXANDERKING
COCKYBOYS INFO:
Meet Alexander King, our hot new latino CockyBoy with a body of steel but a smile that will melt your heart. Alexander's one of the nicest guys you'll ever meet, but when it comes to sex, there's no questions asked. He's an aggressive top, which is quite the contrast from his demeanor on the streets. Alexander's got all the right equipment to take an eager bottom to places he's never been — a thick uncut cock, hard and huge muscles, and a gorgeous ass that adds a little extra force anytime he thrusts. He made his CockyBoys debut with a guy who's quite different from him — Frankie V — but he very much proved he's ready to handle more guys in our stud stable!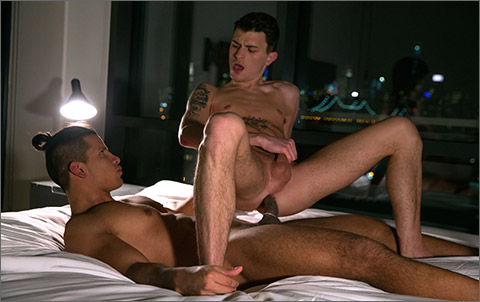 ALEXANDER KING FUCKS FRANKIE V.
Frankie V continues to be one of the most transcendent CockyBoys around. His delicate yet severe features — everything from his inked out body to his alluring baby face to his enigmatic personality — make him the very definition of versatile. So when he's around someone new, you can expect a fresh, unique, and sexy experience every time. You might call our newest CockyBoy, Alexander King, the very opposite of Frankie. And when they got together for the first time, the chemistry was off the charts.
   Alexander has a dark, muscular build, a thick uncut cock, and a very adventurous, dominating personality. Frankie was in town for the night and couldn't help but fantasize about Alexander after first locking eyes with him earlier in his hotel. That fantasy turned to reality when Alexander showed up in his room late, and the guys immediately locked lips. Frankie pulled out Alexander's cock and sucked him off first before falling back on his bed to let Alexander suck him off as well. After removing their clothes, the guys positioned themselves for a hot sixty-nine.
   But Frankie was eager for the main event and soon got on all fours so Alexander could begin finger-fucking him. Once he was properly primed, Frankie received Alexander's cock hard up his perfect ass. They switched it up quite a bit, finding their perfect rhythm — Frankie was in heaven riding Alexander from the back and the front. But what really seemed to push them both over the edge was when they laid down next to each other and spoon-fucked. Alexander was loving the ultimate control over Frankie. After Alexander reached his point of no return, he got on his knees and gave Frankie a huge facial. With Alexander breathless at his side, Frankie then also jerked out a big load. While this may be Alexander's CockyBoys debut, Frankie proved to him you don't necessarily need to be the bottom to get broken in!
CLICK HERE TO GO TO HIS COCKYBOYS DETAILS