Argentinian Gay Porn Star and Fashion Model, D.O.
Known Aliases / aka: Dionisio Heidersheid (Fashion Modeling Name)
Years Active: 2007 – 2013
Lucas Entertainment Stats / Info:
Position: Versatile
Dick Size: 9"
Height: 6′
Despite his reputation as a top, the porn star sensation from Argentina known as D.O. decided that there is no place better for him to give up his anal virginity in gay porn than at Lucas Entertainment! His debut bottoming scene was with Hot Rod, who couldn't offer him a bigger cock to take. D.O. first began his career in modeling, but he realized that his other assets were going to waste. D.O.'s favorite part of sex is a good deep rimming and he has a strong affection for black guys. D.O. likes black guys so much he fantasies about getting caught in a threesome with two of the hottest mocha dudes out there. He already had one, so who is the next volunteer?
Info:
"I am the owner of my own body, and I can do anything that I please with it. Becoming a porn star was like being 'born again," says D.O.
   D.O. — whose given name is Dionisio Heidersheid – will be familiar to early Black Scorpion followers for a mesmerizing performance in his debut feature, Obsession of D.O., opposite the latin superstud Rafael Alencar. And while many a gay porn star claims a background in high-fashion modeling, few can boast of the prestige – or the mainstream fan base – that D.O. experienced while walking the international runways.
   "D.O. is the absolute essence of what Black Scorpion is all about: sultry, sexy, and sophisticated," says studio exec James Ian. "Just Google Dionisio Heidersheid, and watch the results come pouring into your browser."
   The hugely attractive South American will headline Black Scorpion's October 4 release, Hunger, an homage to fine dining and sexual fantasies – along with the studio's other fall releases: Man Island and Cuma Sutra. And while setting out to prove he'll make a name for himself in the glossy gay porn biz, D.O. is recognizing a more profound evolution in adult entertainment.
   "The world is changing in the way it views porn. A generation ago, you had successful fashion designers in sham marriages, trying to hide the fact that they were gay," D.O. says. "Today, they're trying to outdo each other by dating rent boys or surrounding themselves with porn stars at their parties."
   Why Black Scorpion? "Black Scorpion is the only studio making the ultimate in high-end productions. They're concerned that guys really enjoy having sex with each other. This makes for a better end-product – and a much hotter film," D.O. explains.
   Black Scorpion is pulling out all the stops to take high-end gay adult entertainment to a whole new level. Armed with former European & South American fashion models, and a crew with backgrounds in art and fashion, Black Scorpion is committed to portraying the most awe-inspiring gay sexual fantasies ever seen. In addition, Black Scorpion's stellar production values – similar to what's seen in high-end film & photography — escalate porn professionalism far beyond the norm.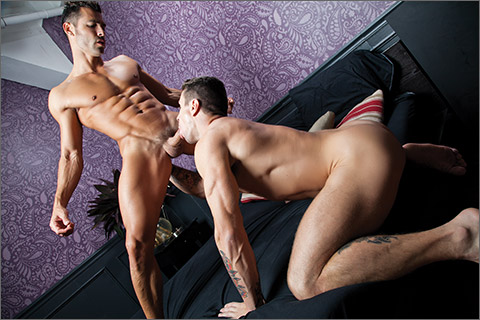 UNZIPPED: Trenton Ducati fucks D.O.
Trenton Ducati ducks out of work to meet his hookup, D.O., on the East Side of Manhattan. They meet outside in a construction area, check each other out, and decide to head back to Trenton's apartment to have some fun. As soon as they're through the door D.O. and Trenton take their shirts off and start feeling up their muscular chests — Trenton is hardier in his build, whereas D.O. is leaner. They make out for a while before Trenton slides down D.O.'s body and runs his mouth over the Latin hunk's cock through his white briefs. Trenton pulls the uncut piece of meat out and swallows it up; D.O. then bends over and Trenton plays with his hole after they swap some more head. D.O. uses his mouth to make sure Trenton is rock-hard before he rolls on a condom and lubes up, and D.O.'s ass is high up in the air and begging for a fucking. When Trenton slides in, D.O. moans and groans — it's a wonder he can take it at all. He's so tight and Trenton's cock is big and fat! Trenton grabs ahold of D.O. and hoists him onto his lap so D.O. can ride his pumping pecker. After awhile D.O. needs a break, so the guys flip positions and D.O. sticks his huge uncut cock deep inside Trenton's ass, showing him he's just as much a top!
LUCAS ENTERTAINMENT
FALCON STUDIOS
RAGING STALLION
CLICK HERE TO GO TO HIS LUCAS ENTERTAINMENT DETAILS
VIDEO ON-DEMAND: D.O. @ AEBN SMUTJUNKIES THEATER
DVDs & ON-DEMAND: D.O. @ TLA VIDEO