Super DILF Hung Daddy American Gay Porn Star, Adam Russo
Years Active: 2010 – 2022
TWITTER INFO:
Porn Performer, artist and actor…. for bookings please contact me at adam@adamrussoxxx.com ..I travel extensively so I might be coming to your town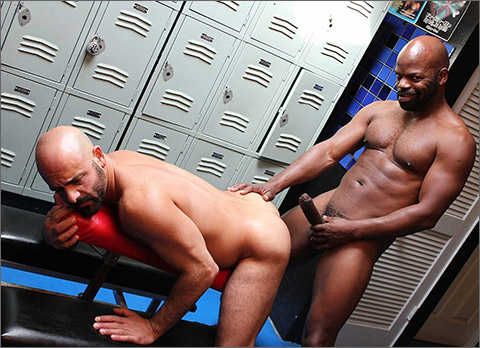 CUTLER X BREEDS ADAM RUSSO
They said it would never happen, but it did. Cutler X finally come over to do bareback porn and who better to pair up his massive uncut cock with than Adam Russo. Adam was ordered to his knees in the locker room to start swallowing Cutler's huge cock and deep throat the fucker until he was satisfied he did a good job. Cutler just wanted to start barebacking his first hole on film so didn't waste time to bending Adam over and shoving his raw cock in that hole he knew could take it. Adam was moaning so loud it shook the lockers. Cutler showed no mercy and fucked Adam senseless. We had to carry Adam out when it was all over – he couldn't walk off the set!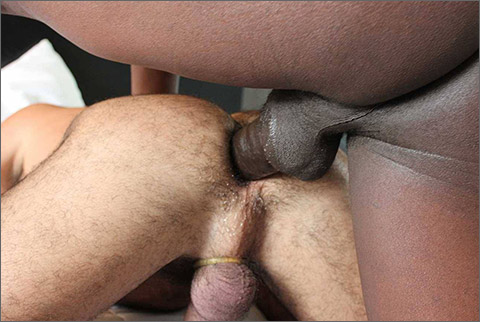 ADAM RUSSO TAKES CUTLER X UNCUT COCK RAW
Dropping to his knees for huge black uncut cock is the norm for Adam Russo. He hadn't seen his boyfriend Cutler X in over a week and when he did Adam got to his knees and power sucked that black monster until it was rock hard and ready for some serious bareback fucking. Adam then thru his ass up in the air for his daddy and let him abuse that slut hole any which was he wanted. Adam knows how to please a big black cock and does what he is told. Cutler punished that hole good with his uncut monster and made sure it was plugged deep!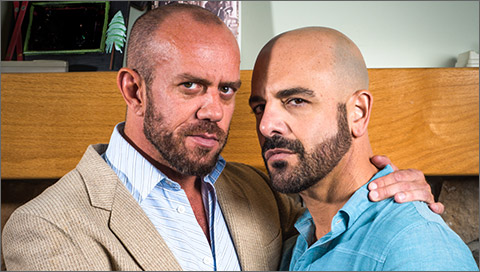 THE STEPFATHER 2: Adam Russo fucks Matt Stevens
Adam Russo visits Matt Stevens while he's reading in bed. Adam can't sleep and he's not used to being alone. Sensing that he's disrupting Adam's life with Sean, Matt offers to move out to get out of their hair. Matt's ex-stepson Cody is visiting, and was invited to stay, but his ex-wife is protesting it.Adam begs him not to go, he needs someone his own age around to talk to. Loneliness gets the best of them, as they scoot closer together. Adam's hand strokes Matt's thigh, rubbing his hand, enjoying their closeness. Slowly, the sexual tension builds and as Adam plays with Matt's beard. They kiss, excitement building as they caress their hairy bodies as Adam's dick tenting out his gray jogging pants, which Matt soon pushes his face into, licking the stiff cock through the material. Matt frees the dick and sucks takes every inch into his mouth before Adam stands him up, stopping to suck on his nipples and ending in a deep rim job, his tongue circling his hole between the muscular cheeks. The fit daddies kiss again and Matt climbs onto Adam, sliding his muscular ass down onto the thick waiting pole. Matt's cock is rock hard, pre-cum glistening as it leaks from his dick while he fucks up and down. Adam spreads Matt's cheeks, before pounding him deep and hard. As they embrace, every inch of their bodies pressing against each other, Adam slides his thick dick back into Matt's waiting hole as it greedily takes every inch. Matt wanks himself to completion, his cum dripping over his belly and Adam has a roaring orgasm.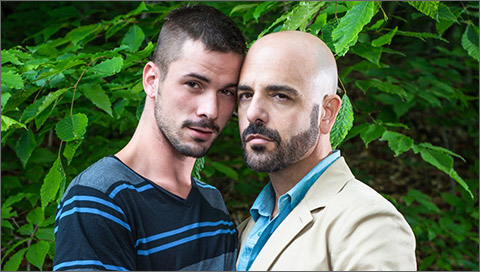 THE STEPFATHER 2: Adam Russo fucks Sean Cross
Adam Russo is infatuated with his younger house-mate, but even after hooking up before he's afraid to further explore the attraction between them. Even watching football and drinking beer could lead to somewhere dangerous. Adam knows he isn't strong enough to resist him. Sean knows the sex is good, and even as Adam tries to steer clear of complication, the younger man challenges him. Sean grabs him and pulls him close, their bodies intertwined as they kiss, and Adam tongues the inside of Sean's sweet young bearded mouth. The tension between them electrifying and Sean pushes his house-mate down onto the bed, straddling him as his sorts ride up. Adam sucks on Sean's pierced nipples, exciting Sean who's got a big raging hard-on. Alex sucks Adam's big cut cock, who moans in pleasure encouragingly as he guides his head up and down. Adam flips his lover over onto his smooth stomach and and licks his hairy hole. Sean enjoys every second of the deep rimming before he's mounted and Adam plunges deep into his ass. Sean lifts himself up and down on Adam's stiff member, and as he's about to cum Adam stops him. Adam slows down his fucking and while his thick dick slowly slides in and out of him, Sean cums as passion and friction increases. Adam finishes with a guttural grunting orgasm as cum splashes onto Sean's taut stomach.
HOT HOUSE CLUB INFERNO
LUCAS ENTERTAINMENT
JAKE CRUISE / HOT DADS HOT LADS

CHANNEL 1 / RASCAL

VIDEO ON-DEMAND: Adam Russo @ AEBN SMUTJUNKIES THEATER
NOW STREAMING: Adam Russo @ NAKEDSWORD