Big Dicked American Gay Porn Star, Dimitri Kane
Known Aliases: Dmitri Kane
Years Active: 2015
OTHER INFO:
Passed away late 2015.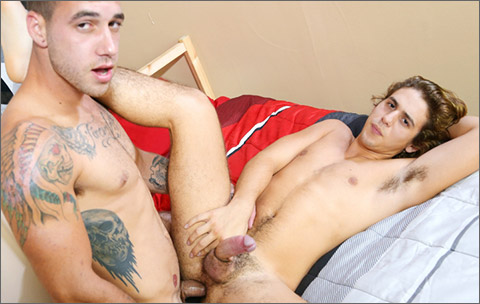 DIMITRI KANE TOPS DYLAN DRIVE
Dimitri Kane and Dylan Drive kiss passionately as the clothes slowly come off, but these boys take their time with each other as they make out and then take out their dicks! Dylan kisses his way down to Dimitri's big prick and takes it in his mouth while Dimitri reaches around and plays with Dylan's nice round ass, squeezing it tight as Dylan sucks on Dimitri's sweet cock.
   Dylan gets head next, kneeling about Dimitri and getting that fat cock wet while Dimitri holds his own dick in his hand and jerks it gently as he gets a mouthful of Dylan's delicious meat! Enough foreplay for these two, they're ready to fuck hard and Dylan climbs on top of Dimitri, straddling Dimitri's hard cock and then lowering his tight ass onto it, riding that thick member hard and then switching positions so that Dimitri can get in deep with some doggy-style action.
   Dylan's on his hands and knees, taking that long shaft all the way up his sore ass while Dimitri pumps him harder and faster, flipping Dylan over so that he's lying on his back, legs spread in the air while Dimitri is buried inside him. Dylan yanks on his own big dick, stroking it up and down while he watches Dimitri fuck him until both these guys squeeze a huge load out of those big cocks!

I NEED BIG COCK
Ever since Dimitri and Luke hooked up he can't stop thinking about Luke's big fat cock. The men he's been hooking up with lately just can't compete with Luke's yummy dick. As the two sit and discuss their issues Hugh walks in and begins to undress. Luke and Dimitri look on in awe as Hugh drops his shorts and is only wearing a jockstrap. Dimitri sees the big cock and is very excited and thinks this guy could be the one. Hugh notices that they are staring at him intensely so he turns around and whips his cock out for both of them to suck. They begin to service Hugh and touch his film muscled up body. Hugh then gets on his knees and shoves both of their cocks into his mouth sucking and slurping the big dicks. He wants to be fucked and so bends over so they can take turns on his soft round ass. The three way gets intense with lots of hard fucking sucking and a messy sticky ending all over Hugh's firm sexy chest.
COLLEGE DUDES
PRIDE STUDIOS
GAY ROOM / MEN POV