American Military Active Duty Amateur, Brad Davis
Years Active: 2015 – 2016
TWITTER @BradDavisXXX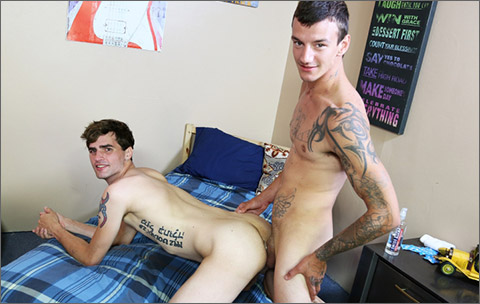 BRAD DAVIS FUCKS SKYE REEVES
Skye Reeves and Brad Davis press their bodies together as they kiss each other, their cocks already hard under their shorts as they touch one another and make out. Skye gets to his knees in front of Brad and takes his fat cock in his mouth, licking and sucking that sweet prick until it's twice as big and even thicker than before. Brad facefucks Skye, ramming his dick into his mouth after Skye takes his balls in his mouth and pleasures Brad with that expert tongue.
   Skye touches himself a little before straddling Brad and taking that long shaft up his tight ass and riding it hard as Brad plays with Skye's cock. They try another position, doggy style, and Brad buries his dick balls deep in Skye's entrance, ramming him hard as Skye jerks his own hard member. Skye turns over onto his back and spreads his legs for Brad, stroking himself fast and hard while Brad fucks him until he can't take that tight ass anymore and pulls out to drain his cock on Skye!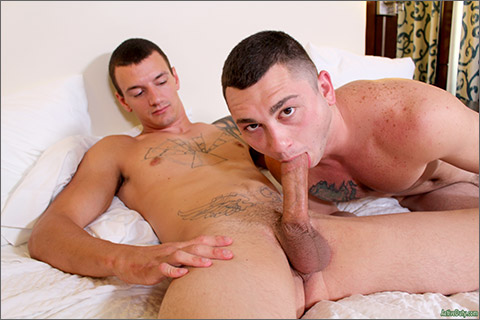 BRAD DAVIS FUCKS JOHNNY RILEY
I'm sure most everyone remembers Brad Davis, who, not long ago, graced our squadron with his unforgettable style, nicely chiseled body, and mouth-watering cock. Well just as I had hoped, Brad is back! And this time, he's jumping into action with a recruit who's become the most fun ball of energy among the whole outfit — Johnny!
   Once Claude gives them the green light, Brad and Johnny pull out their already very hard dicks and get right into some nice, tight-fisted stroking. Side-by-side, these fat erections are truly impressive. Both of these soldiers are working with some serious firepower! Johnny, being the dick-hungry, brand new cocksucker he's become, doesn't waste too much time before planting his two lips around Brad's throbbing dong. He's so eager to get all that erect meat into his mouth, he takes it a little too deep a few times.
   Brad started out slamming Johnny from behind, up against the side of the bed. Pretty much right from the get go, Brad was using those lean muscles to drill Johnny good. Claude captured some excellent shots from underneath, where we get to see Johnny's hole getting good 'n' stretched by Brad's forceful fucking.
   Then, Johnny climbs on top for a ride. He bounces hard on Brad, playing with his own rock-hard dick as he takes Brad's. Claude tells Johnny to let that beautiful cock bounce on its own for a while and boy do we get some great footage of Johnny here! I love seeing a stiff boner slapping on another soldier's chiseled stomach.
   The boys reposition into a wheelbarrow style, where Johnny really gets lit up by powerful Brad. Even Claude says, 'He's railing you now!' and all Johnny laughs as Brad delivers a serious pounding. Johnny lets his ass take a break for a few minutes so he can get another taste of Brad's cock, this time after it's been fucking his tight hole. Johnny's really expanding his field of experience lately, and I just love it.
   Before going back to the bed, Brad fuck Johnny on a chair, from behind. Here we see a continued drilling from Brad, who seems to be unstoppable at this point! Back on the bed, Johnny takes Brad's dick while on his back this time. We get to watch Brad pound the cum out of him and boy does Johnny have a good time working up to this epic eruption.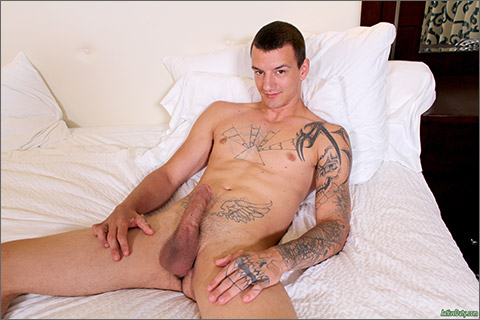 BRAD DAVIS
Here's an outstandingly handsome recruit who's joining us for the very first time. Boy, this Brad Davis is the quintessence of the strong, lean soldier's body. I'm excited to see all that he brings to the table for us. I can tell he's gonna have a whole bunch to offer. And what a great job he does here for his first time on camera!
   Brad starts fattening his cock up under his shorts right away. He looks straight into the camera with his big, gorgeous brown eyes. This is around the point when I realized what potential Brad has for commanding attention merely with his presence. He definitely has what it takes.
   Eventually, Brad stands up from the bed and steps out of the camo shorts. He sits back down and continues squeezing his cock underneath his boxer briefs. After getting just a bit more comfortable, he takes his shirt off and shows us more tattoos and his unbelievably hot physique. Brad is built just the way we like our go-to soldiers. It's easy to see he packs plenty of strength.
   Finally, that cock comes out and Claude gets in nice and tight while Brad strokes himself on the bed. We see that big, stiff dick getting jacked, and Brad's handsome face behind it, sometimes peeking around and looking at us. I like Brad's hand tattoos, especially from this angle.
   Then Brad stands up and Claude gets an angle from Brad's perspective. Brad's cock is so nice. It's thick, and just like him, looks like it could do some damage! I like the way it looks in his hands, too. He has rough-looking hands that also have an aesthetically pleasing quality. I'd wager another cock would look great in his hands as well!
   Claude is really bringing in so many awesome recruits lately! Guys like Brad are such treats for our platoon and are exactly how we've kept troop morale sky-high. Sit back and join him for this excellent debut, as Brad joins the squadron of the finest men engaged in Active Duty!
COLLEGE DUDES
ACTIVE DUTY / DINK FLAMINGO