Classic American Texan Gay Porn Star, Derrick Hanson
Known Aliases: Dereck Hanson, Derick Hanson
Years Active: 2005 – 2009
STATS / INFO:
Derrick Hanson
Born: April 1980; Dallas, TX
Height: 6′ 2"
Weight: 170 lbs
Dick Size: 7.5"
Nominated for Best Newcomer, 2006 GAYVN Awards!
First of all, this really is Derrick Hanson. I want to sincerely thank you for taking the time and effort to put together such a comprehensive website catalogueing so many porn stars and honoring them with their own profile, stats, bio info, pictures and stuff…. Your site is really great!!! I personally really appreciate your site because, for one, Im flattered ya'll thought of me and included me on it in the first place, and two, because before I had created my myspace page (my official website is still under construction….) I was always glad that my fans had somewhere to learn a little more about me and provide them with some pictures and other films that Im in and you guys have a pretty comprehensive resource compaired to other sites. So thank you so much for what you do!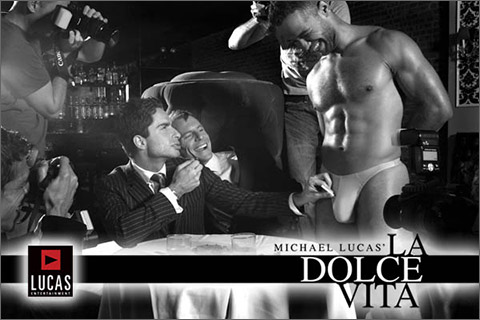 MICHAEL LUCAS' LA DOLCE VITA
The setting is Michael Lucas' beloved New York City, rather than Fellini's Eternal City. If anyone knows the underbelly of social climbing New York, it's Michael Lucas, one of the few porn entrepreneurs to regularly appear in the city's gossip columns. Fellini used a stand-in actor to take his highly autobiographical place in his "La Dolce Vita," but Michael Lucas plays his lead here with gusto. He is a fashion writer, on the skids by turning out pulp for a magazine instead of literature. His first stop is a fashion show where gorgeous male models strut the catwalk as New York denizens like Amanda Lepore and Kevin Aviance view the results. The entire first scene is a montage fashion show that looks as crisp and glossy as any coverage of a real fashion show (though the blink-and-miss-it tryst between Ben Andrews and Jack MacCarthy probably wouldn't make it to the pages of "Vogue"). Even the clothes themselves are high evocative in a non-sexual scene that is so populated it makes the finale of "Dangerous Liaisons" look small.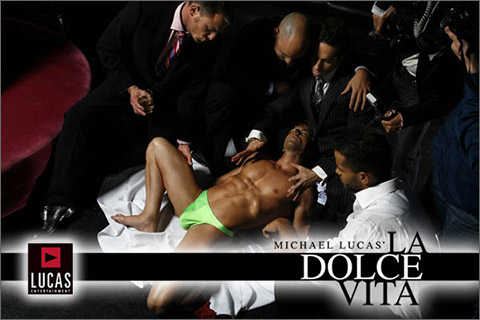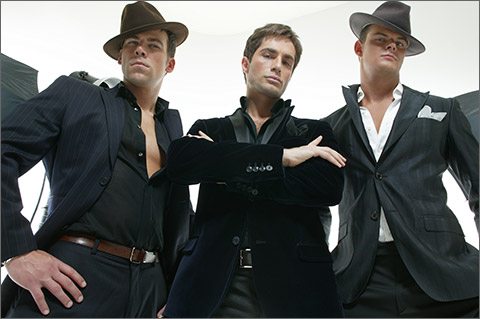 SCENE 4: Michael Lucas & Jason Ridge & Derrick Hanson
Michael and Jason stop to pick up roadside trick Derrick Hanson, who was in the fashion show, and agree to take him home to Brooklyn. The tiny apartment isn't exactly the milieu for a Michael Lucas film, but remember, his character is exploring all the nightlife has to offer as they pass around a joint. Michael starts off as an observer to the scene, as Derrick and Jason make out, but he's soon showing up for active play. Both brunet golden boy Jason Ridge and tattooed Derrick get to show off their fantastic mouths solo, but they then join forces to double-team Michael's cock. Michael joins in sucking Derrick and then has Jason cram his face full of both cocks. Jason is mighty inspired here. Jason draws a lucky card having Derrick deep-throat him as Michael eats his one-of-a-kind ass. This is a major highlight. Michael fucks Derrick, trying to moan big, but his face is too full of Jason's cock and ass to make much sound. Michael easily rattles off a typically strong fuck. The three-way aspect is never forgotten as Jason insinuates himself into some truly cool positions to make Michael and Derrick do more than just fuck. After fucking Derrick, Michael and Jason lick his ass (with Michael also sucking both cocks briefly), before Jason fucks Derrick. Jason takes advantage of the path Michael has opened for him. Turns out Michael has it in mind to do the same thing to Jason's ass, which is a stunning match of two superstars. They work well together, with Derrick moving here and there to participate where he can. Even Derrick gets to fuck Jason. While he does, Michael cums on Jason's face and then the two others finish.
VIDEO ON-DEMAND: Derrick Hanson @ AEBN SMUTJUNKIES THEATER
DVDs & ON-DEMAND: Derrick Hanson @ TLA VIDEO