Horse Hung American Gay porn Super-Star, Chad Hunt
Known Aliases / aka:
Years Active: 2001 – 2009
Inches Feb 2005:
" The part about the business I enjoyed the least was not being able to focus on any type of relationships. I was on the go a lot and really had no time for myself let alone others, and it's hard for anyone to date a pornstar to begin with. I'd say that helped make the decision (about retirement) easier, but really wasn't a major factor in it. "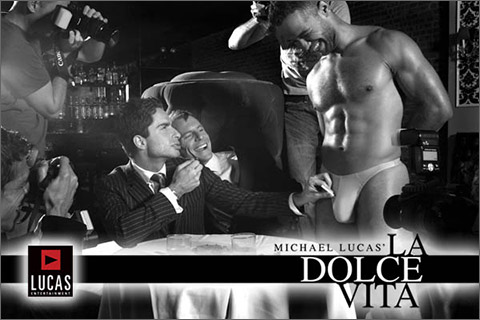 MICHAEL LUCAS' LA DOLCE VITA
The setting is Michael Lucas' beloved New York City, rather than Fellini's Eternal City. If anyone knows the underbelly of social climbing New York, it's Michael Lucas, one of the few porn entrepreneurs to regularly appear in the city's gossip columns. Fellini used a stand-in actor to take his highly autobiographical place in his "La Dolce Vita," but Michael Lucas plays his lead here with gusto. He is a fashion writer, on the skids by turning out pulp for a magazine instead of literature. His first stop is a fashion show where gorgeous male models strut the catwalk as New York denizens like Amanda Lepore and Kevin Aviance view the results. The entire first scene is a montage fashion show that looks as crisp and glossy as any coverage of a real fashion show (though the blink-and-miss-it tryst between Ben Andrews and Jack MacCarthy probably wouldn't make it to the pages of "Vogue"). Even the clothes themselves are high evocative in a non-sexual scene that is so populated it makes the finale of "Dangerous Liaisons" look small.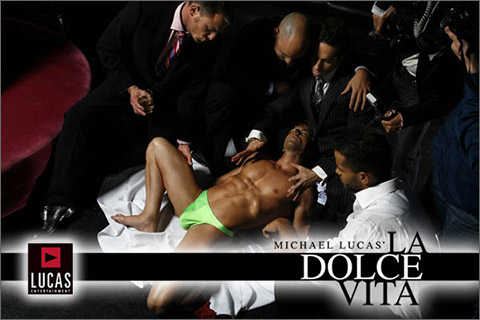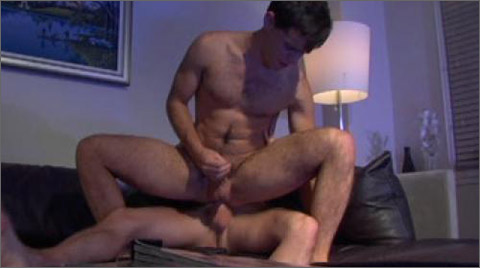 MICHAEL LUCAS' LA DOLCE VITA: Chad Hunt & Cole Ryan
At the party, Michael had wanted Cole to meet publisher Chad Hunt. Chad is all over Cole, who finally gives in to the open relationship depravity he has so detested in Michael, especially as Chad disparages Michael while they make out. Cole is way too hot for Chad to really pay much attention. Naturally, once Chad's cock is released from its confines, Cole works on devouring it. Kudos to Cole for doing a splendid job with more inches than most manage. Chad coos in his role as blasé top, letting himself be adored, and hairy-chested Cole isn't arguing at all. He simply finds comfortable positions for his exciting trips down Chad's cock. And when he gets all the way down, well, anyone who has seen Chad Hunt's size knows how great that looks! Ever the ass man, Chad licks at the deep pink hole between Cole's hairy cheeks. He has to give the boy some prep before fucking him. When Chad does, it's silky smooth. Cole isn't a toy bottom, he's the real deal. Chad is able to work him over with absolute depth and a comfortable gyrating rhythm that keeps going even when Cole is in charge and riding, still going to the base. I never tire of watching bottoms excel with Chad, especially when they don't just merely take him, but take him in cool positions and with defining speeds that show just how damn good they are. Cole cums being fucked and then Chad unloads on Cole's stomach.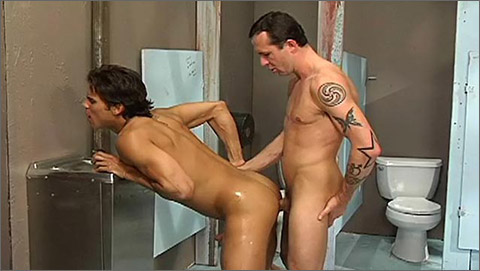 HUSTLE AND CRUISE: Chad Hunt fucks Roman Heart
Jason Adonis and Albert Long (non-sexual roles) witness one of their buddies giving it away for free; Roman Heart follows Chad Hunt into the john for some hot glory hole action. Chad's extremely large cock is feasted on by Roman both orally and anally but not before Chad has a mouthful of Roman's sweet ass. Some amazing deep ass penetration ensues as Roman's fucked over the bathroom water fountain and garbage can over and over again.

ALL WORLDS VIDEO
CHANNEL 1 / RASCAL
CATALINA

VIDEO ON-DEMAND: Chad Hunt @ AEBN SMUTJUNKIES THEATER
NOW STREAMING: Chad Hunt @ NAKEDSWORD