American Fetish & Fisting Gay Porn Star, Cory Jay / Corey Jay
Years Active: 1998 – 2016
HOT HOUSE INFO:
FOR IMMEDIATE RELEASE: San Francisco, CA (February 17, 2010)
After an absence of over a decade from the adult industry, fisting and fetish superstar Cory Jay returns to Hot House Entertainment, the studio that launched his career and turned him into the biggest star the fisting world has ever seen.
   This week, the 6'2" tattooed giant appears in the world premiere of Fisting Big Leagues online in The Club Inferno Dungeon, turning in a jaw-dropping performance with Club Inferno Exclusive Rick Van Sant. "I've really been wanting to do another movie for some time," Cory recently said while lunching with Hot House President Steven Scarborough, "and of course I'd only ever consider working with Hot House." Cory also admitted to having fantasies about several of the Club Inferno Exclusives, including Van Sant.
   Fan mail has already started to pour in after Cory's first scene went live on Monday; but perhaps the greatest accolade came from Rick Van Sant himself. "Cory Jay has always been an idol of mine," Rick gushed, "and working with him turned out to be the greatest fisting experience of my career – a real dream come true!"
   Cory is best known for unforgettable performances in Dr. Good Glove, Acres of Ass, and the notorious disappearing pool balls scene in Mo Bigga' Butt.
   Just last week Cory also completed filming a scene with his real-life partner Hogan Wade for Sanctuary, Hot House's 2-part big-budget leather movie of the year.
   Fisting Big Leagues, directed by Robert Drake, also stars Club Inferno Exclusives Evan Matthews and Jackson Lawless along with Hogan Wade, Andreas Cavalli, and Claude DeMartini and Paul Turner, two real-life partners who've been itching to show the world what they do behind closed doors.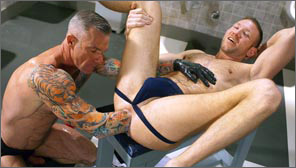 FISTING BIG LEAGUES: Cory Jay fists Rick Van Sant
Hot House Exclusive Rick Van Sant's dream comes true when he meets his lifelong fisting fantasy-man Cory Jay. Jay walks out of the bathroom stall in the locker room and orders Van Sant to bend over and spread his ass cheeks. Jay expertly explores the willing bottom's huge hole, fisting the cum right out of him!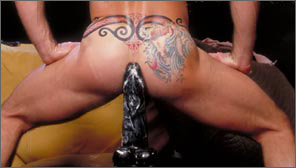 MO' BIGGA' BUTT: Cory Jay rides a jumbo dildo
Handball icon Cory Jay removes his harness, freeing up his gorgeous cock and hungry tattooed ass. He greases up a thick black dildo and turns on a private video of himself being fucked with various butt toys. His ass twitches at the sight and mounts the mammoth dildo, working his way up and down the massive tool. The muscles in his ass and legs flex in time with his deep breathing, grunts and groans. Warmed up and ready for more, Jay moves to a frighteningly long dildo and takes the tool deep into his bowels. His piss-slit dripping with an impressive piece of steel, Jay never wavers as he switches back to a dildo that stretches his ass to it's widest. Jay moans in ecstasy and drips in sweat as he pumps his own hole. Finally, Jay leans over and gives a good view of his puckered-out hole, fingering himself and pushing out his ass for the camera.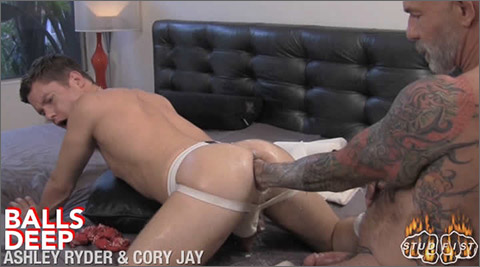 BALLS DEEP
This shit is over the top!
   Cory & Dyn0 went to a party. After 4 or 5 drinks we were suprised to see Ashley Ryder right in front of us with a big smile on his face.
   It took all of 90 seconds before plans to spreads Ashley's hole were under way and exit strategies devised.
   Back at the room it was game on as soon as the door closed. Camera on, clothes off! Tongues, cocks, dicks, toys and fists went into Ashley who asked for more and more!
HOT HOUSE
HOT HOUSE CLUB INFERNO
STUD FIST
ALL WORLDS VIDEO