Hung American College Jock, Collin Simpson
Known Aliases:
Years Active: 2016 – 2020
GAYHOOPLA INFO:
Height: 5'10" / 1.78m
Weight: 185lbs / 84kg
Cock: 9″ / 23cm cut
Age: 22
What's there not to like about Collin Simpson. He's truly is a great kid with a huge cock and beautiful body. He has one of the best attitudes of any model we've ever filmed. Extremely confident and excited to enter the industry. He's about 5'11" and weighs about 175 lbs and wants a job in uniform. He's fucking HOT!

PRANKING MY STEPBRO: BAREBACK
Ever since his new stepbrother Collin Simpson moved in, Theo Brady has pranked him relentlessly, and this will be the best goof yet as he prepares to secretly stay in Collin's room all night long. Theo is shocked to find a suggestive pic of himself in his stepbro's bedside table before he hides in Collin's closet. Collin takes a post-gym selfie and then lies down on the bed to jack off, until he notices Theo recording him! Collin has Theo suck his cock, then makes the bottom beg for him to eat his ass. The prankster is now at his prankee's mercy as Collin pounds Theo's ass till he cums, then makes Theo swallow his jizz.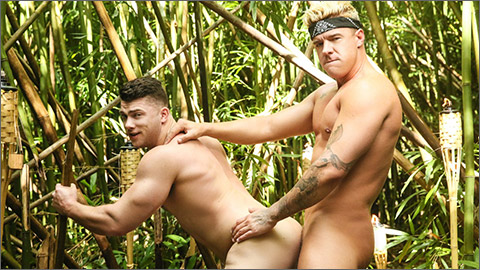 RISE OF THE SIRENS – PART 2
After learning that Beaux Banks was at the scene of his friends' mysterious demise, angry meathead Collin Simpson vows to take revenge, and his buddy JJ Knight knows just where to find him. The guys turn up with torches just as Beaux is trying to explain to Matthew Camp and his friend Colby Tucker that he's innocent. Collin and JJ chase Beaux through the forest, cornering the siren and tying him up. To celebrate their victory, Collin sucks JJ's cock and the guys 69 before Collin eases his ass down on JJ's thick cock. JJ gives Collin's ass the deepest pounding ever before cumming on the bottom's face, then sucks Collin's cock and takes a facial of his own… just in time for them to see Beaux escaping!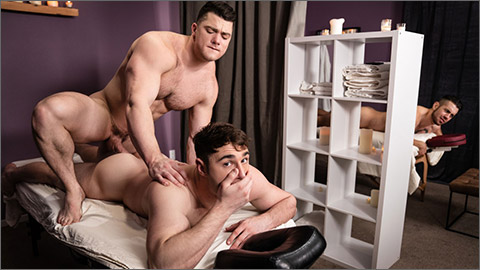 TUMBLING TOWARDS ECSTASY – PART 3
Rival gymnasts Michael Boston and Dante Colle are not pleased to discover they've been double-booked for a massage, but muscular masseur Collin Simpson assures the athletes that he can handle both of them at once. Dante gets jealous listening to Michael's moans as Collin gives him a rubdown, so he sneaks over to his robe to put in a butt plug. When Collin spots the toy in Dante's ass, he gives his booty a thorough massage before pulling out the plug with his teeth and eating his hole! Michael comes over to see what's happening, but the guys agree there's more than enough of Collin to go around. Dante sucks two cocks at once before Collin and Dante Eiffel tower Michael. Then it's Dante's turn to get fucked, and both Dante and Michael pound Collin's tight ass before they cum and the burly masseur gives them both a facial.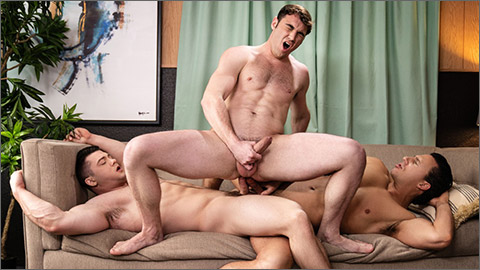 DR. WOOD – PART 3: BAREBACK
Handsome studs Collin Simpson and Michael Boston are discussing Michael's performance as a top with their muscular doctor, Reese Rideout, who suggests that Michael try bottoming to make him a better top. Wanting to lead by example, hunky Reese joins the couple as he slowly undresses, revealing his perfectly fit body, and gets on his knees to get a taste of their beautiful, hard cocks. Reese then lubes up his huge cock and slides it slowly inside gorgeous Michael's eager hole, as Michael keeps deep-throating Collin's dick. The three studs then switch positions and Michael starts riding Collin's thick cock on top of Reese's desk as Collin gets face-fucked by Reese. Collin and Reese then take turns holding Michael up in the air and take turns fucking him senseless. This incredibly hot threesome then culminates into Michael getting double penetrated by these two massive cocks until all three shoot their loads all over each other.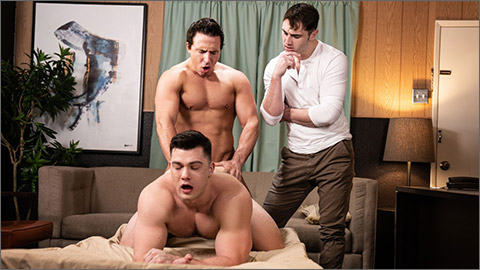 DR. WOOD – PART 1: BAREBACK
Michael Boston has come to see Dr. Reese Rideout because he's having some trouble in the bedroom. Dr. Reese calls in naked, muscular sex surrogate Collin Simpson so he can show Michael how to be more comfortable with the male form. Reese demonstrates how to stimulate the erogenous zones, rubbing Collin's nipples, ears, and shoulders, before he shows various techniques to excite the cock and balls. Michael watches intently as the doctor sucks Collin's cock and gets an unimpeded view as Reese fucks Collin doggystyle. As Collin rides Reese's cock, the treatment seems to be working as Michael starts rubbing his hard cock! The session finishes as Collin cums and Reese pulls out to finish on his hard abs, and Michael's excited to come back again soon.

HOT FLIP-FUCK WITH COLLIN SIMPSON & ADRIAN MONROE
This Flip Fuck with Collin Simpson & Adrian Monroe had me a little nervous. This was actually Adrian's first scene ever filmed with us prior to the one we've already released with Caden Carli. Technically, this video is where Adrian kissed, sucked, fucked, and got fucked, all for the first time. (Adrian told us he's let a guy suck his dick before in the past but never returned the favor.) Collin Simpson was the perfect candidate to break Adrian Monroe in. Collin was able to calm Adrian's nerves fast because he has way about him that's very settling. As soon so Collin's big ass cock filled Adrian, a sigh of immense feeling went through really all three of us. Collin took that opportunity to really pound out Adrian because he could take it like a champ. This video will be a huge hit!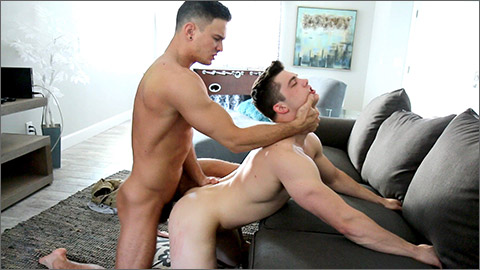 ZACH DOUGLAS FUCKS COLLIN SIMPSON AFTER LOSING FOOSBALL
When GayHoopla gives you what you asked for… Collin Simpson is back taking Zach Douglas' big cock. Collin Simpson has been quite the pro lately showcasing his bottoming skills.
CLICK HERE TO GO TO HIS GAYHOOPLA DETAILS