Muscle Arabic (Persian?) Next Door Studios Gay Porn Star, Arad Winwin / Arad
Years Active: 2014 – 2020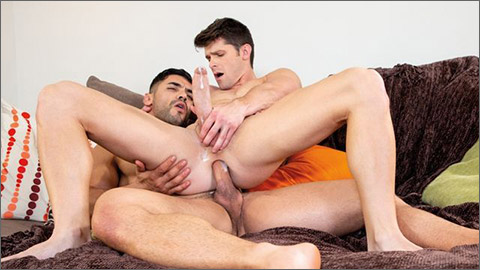 AFTERNOON AFFAIRS: Arad Winwin fucks Devin Franco
Devin Franco is on the couch inside watching porn and getting hard. With his cock in his hand, Devin notices Arad Winwin outside trimming the hedges. Arad loses his shirt while working under the sweltering sun, and Devin immediately invites Arad inside to join him. Arad steps inside and gets busy sucking the hunky homeowner's thick cock. Arad works his mouth up and down Devin's cock, taking the shaft down his throat until his lips meet Devin's balls. Making his way from his cock down to his hole, Arad pushes Devin's legs back and circles his hole with his tongue. Devin submits and lets the horny yard worker eat him out. When Arad has had his fill of Devin's hole in his mouth, he puts Devin on his knees and feeds him his massive rod. Devin takes every powerful thrust from Arad's cock as it hits the back of his throat. Wanting even more, Devin bends over and Arad slides his cock into Devin's willing ass. Switching positions, Devin gets on his back to take a deep, bareback pounding from Arad. When Devin wants to be in control, he climbs on top of Arad and bounces his bubbly muscle ass on Arad's thick meat. Devin riding his pole sends Arad over the edge, and he shoots his warm cum all over Devin's stretched out hole. With Arad's load covering his hole, Devin rides Arad's dick one last time, while Arad helps Devin out by stroking his rock-hard cock until Devin shoots a thick load all over Arad's sweaty abs. When it's all over, Devin hops off Arad's cock and licks up his own load from Arad's sweaty torso.

ROCK HARD & RAW: Arad Winwin and Alexander Volkov Fuck Like Jocks
Arad Winwin and Alexander Volkov are two gay jocks with impressive physiques, and they take pride in their bodies. So there's no better couple than among these ripped gay porn stars. Alexander Volkov's strength is on full display when he bottoms—this guy can take a rough pounding, and he's been infatuated with Arad Winwin for a long time, so it's a perfect match. Alexander worships Arad, using his mouth on Arad's rock-hard Persian cock before spinning around and taking his pounding like a good bitch.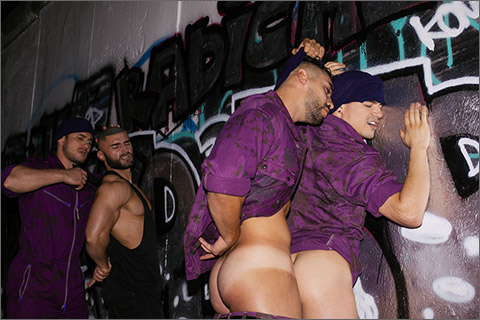 BRUCE LABRUCE'S FLEA PIT: BRUCE LABRUCE'S PURPLE ARMY FACTION
Arad WinWin, Dato Foland, Francois Sagat & Levi Karter
In a topsy-turvy alternate reality, the militant Purple Army Faction (PAF) patrols the streets, hunting sexual deviants who need to be caught and converted. Arad Winwin leads Dato Foland and new recruit Levi Karter on a night patrol and nab François Sagat, taking him to their HQ to "reorient" him from straight to gay! Stripped to the waist and tied to a chair François resists but is soon subject to Arad's forceful kisses and manhandling.
   As François gets hard Levi is brought over to prove himself and suck the prisoner but as Levi gets into it, Arad asserts his authority and takes over. On top of a bare mattress, Arad works over François' ass and fucks him with dispassionate energy. It's only when he satisfies himself and gives François a gushing facial that Arad kisses him and gives him pleasure by sucking his cock. Dato gets into the reorientation by stuffing François' mouth with cock and soon it's only the two of them, sensuously kissing and sucking each other off.
   After Dato blasts a load over François' rippling abs, his conversion reaches the final phase: fucking Levi. With the sounds of revolution outside Levi is brought to his knees to suck a confident François who soon takes charge over Levi. François rims his ass and pounds him intensely and with his pumped-up muscle glistening with sweat he ejaculates a torrent of cum that covers almost every inch of Levi's back. Levi shoots while sucking François who gets his third cum soaking. At the end the PAF is now closer to smashing the straight state…with a new comrade.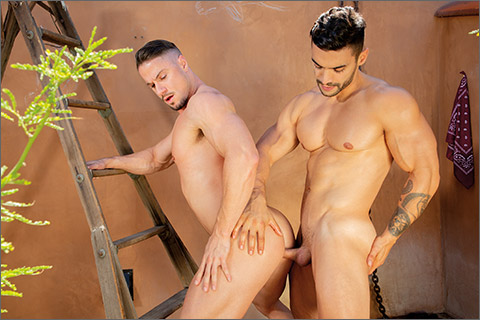 BAREBACK RANCH: Arad Winwin fucks Skyy Knox
Back at the hacienda, hunky Arad Winwin goes to the side yard to the ample outdoor shower and hops in to rinse off the dust and dirt of the day. Muscle-stud Skyy Knox is heading for the tool shed when he spots Arad rinsing off. He doesn't wait for an invitation and strips down to join his buddy in the shower — naked, rock hard and ready. With serious cock worship on the menu, the two waste no time, taking turns to kneel and devour each other's throbbing dong's between deep passionate kisses. Making handy use of a nearby ladder, Arad bends Skyy over and buries his face into his perfect smooth ass, teasing and tonguing the tight winking hole and priming it till Skyy starts begging for raw cock, and Arad agrees. With every inch of Arad's thick fuck-stick, Skyy matches him thrust for thrust and takes a wild bareback pounding. Finding some creative positions on the ladder, Skyy gets pummeled, hanging on for the banging of his life till finally Arad greases his guts with a huge gushing geyser of jizz, then shoves it back in and fucks him again while coaxing a load out of Skyy's full heavy balls.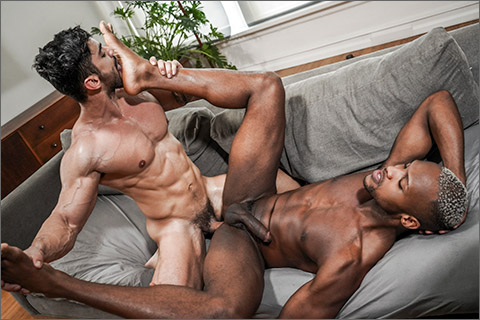 GENTLEMEN 26: LONG, HARD HOURS: Andre Donovan Bottoms For Arad Winwin
Arad Winwin is a powerful Persian business tycoon who is not afraid to use his influence to get men to do whatever he wants whenever he wants. Arad is well aware of Andre Donovan and his business acumen in New York, and he's also aware of Andre's personal life as an alpha top in the city and how it intermingles with his white-collar life. Arad makes it his mission on his business trip to New York to make Andre work very long and very hard for his executive contract, and that means Andre Donovan, a total top, is going to have to bottom for the first time and take a hard pounding from Arad Winwin and his rock-hard raw cock!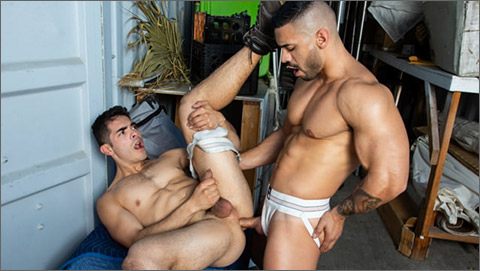 RAW WORKLOADS: Arad Winwin fucks Cazden Hunter
Arad Winwin finds his hired hand, Cazden Hunter, being lazy on the job and leaning on his truck. Arad has no time for slackers and when Cazden offers to do anything to make it up to his boss, Arad pulls out his thick, hard dick and tells his employee to get to work. Cazden needs this job so he gets on his knees to take the big, uncut dick down his throat. When Arad is rock-hard from Cazden's talented mouth, he stands his employee up and pushes him against the tool shed door. Arad can hardly wait to get a taste of Cazden's tight ass and gets to work rimming the willing stud. After opening him up with his tongue, Arad is ready to shove his raw cock deep into Cazden's bare hole. Arad bends Cazden over and starts pounding away, going balls deep with the first thrust before he picks up the pace to give Cazden the fuck of his life. Arad wants to see the look on Cazden's face as his bare cock pumps in and out so Arad flips the stud onto his back. The thrusts keep coming from Arad's cock until he fucks the cum out of his hired man and that's all it takes for Arad to let go. Arad pulls his cock out of Cazden's ass and erupts all over Cazden's freshly fucked hole. With cum leaking on Cazden's hole, Arad fucks his own load into Cazden as he shoves a dirty jockstrap into Cazden's mouth and gives him another stern warning never to touch his truck again.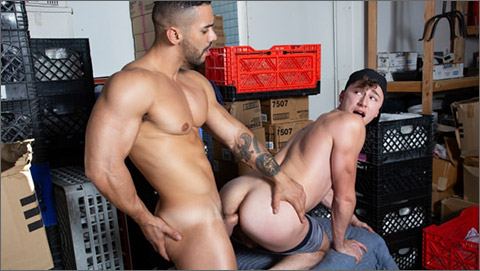 RAW WORKLOADS: Arad Winwin fucks Zander Lane
Arad Winwin gets hard watching his employee, Zander Lane, working in the storage room. When Zander finally sees Arad with his stiff dick in his hand, his only response is 'You like watching me?' A big smile comes across Zander's face and Zander gets on his knees to take Arad's cock in his mouth. He works it in and out, savoring every inch until Arad is ready to fuck Zander's bubble-butt. After a quick taste of Zander's hairy ass, Arad stands up, bends the young worker over, and plants his raw cock deep into Zander's lubed-up hole. Arad pounds him fast and bare, making Zander moan out in ecstasy. Arad's cock feels amazing popping in and out of his hole, but Zander needs the muscle stud to dig in deeper. Zander lies on his back and Arad enters him again. His muscles ripple as he continues to thrust away inside Zander's stretched hole. Arad can sense that Zander is getting close and keeps up the relentless bareback pounding until he fucks the cum out of Zander. 'Suck my dick,' Arad commands and Zander does as he's told, going ass to mouth on Arad's ready-to-burst cock. His warm mouth is all it takes for Arad to blast his load, leaving Zander's face a satisfied, sticky mess.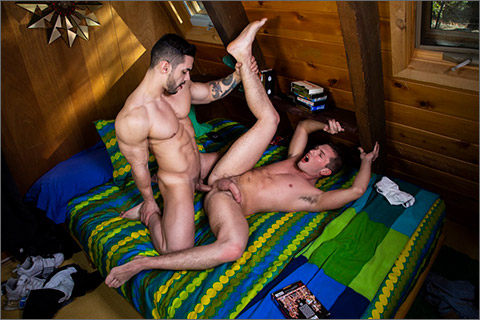 RIMROCK: Arad WinWin fucks Hunter Smith
Hunter Smith is meeting his dad at a mountain cabin and decides to get a quick nap in before he arrives. Before he can fall asleep, he finds some Falcon porn next to the bed, pops a boner and jerks off to the back cover. As he's fingering his hole, he notices Arad Winwin peeping at him through the window and invites the muscle stud to join in on the fun. Arad happily jumps into the action and pulls out his fat cock for Hunter to enjoy by taking down his throat. Arad is throbbing hard and can't resist getting a taste of Hunter's thick dick. After sucking the hunk and eating his tight, smooth hole, Arad takes his place behind Hunter and slowly slides his bare cock deep into the horny hunk. Hunter rolls over onto his back, and Arad keeps up the relentless pounding until he bareback fucks the cum out of Hunter's stiff cock. When Arad sees all the jizz dripping from Hunter's dick and running down his leg, Arad pulls out to blast his load all over Hunter's freshly fucked hole. As Arad shoves his rod back inside Hunter, Hunter's dad walks in and catches his panting stud of a son in the act. Who knew Hunter's dad was so hot?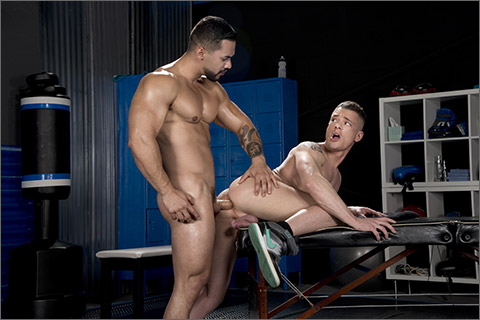 THE TRAINER: NO EXCUSES: Arad Winwin fucks Rex Cameron
Rex Cameron is giving a sports massage to Arad Winwin after a long, hard workout. Arad is oiled up on the table as Rex works his muscles with a deep tissue massage. All the work from Rex's strong hands is getting Arad worked up. It's hard for him to relax as Rex works his way down Arad's bulging body. Rex can see that Arad has popped a boner that's splayed out on the table like a tail between his legs. Rex doesn't want to waste the opportunity of having such a hot muscle stud horny on his table and gets Arad to roll over onto his back so he can really work the muscle that counts. Rex adds a bit more oil and rubs it into Arad's pecs without losing sight of the big hard cock that's throbbing just below his abs. As Rex goes down on his client, Arad enjoys every second of the royal treatment and flexes his muscles to get Rex even more horned up and ready for the next step. Rex peels off his gym clothes and gets on his knees to take Arad's stiff one even further down his throat. Arad face fucks his massage therapist and fills his mouth and throat with his hard cock. Ready to go a bit further, Arad bends Rex over the massage table to lick his smooth, tight ass.After a nice long rimming and fingering session, Arad declares that he's "going to fuck that ass". He stands up and shoves his meat deep inside Rex's tight hole and pumps away, stretching it out with every intrusion from his big cock. The studs go deep and hard on the table with Arad taking control and dominating Rex every turn of the way. Arad fucks Rex until he can't hold off cumming any longer. With Arad pumping his hole, Rex shoots a geyser of cum that covers ripped torso and even squirts up to his face. With his massage therapist covered in jizz, Arad needs to finish off. He pulls Rex down to the floor and beats his meat into Rex's wide open mouth. Even after cumming all over Rex's mouth and face, Arad continues to be the alpha male and flexes his muscles as Rex keeps worshiping his body and taking all of Arad's commands.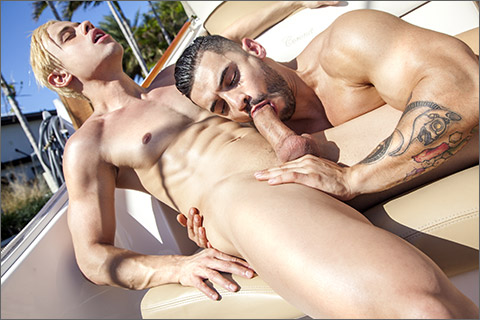 THE CHOSEN FEW: Arad Winwin fucks Alam Wernik
Alam Wernik is up to his tricks again, this time luring beefy, stoic security guard Arad Winwin out to Logan Moore's yacht, the "No Vacancy." Arad knows he may lose his job but there's no way he can resist Alam's angelic good looks, smooth, muscled body, big juicy ass and thick cock. Soon the two suntanned hunks are below deck naked and rocking the boat. A steamy mutual cock sucking session ends with Arad on top, sticking his thick dick in Alam's pristine tight hole. They fuck and suck loads out of each other as the sun goes down.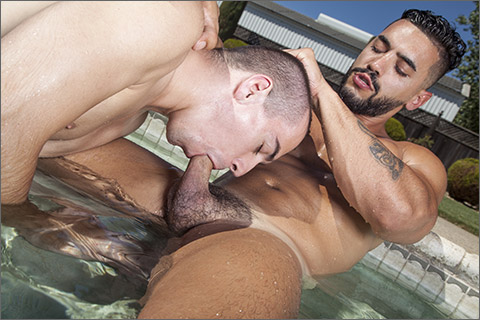 POOL MATES: Arad Winwin fucks Brad Payton
Arad Winwin calls up his favorite boy toy, Brad Payton and entices him with a swim. It's not long before Brad is enticed by the bulge growing in Arad's speedo. Brad blows him then climbs out of the pool so Arad can eat his hot, tight pink hole. The deep-tongue rim job turns into a sweaty fuck. Brad shoots his load then sits up so he can swallow Arad's jizz. Overheated and spent, they both melt back into the water to cool off.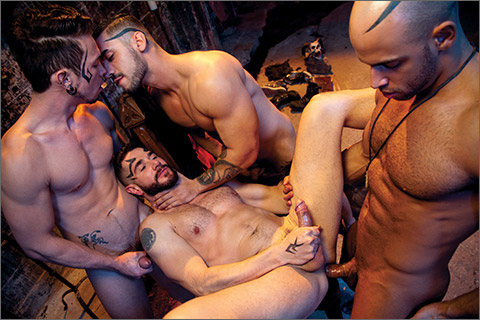 EARTHBOUND – HEAVEN TO HELL 2: Sean Zevran, Arad Winwin & Gabriel Alanzo as Dark Angels fuck Dean Monroe as Devil
"Please me," says the Devil (Dean Monroe) to his Dark Angel servants. Duty-bound to satisfy their master, Dark Angels Sean Zevran, Arad Winwin, and Gabriel Alanzo press their hands on Dean's muscular body. The four menacing demons of the underworld turn to each other and savor the pleasures of their flesh. Gabriel opens his mouth to receive Sean's monster cock, slathering it with spit, as Dean swallows Arad's massive sword. Sean eats Gabriel's ass, and Arad spits into Dean's mouth. Borrowing the Devil's throne, Sean takes a seat as Arad services him orally. The four dirty angels congregate together in a seething, writhing mass of bulging muscles, hard cocks, and open mouths. Sean and Dean tag team Gabriel's cock as Arad face fucks him. As Dean relaxes on his throne and watches, Sean thrusts his cock inside Gabriel's ass and pounds him with all his supernatural strength. Gabriel licks Dean's nipples, always trying to please his master. Dean savors the taste of Arad's spectacular cock as it slides into his gullet. But now it's time for the boss to get what he really wants: his hole pounded. Sean slides in first, stretching out Dean's hole. Arad steps up next and drives his meat deep inside Dean. As Dean strokes his cock, Arad moves up to Dean's face and shoots his load into Dean's open mouth and across his dark beard. Sean pounds Gabriel's load out of him, but he's sure to deliver it directly to his master. Sean sprays his load across Dean's thigh, and Dean shoots off a white-hot load.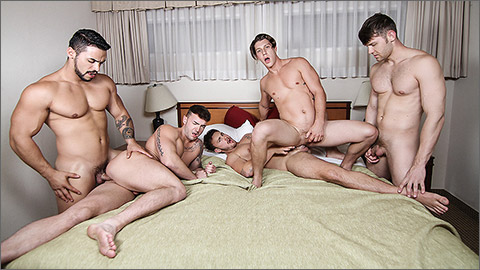 ON THE RUN – PART 3
Paul Canon and Arad Winwin are hot on the tail of the three outlawed hunks… but it could do them better to know what the guys on the run actually look like. Arad is tricked by Jacob Peterson, who gets down on his knees and sucks his beautiful cock. Paul Canon enters the scene and the seduction of the officers continues. The men worship each other's bodies, and it only gets hotter when the clueless cops invite the rest of the thieves to join them in a jizz orgy.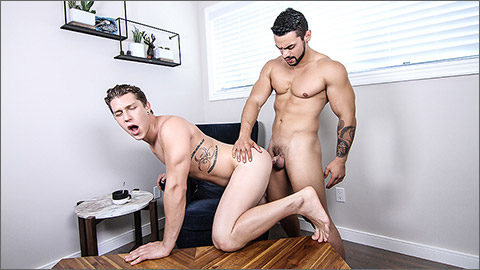 COMPLETE
Paul Canon fixes a cup of coffee for Arad Winwin in the early morn. Arad thanks him with a passionate make-out session and a loving blow job. Once Arad's cock is prepped by Paul's warm mouth, Paul hops on top and rides that dick.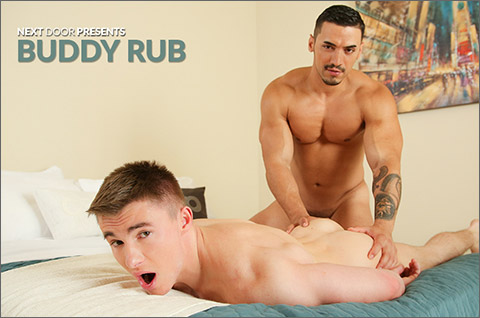 BUDDY RUB
Luckily for Jake Davis' ailing back, new gym buddy Arad specializes in therapeutic massage. What Jake doesn't know is that Arad is also fluid in sensual massage as well, so Jake is taken aback when Arad transitions from one to the other. To Arad's credit, he didn't come over to take advantage of Jake, but once he sees Jake's beautiful, bubble butt, Arad just can't help himself. He stares at Jake's ass as Jake lay on his stomach, eyes closed, and Arad decides to just go for it, licking up from Jake's balls all the way up his crack. Jake is startled and asks Arad what he's doing, but Arad assures him everything is fine, and Jake allows it to happen, trusting Arad's touch. Arad goes back to massaging Jake's hole with his tongue, slipping a finger in Jake's hole as they 69 each other, Jake gagging on Arad's hard cock. With his back feeling much better but his cock feeling hungry and horny, Jake concedes to Arad fucking him, so he mounts himself on Arad's hard cock as Arad pounds him from behind, first in doggy, then in reverse cowboy. Arad fucks Jake hard before turning him over. Jake is rock hard and ready to cum, so Arad gives him a few more power strokes as Jake lets his nut fly all over himself, just as Arad pulls out and blasts him with a load up and down his stomach. Jake admits Arad's techniques are a bit unortodox but has to concede that his back feels much, much better.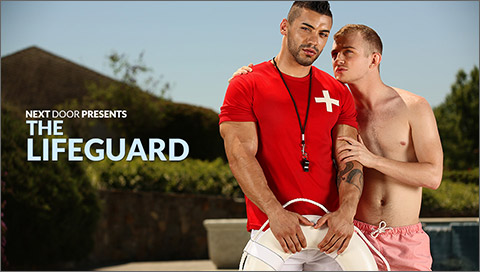 THE LIFEGUARD
Hijinks is always around the next corner at the neighborhood pool, especially when Archer Hart is involved. As lifeguard, Arad, walks down the gravel pathway toward the pool, he hears a splash, then screams of distress. Arad is extremely well-trained in water rescue, so he snaps into the mode of proper procedure.
   He sprints to the pool, removes his shirt, and dives in. Archer is floating lifelessly. Once Arad pulls Archer out and administers mouth-to-mouth, Archer surprisingly begins giggling! Arad realizes the entire thing was some kind of prank. Appalled, he asks, 'seriously?'
   Archer, still smiling, tells Arad that he couldn't help himself, Arad is just too sexy. Arad's upset, but not made of stone. He can't turn down the opportunity to have his way with such a luscious Twink. The two kiss deeply. Archer moves downward and takes out Arad's hard cock. Arad feels the warmth moving up and down his swollen meat. He lets his hands run all over Archer's naked body.
   They move to a pool chair where Arad lifts up Archer's legs so he can experience his ass and dick. Archer can't believe he — sort of — tricked the hot lifeguard into sucking his cock and licking his ass! After a little while, Arad stands up and shoves his firm erection into Archer's tight ass. Oh what a feeling on a hot Summer day! This is a pairing you won't wanna miss. Arad's insane body fucking sweet, spirited Archer poolside as warm rays beat down is a memory you'll hold onto to keep warm all year.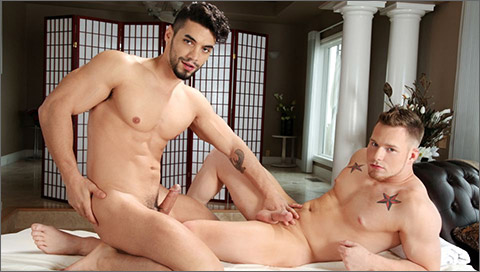 GREEK MASSAGE – PART 2
Word is spreading quickly about the masseur at Next Door Spa, as the hunky Arad keeps gaining more and more word of mouth advertising. The phones have been ringing off the hook and Arad is keeping himself pretty busy. Today is no different, as Arad has an appointment with a first timer who has been recommended to the spa. Owen Michaels has heard good things but he's unsure quite what to expect.
   Not to worry. Arad's bedside manner is impeccable, as he lays Owen out and begins a deep sensual massage. Owen could almost fall asleep, that is if his cock wasn't swelling into a raging hard-on. Arad senses this, then flips Owen over to examine his growing appreciation. Owen is a bit nervous, but is quickly assuaged by Arad's delicate touch, and when Arad wraps his lips around the tip of Owen's cock and sucks lightly, Owen decides to close his eyes and let whatever follows happen. What commences is Arad sucking Owen off until he's nice and hard, flipping him over and eating his ass from behind as Owen holds onto the sides of the massage table, before Arad takes out his cock and plunges it deep into Owen's waiting ass, easing it in at first, and then increasingly harder and harder, as Owen begins to see what all the fuss is about. Owen mounts Arad and rides his fat cock, grinding on him as he lay back on the table, until he's ready to bust his pent up load, which he does all over Arad as the masseur continues to pound away, pulling out and blasting his client with his own well earned load. As Owen towels himself off, he asks Arad for his future availability. Looks like another return client Arad can add to his books.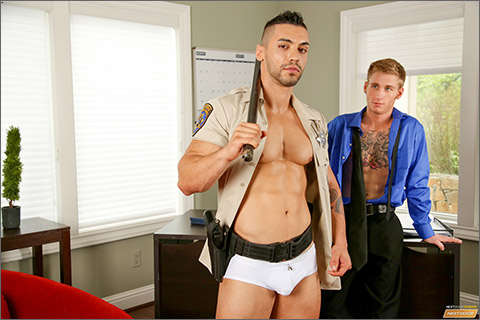 OFFICE SURPRISE
It's just another day at the office for Harley Hardman. As he pores over speadsheets and progress reports, the afternoon slog catches up to him and he feels himself start to crash. It is just at this moment that his secretary informs him there is an officer present to see him. Though he cannot think what it could be about, Harley sees the officer immediately, and his first thoughts are that Arad is both a hunk of cop and also the strong silent type. For his part, Arad says nothing and carries a big stick. Well, two big sticks if you count the one in his pants. Harley is visibly concerned when Arad sits him on the couch for interrogation, but his reluctance turns to confusion when the officer begins to undress him. By the time Arad has his cock in his mouth, Harley is fairly sure this isn't a regular cop, so he decides to go with it, pushing Arad's mouth down further onto his cock as his dick gets harder and harder. However, Arad didn't come just to hand out justice, but also to recieve it as well, so Harley reciporcates head, blowing Arad as he begins to take off his uniform. Harley still has his tie on when Arad bends him over his desk and fixes him with cuffs, pinning Harley's hands against his back as Arad plunges his cock deep inside the waiting executive. Harley bites his lower lip as Arad contiues to pound, bringing him back over to the sofa and banging him missionary, letting Harley out of the cuffs just in time for him to stroke himself off, before Arad pulls out and blasts him with a load of his own, discharging his weapon and emptying his pistol all over Harley, before answering the call of duty at another location, leaving Harley to wonder what exactly just happened.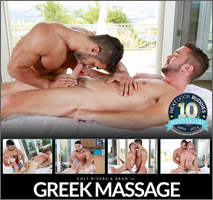 GREEK MASSAGE
Colt Rivers lies on a massage table, relaxed, assuming that his masseuse, Arad, is just going to work the kinks out Colt's shoulders and back. Arad rubs Colt down with oil, kneading his tight muscles and easing the tension, but midway through, Arad disrobes and offers a different sort of technique to Colt. Colt obliges, trusting Arad to do right by him, and instantly Arad climbs on Colt's back, hovering over him, skin pushed against skin, Arad's mouth breathing into Colt's ear. Colt is visibly turned on by this and starts sweating, at which point Arad comes around to the front of the table, shoving his cock in Colt's mouth as Colt grabs Arad's ass and pulls him in closer, gagging on Arad's hard dick as he slides up and down the table, grinding his own cock beneath him. Arad flips Colt over and begins sucking on the tip of Colt's fully erect penis, tonguing his balls as he stokes Colt to maximum length. Then he bends Colt over and plunges his cock deep into Colt, massaging him from the inside out, before blasting his ample load all over Colt's face, as Colt sucks down every last drop.
VIDEO ON-DEMAND: Arad WinWin @ AEBN SMUTJUNKIES THEATER
DVDs & ON-DEMAND: Arad WinWin @ TLA VIDEO
Hot or Not? Let us know.
[Total:

171

Average:

3.5

]