Tattooed Daddy Hunk American Gay Porn Star, Chuck Scott / Chuck DiRocco
Known Aliases / aka:
Years Active: 2003 – 2007
TITAN MEN INFO:
Height: 6'2″
Bio: I am a TOP TOPPIN TOP! Dig it or not. The best crew of MEN in the adult biz is TitanMen, I aint BS-ing, all a bunch of regular Joes, and now my friends. I'm not gonna tell ya what I like but here's what I dont like. I dont like shaved chests legs or asses, that's chick shit. I hate deodorant and cologne…more chick shit. I like to smell my man under me. I don't like circuit music or parties, I don't like wannabee underwear models.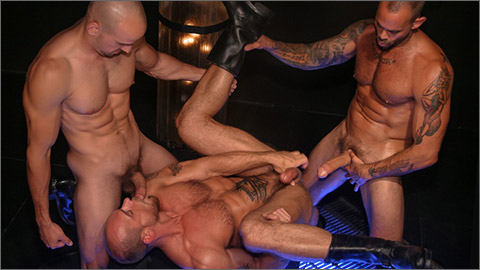 BIG MUSCLE – THE SEX ZONE
Chuck Scott tops Jake Deckard with Jay Armstrong
In the shower, horny dog Chuck lathers up a swelling cock as he dreams of a sensuous yet rudely demanding sex session with Jake. Chuck worships Jake's body—all the time making sure that smooth Jay Armstrong is watching from across the room and beating his hefty tool. He's an exhibitionist, that Chuck, and he's putting on a show, forcing the spit from Jake's drooling mouth with his monster cock. When Jake's amazing bronze eye is exposed, Chuck pisses right on it, and sends long streams over Jake's back. The gold rain rolls over Jake's face and drips off his nose, and the mens' cum explodes. Sweating and swearing, Chuck plugs Jake's sublime pucker, pulling out and taking aim before another rude plunge slams his colossal cock deep into the gate to heaven. The mens' cum spurts, and Chuck hungrily sucks his off Jake's hairy butt.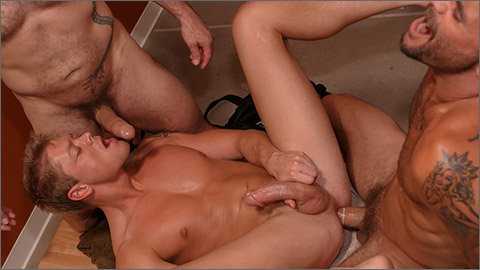 BIG MUSCLE – LOCKER ROOM
Logan Steele tops Troy Moore and Chuck Scott takes control
Burnished blond Troy Moore taunts gruff, unshaven hunk of beef Logan Steele with his golden rod and hairless butt hole. Logan buries his face in it, upending Troy for deeper delicious tongue-digging. Suddenly, preppie Troy is plugging rough Logan's burning hole with his gorgeous grinder, and the buddies blast together with a high flying spritz of jizz. Chuck's been watching from the shower, and takes over. Commanding Logan to lay on the bench, Chuck pisses him up and pisses him down and lets loose with full force jets that splat against the back of Logan's throat. Logan spits the hot whiz right back at Chuck, and the mean pisser cums. But he's unstoppable. Troy becomes his fuckin' pig hole, and Logan's tightly grasping ass lips stretch beyond belief with the furious assault of his thick gut-buster. Logan batters the pecker paste outta his big daddy dick as superloads from Chuck and Troy spray across his cum-wracked body.
TITAN MEN
RAGING STALLION
HOT HOUSE ENTERTAINMENT
ALL WORLDS VIDEO
CATALINA VIDEO
TREASURE ISLAND MEDIA
CLICK HERE TO GO TO HIS TITAN MEN DETAILS

MEN MAGAZINE PRESENTS: TITAN MEN
VIDEO ON-DEMAND: Chuck Scott @ AEBN SMUTJUNKIES THEATER
DVDs & ON-DEMAND: Chuck Scott @ TLA VIDEO