FuckerMate Brazilian Gay Porn Star, Carlos Leao
Years Active: 2014 – 2015
FUCKERMATE INFO:
Country: Brazil
Age: 23
Cock size: 11″ uncut
Carlos Laeo comes to Fuckermate.com with a reputation as a Brazilian street boy, a bad ass from the Favelas with a hidden weapon. On Fuckermate we reveal his weapon, his huge XXL cock ready to destroy a hungry ass. A hot, horny Brazilian tough guy with attitude.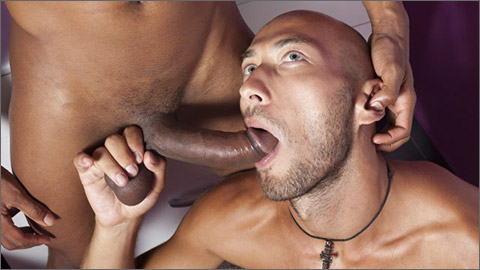 RAW & PISS – CARLOS LEAO FUCKS DOMINIC ARROW
Our hung Latin mate Carlos Leão is in a hurry to piss but he found the sexy Hungarian Dominic Arrow inside the toilet, shaving and almost ready to take a shower. When at the end Carlos gets inside the bathroom and takes his huge cock out to piss, Dominic's mouth begins watering. He can't resist and in seconds gets on his knees, offering his mouth to the Brazilian, already horny like a horse. Then Dominic takes his shower, sensually shaking his toned body and his hungry ass in front of Carlos: when he gets out he is ready to receive that big dick bareback and he'll do his best to take it deep inside in all possible positions. At the end Carlos shoots a thick load of cum in his mouth and all over his face, but Dominic is still not satisfied and asks his top buddy to give him a shower of hot piss! Fucking awesome!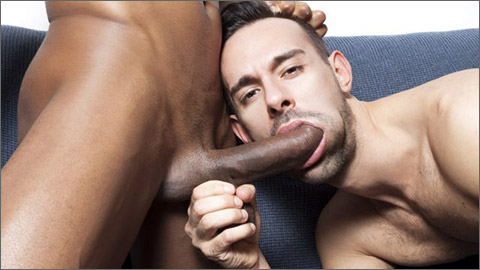 RAW ON THE COUCH – CARLOS LEÃO & JONATHAN FORREST
As promised, also in this new year 2017 we want to introduce new sexy mates for your full enjoyment. This week is the turn of newcomer Jonathan Forrest that will give his best on his debut with us, to cope with the huge cock of our dominant topmate Carlos Leão. Never debut was harder for a Fuckermate, but Jonathan took all that XXL dick without a complaint and left Carlos destroying his mouth and then his ass bareback, like an skilled power bottom!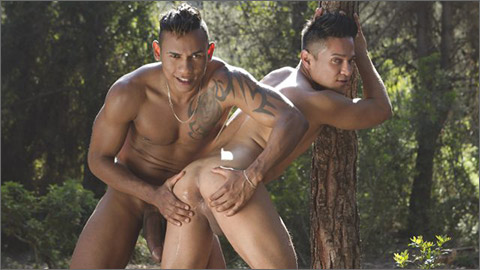 SUMMER FEELINGS – CARLOS LEÃO & RICKY IBAÑEZ
It's almost summer in the sunny Spain and our power top Carlos Leão went to a nudist beach looking for relax and hoping to find some nice guy to impale. Just as he comes out of the water, with his large cock dangling, he catches the eye of sexy Latin bottom Ricky Ibañez. The two mates sit together for a while and then they decide to go into the woods, just behind the beach, in search of a quieter place. As soon as they are out of sight Carlos lowers his underwear and offers his huge rod to his buddy. Ricky is an expert sucker and swallows the Brazilian snake like a pro, deep-throating it until licking Carlo's big loaded balls. Roles then switch and Carlos puts Ricky on a stone to rim his beautiful asshole and prepare it for the fuck of his life. Carlos fucks Ricky and destroys his ass with no mercy and Ricky enjoys to be treated like an animal, right there between trees and rocks! At the end he goes back to the beach with his ass that still drips cum all over!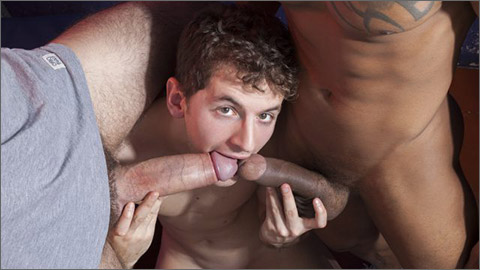 DOUBLE MILK AT BOYBERRY – CARLOS LEÃO & ALEX RUBIO
After more than two years since his first appearance with us, super horny hot American mate RED is back this week to break the sweet ass of our power bottom Ken Summers. While RED is relaxing on his bed, watching a male magazine and playing with his XXL cock, Ken catches him. The hung American loves to dominate young bottoms and soon he understands Ken is gonna be a perfect match for him. The Latin hungry boy can't resist at the vision of that hard black pipe and after seconds is already on the bed, sucking and deep-throating RED's dick as best as he can do. Then it's time for his ass to try the huge cock bareback and to be hammered and bred like a slutty bottom deserves!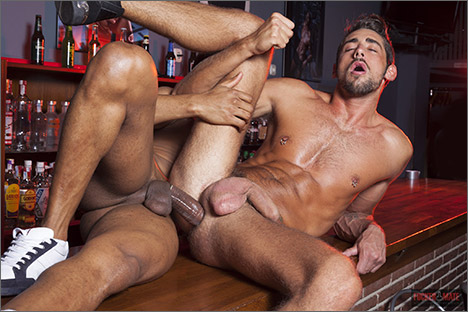 INTERRACIAL FUCKERMATES: CARLOS LEAO & MASSIMO PIANO
Night BCN plays host to this hot fuckermate session. If you thought a bar was only good for drinking then Carlos and Massimo will show you how to get more enjoyment especially when you have a bar all to yourself and your dirty minds. Carlos has a huge cock and an insatiable sexual appetite and Massimo is the perfect power bottom to make this another unmissable fuckermate encounter. Not be missed.